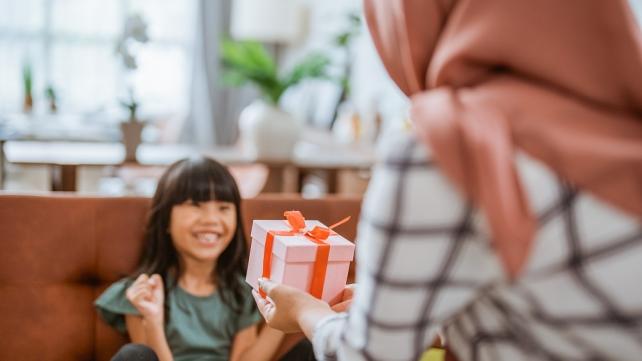 Does shopping for meaningful Eid gifts seem harder than ever? Ironically, now that most items we want are a mere click away, it can be even more challenging to find purposeful gifts that won't add to our household clutter. Many of us have more stuff than we actually need, and materialism is a pervasive problem in modern society. Maybe it's time to give some deeper thought to our Eid gifts. Often the best presents can't be wrapped in a package.
If your kids' rooms are overflowing with toys, and your own cupboards are, like mine, a minimalist's worst nightmare, unconventional gifts might be the way to go. Here are some alternative Eid gifts to consider for your loved ones:
1. Experiences.
Is there something your family has been wanting to do together for a long time? Amusement parks, escape rooms, horseback riding lessons, apple picking, whale watching, museums, zoos, cooking lessons, and rock climbing are just some examples of exciting activities that the whole family can enjoy together. Consider giving your family the gift of a really fabulous adventure.
2. Subscriptions.
Does your loved one have a passion for outer space? Gardening? Travel? Animals? Consider buying them a subscription to a magazine that covers their favorite topic in-depth. Many magazines are available online, which saves trees and reduces clutter.
3. The gift of your time.
Make "coupons" that entitle your child or spouse to pick a special activity to do with you and only you. This coupon is actually an invaluable gift, as it promises your undivided attention with no interruptions – including phone calls and text messages – for a few precious hours. If you're afraid your budget won't match someone's luxurious ambitions, feel free to suggest a few viable options, or include a caveat ("cost not to exceed $50", etc.).
4. Encourage their talents.
Does your child have an artistic flair? Does your spouse love photography? Instead of buying the latest toy or gadget that will sit on a shelf after a few weeks, invest in your loved ones' expertise, passions, and hobbies. A high-quality sketch pad, pens, and colored pencils might inspire creative ones to make a nature journal. Today's stargazing enthusiast might be tomorrow's astronaut, so consider getting your space-obsessed child the telescope she's been wanting. While these gifts are all "things" that potentially add to household disarray, they are more likely to be used and treasured because they're investments in your loved one's happiness and accomplishments.
5. Enable self-care.
Many of us hesitate to spend money on ourselves. That's why it's so appreciated when someone treats us to a spa, salon, massage, or favorite restaurant. While women tend to receive gifts like this more often, men need self-care, too, and are probably even less likely to purchase it for themselves. When considering an Eid gift, think about what would help your loved one relax and rejuvenate. Buy them a gift certificate so that they will follow through and get the pampering they need. Perhaps what an overworked person needs the most is simply free time to connect with friends and escape the daily grind. In that case, give them the gift of a worry-free, responsibility-free, guilt-free day. On an agreed-upon date, enable them to avoid all of his/her regular duties. Encourage them to hang out with their friends or pursue their interests, and don't say a word to make them feel guilty. The more sincere and encouraging you are, the better the gift will be!
6. Homemade with love.
Some of the most treasured gifts are not found in stores; they are made by hand and, therefore, utterly unique and infused with love. Put your woodworking, painting, knitting, baking, or other skills to use to create a truly one-of-a-kind present. What if you're not crafty? Consider making a customized gift with some of their favorite photos. Most pharmacies have online photo departments where you can convert your digital images into charming, useful, meaningful gifts.
7. Relieve them of a chore.
Is there a task your loved one usually does but absolutely dreads? Consider taking over that chore for a day, week, or month as a heartfelt gift to them. Imagine how their eyes will light up if you promise to handle the soccer carpool for a month, unload the dishwasher every night for two weeks, cook Sunday breakfast for the family all summer, or clean out the garage. Yes, it's so much easier to buy them a box of chocolates, but if you want to make a big impression and show the depth of your love, consider taking over one of their most-hated tasks. If you don't have the time or ability to do it yourself, could you hire someone who can?
Abu Hurayra reported that the Prophet, peace and blessings be upon him, said:
"Give gifts and you will love one another."
This Eid, let us remember the point of giving gifts is not to help each other amass more things, but to increase our attachment. Allah sees all the thought and effort we put into a gift, and if we do it for His sake, and to honor the Sunnah of the Prophet, peace and blessings be upon him, then our generosity will be blessed and rewarded, God willing. When thinking outside the box for Eid gifts, we would do well to remember that while people can certainly have too much stuff, they can never have too much love.
Laura El Alam is a first-generation American Muslim and the author of over 100 published articles. She has written a children's book, Made From the Same Dough, due to be released in July, 2023. You can visit her online at www.seaglasswritingandediting.com.