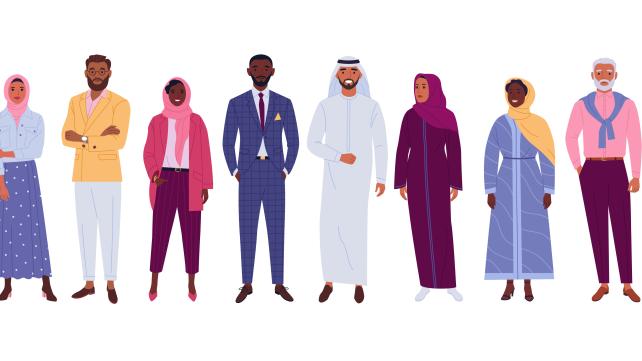 It is all well and good to acknowledge that single parents have it tough. But in order to lighten their load and support the health and well-being of adults and children in single parent families, our Muslim community needs to move forward with a two-step approach.
First and foremost, it is important to shed the tendency to pass judgement. This negative response is not connected to our faith. In fact, there are a number of noteworthy figures in Islamic history who were members of single parent families including the mothers of prophets -
Hajar, the mother of Prophet Ismail (peace be upon him), Maryam, the mother of Prophet Isa (peace be upon him), and Amina, the mother of Prophet Muhammad (peace and blessings be upon him). Several Muslim scholars were also raised by single mothers including Imam al-Shafi', Imam Ahmed, and Imam Bukhari (may Allah be pleased with them). All of these sons grew into righteous servants of Allah and renowned leaders in their communities and our world.
The reality is that single Muslim parents have existed throughout time. They need and deserve our support individually and collectively. Those necessary supports can be physical, financial, emotional, and spiritual. Here are some examples in each category.
Physical Support
Physical support can be provided by individuals and facilitated by programs in our local masjids and community centers. These include:
Provide child care and after school programs
Develop mentorship programs (for tweens, teens, and young adults)
Provide transportation
Organize clothing swaps of lightly used clothing, especially for children
Offer food assistance

On-site food pantry
A directory of local resources including those provided by national organizations like Islamic Relief's local projects that assist Afghan refugees in several major U.S. cities https://irusa.org/usa/)

Provide medical services for health and well-being

Organize community health fairs (or publicize local events)
Identify or maintain a directory of local doctors, dentists, and practitioners who can offer treatment atreduced rates if needed
Open community medical clinics (like this one at the MCC in Silver Spring, Maryland https://www.mccclinic.org/)

Support victims of domestic violence

Post contact information for local resources that offer counseling, shelter, support for children, etc.
Recognize that support must be provided for everyone involved - the spouse who is abused, children who witness the abuse and/or may be abused, too, and the abuser
Financial Support
Statistically, divorce is the quickest way to poverty for single mothers and their children. According to a recent Pew Research Center analysis, 30% of single mothers and their families are living in poverty (compared with 17% of single father families and 16% of two parent households). There are a number of ways the Muslim community can provide direct and indirect financial assistance including:
Make zakat user-friendly (many single parents and people of color complain that the application process is patronizing, involves unnecessary delays, and makes it difficult receive and rely on funds)
Maintain strict confidentiality
Assist with transportation including:

Purchase of vehicles
Grants or short term loans for repairs
Providing public transportation vouchers

Assistance with big ticket items such as:

Medical expenses
Funeral expenses
College tuition
Housing costs and repairs
Emotional Support
Emotional support can take direct and indirect forms and can be initiated and accomplished by individuals and programs in the community.
Create a welcoming environment for everyone
Greet one another with a smile (it's a sunnah!)
Be patient with children in the masjid (or at least don't scare them away!)
Provide parenting workshops
Establish support groups (addressing divorce, mental illness, domestic violence, etc.)
Provide meal trains (or a means to help families in crises with meals)
Provide marital counseling (for singles and couples)
Spiritual Support
Maintaining strong iman or faith and tawakkul or trust in Allah is critical when individuals and families are struggling. Make sure that Islamic education programs that are offered are open and welcoming to single parents and children of all ages.
Schedule regular halaqahs for adults
Address the challenges of single parenting in Friday Khutbahs
Provide scholarships for Islamic education programs for children
Organize matrimonial events for singles in the community
Provide a library or reference list of books that provide context and support
This comprehensive list might seem overwhelming on first look, but many of the programmatic areas identified are likely to already be in existence, particularly in our larger masajid and community centers. The call to action to support single parent families is about recognizing the needs that exist and filling those gaps with compassion, consideration, and resources. When we work toward that common goal together, then the current obstacles can be turned into opportunities to build resilience and general well-being.
Zahirah Lynn Eppard is the managing editor of the Muslim Home parenting newsletter project. As Sound Vision's Director of Religious Education, she has also spearheaded the production of more than 400 online classes serving children ages 3-12 in the Adam's World and Colors of Islam Clubs. Eppard has also worked in the field of education as a teacher, homeschooler, and Islamic school principal, as a marital and crisis intervention counselor, and as a lobbyist, and social justice activist. She lives with her husband and six children in Maryland.