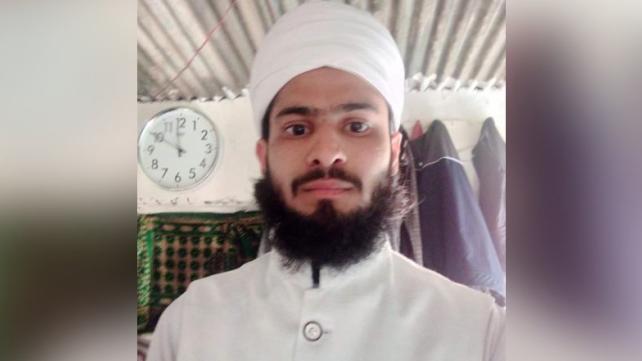 This young Imam is a hero who looked for interfaith harmony.
Now he is a shaheed.
BJP-RSS machine killed him with swords lynching inside his mosque in Gurugram, India, a bourgeois suburb of the capital New Delhi. After killing the Imam, the mob then set fire to the Anjuman Jama Mosque.
It was the mosque the teenage Imam was trying to protect.
Tomorrow, August 4th there will be no Juma in this city of 100,000 Muslims. They are asked to offer Friday prayers at home.
Gurugram is the richest suburb of New Delhi, housing offices of 250 multinational corporations including Coca-Cola, Pepsi, BMW, Agilent Technologies, and Hyundai. It is also just a few miles from the Indian Prime Minister Modi's residence.
This teenage Imam could have gone to a secure place for his personal safety, but he stayed behind in his masjid to protect it.
Police knew something is about to happen. They were present at the mosque when he was murdered, and the mosque was torched.
He trusted the Indian police to protect masjid, as he told his sister over the phone that the situation is tense, but police is standing by masjid and there should not be a problem.
That was his last call.
Police failed him and the mosque as they allowed the Hindu army to kill and destroy, as they terrorized the area with the war cry of Jai Shri Ram.
All this happened late Monday night, August 1, 2023.
Name of this hero is Imam Mohammed Saad.
He was a 19-year-old hafiz of the Quran. He has been an Imam for only months.
He stayed at the Mosque despite growing disturbances as he felt it was his duty to remain at the Mosque until the senior Imam returned.
Imam Saad was known for his efforts to foster peace and communal harmony. Just before his tragic killing, he released a video reciting a beautiful dua praying for peaceful co-existence between Hindus and Muslims.
He prayed:
"Hindu-Muslim baith ke khaye thaali mei
Aisa Hindustan bana de ya Allah."
(O God, Bless us with an India where Hindus and Muslims can break bread from the same plate together.)
While on the other hand, Hindu extremists of BJP-RSS circulated hateful and provocative videos mobilizing Hindus to target Muslims just days before the attack on Imam Saad. This is now a common pattern that in almost every rally during Hindu festivities, Hindutva extremists shout abusive slogans against Muslims even in the presence of the Police. The outcome of this hate-mongering is so grave that In just the last week, there are reports of a uniformed Indian Railway police constable shooting dead 3 Muslims on a train in a hate crime, a lynching death of a Muslim youth, death by beating of a Muslim youth in Police custody, assaults on Muslim women including a minor girl, burning down of Muslim properties and the destruction of Mosques and the brutal killing of Imam Saad.
Why the Shaheed Imam Saad was so protective of the mosque
Imam Saad was protective of the mosque because there are not enough mosques in Gurugram.
This mosque called the Anjuman Jama Masjid was one of the very busy mosques. Sometimes it had as many as five Juma prayers.
Gurugram's old name is Gurgaon. There are 22 proper mosques, but these do not have enough space for the worshippers. The BJP-RSS regime governing Haryana does not give permits to build new mosques or to expand/add floors to the existing ones.
Since there are not enough mosques over the years, the government did grant permission to Muslims to offer Friday prayers at about 150 public places like parks, parking lots and other open spaces which are empty and available at Friday noon time.
However, about three years ago BJP-RSS Hindus started protesting. They occupied such spaces on Fridays to disrupt prayers. Sometimes they will throw cow dung in such places or release water just before prayer times. Many times, they will physically disrupt prayers.
The police, which is always willing to submit to BJP-RSS demands, use the Hindu protests to to withdraw permission for prayers in most such places. So instead of 150 places, Friday prayers are currently allowed in only about 10 locations. Even at these locations, the BJP-RSS machine continues to put pressure.
Most Muslims that live in Gurugram provide services to the residents. A Siasat reporter reports that "they work as maids, cooks, drivers, security guards, construction workers, ordinary laborers, etc. Almost 99 percent of maids and cooks who work in the Hindu households in Gurugram are Bengali Muslims who go by Hindu names. Many Hindus see the utility of the migrant laborers but they refuse to accommodate their religion in the expanding space of the new city."
The same reporter writes that "The level of communalism that prevails in Gurugram can be ascertained by the fact that an 'All India Saints Council' has built an army of 15,000 young boys who are trained to "to live for Hindus and to die for Hindus." They are the ones who at a drop of a hat, are ready to terrorize the religious feelings of the Muslims and with criminal intent disturb the Muslim worship praying in open.
They are the one violently disrupting Juma prayers. Although the Indian constitution guaranteed freedom of religion, in practice Muslims have a hard time practicing their faith.