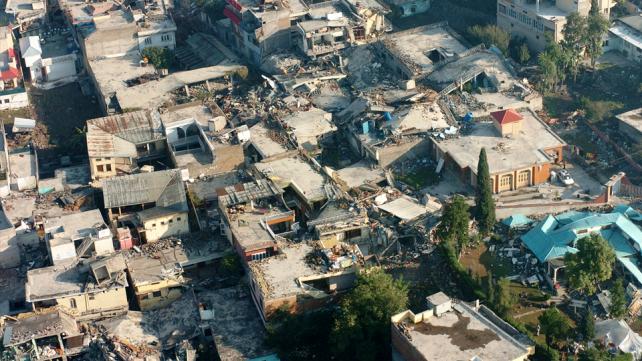 The UN is calling the earthquake worse than the Asian Tsunami. Its emergency relief chief, Jan Egeland, said the UN had never seen such a "logistical nightmare" in any world disaster before. Kofi Annan warned yesterday that a "second, massive wave of death will happen if we do not step up our efforts now."
The main problem is logistical. The people of Pakistan have once again demonstrated their generosity in tremendous ways. But their aid as well as that from around the world cannot reach those who need it the most. Road access is limited to 30 percent of the disaster area. Seventy percent of the 15,000 villages are inaccessible without helicopters.
Since the day the earthquake struck, this author has been writing and calling US government officials, community leaders and others to inform them that only massive helicopter support can handle the situation.
More Helicopters Needed
Media reports say there are about 55 helicopters. A US State department person confided that the number is far smaller. And four of those are from Afghanistan, which has already requested the return of those helicopters. The UN is asking for tripling the current number of helicopters.
Pakistan has five airports around that area. Two of them, one in Islamabad and one in Peshawar can handle Jumbo Jet 747 planes and an airbus. Both airports have an American presence. There are three other airports far closer to the arena where more helicopters can be based, loaded and refueled. All these airports also have close by hospitals and large population centers which can support the injured and the survivors who can be brought back with massive helicopter support.
Chucklala airport at Islamabad is overburdened at this moment. It is mimicking traffic jams, which are delaying supplies to the disaster area. It should be exclusively used for international and national governmental relief operations. All other relief traffic must be directed to other airports.
Egeland said a massive helicopter lift is also needed to bring tens of thousands of homeless and injured people out of remote areas before winter sets in.
Egeland said an airlift was needed of the proportions of the Berlin blockade of the 1940s, when Allies flew in supplies to the divided city in communist Eastern Europe.
Civil Society Needs to Organize Help Better
Governments were slow, late, and not ready to handle the Asian Tsunami, Hurricane Katrina, and now the Kashmir earthquake. Civil society was the first to respond in all three disasters. That increases the burden on civil society further. While they were quick to respond, they need to organize better for this earthquake.
I have the following suggestions:
Two more relief coordinating headquarters are needed: one for Pakistani civil society and one for the international NGOs. Both are unable to do their work properly at this moment while the government is busy coordinating international help from Chucklala airport. Each of these two new headquarters must coordinate with the government, but should be allowed to have their own rented helicopters, which many of them are willing to bring in.
Establish Pakistan Civil Society Support Headquarters
Pakistanis have come alive. All are trying to help. Trucks are not available for rent since everyone has rented them to take supplies to Kashmir. However, a lot of this requires sorting, proper packaging and waterproofing for proper distribution. A lot of their help could be guided and organized in a better way to become more productive and efficient. This will be needed far more once the immediate media attention fades away even in Pakistan. This headquarters can be situated at Wah complex since it is closer to Kamrah airport for helicopter support, on the national highway and accessible through train. Military containment is their to guide and support. They are also at an equal distance to access two roads heading towards the disaster areas. They need to issue hourly guidelines of what is needed in what quantity and how it needs to be packed. Their hourly communiqu?s can be announced through the internet and local media. All of their civil society aid must be gathered at one point, reorganized and dispatched as per needed basis.
Establish an international NGO Support headquarters
These angels help a lot and know how to help. Their work is being hampered because they are not getting logistical help, electricity and the supplies they need locally. There are more than 20 Muslim organizations from the West who are directly working in the disaster area while there are more than 50 non-Muslim groups working there as well. This headquarters could be based at Kakul military academy, Hazara, which is very close to the disaster epicenter. This location has helipads, fuel, electricity, the internet and phones. It is ten minutes from the epicenter of earthquake. It is also about 90 minutes away from two airports. Helicopters will be closer from here to the disaster area than from Islamabad. Their needs can be incorporated in the hourly needs bulletin of the Pakistani civil society.
These two new headquarters can have their own helicopters, which Islamabad can guide through their air traffic controllers.
Provide shelter to 3.3 million homeless
There are four choices:
provide winterized tents
evacuate them to warmer climates in tents
host families take in guest families for the winter
build immediate housing
All of these options must be pursued.
Host families take family guests for winter
Three point three million homeless make about half a million families. I am pretty sure there are more than half a million Pakistanis who are willing to take a family in their homes for the winter. In the meantime, survivors can rebuild, find jobs and settle down. This is a far more humane way of dealing with this problem than putting up tent cities. We have seen these tent cities throughout the world being relegated to a lesser humanity when the world's attention fades away.
There can be three partners in this temporary relocation project: host families, guest families and financial sponsors, if needed. The third party can be from anywhere including Pakistanis abroad or other people of good faith. A $100-a-month sponsorship per family for six months will be needed at minimum if the host family cannot afford to provide more than shelter to a family. However, I am absolutely sure, knowing Pakistanis, that food and clothing will come from the whole neighborhood if they know there is a guest family staying at someone's home. A web-accessed database can be created to match hosts with guests.
Of course, helicopters will be needed for this massive evacuation and the government will have to provide identity cards and property papers at the site before evacuating survivors.
The people of means have already left the disaster areas for other cities. But just like New Orleans, only the poor are left behind. However, unlike New Orleans, a vast majority of these people live under $1 a day.
Provide winterized tents
There are not enough winterized tents in the world, according to the UN, to provide shelter to the earthquake's 3.3 million homeless. It would require at least half a million tents. Pakistanis are calling all around the world but not much is available. Meanwhile, the price of these tents is rising ten to twenty times more because of the demand. The current plastic tents, which everyone is sending, cannot work in Pakistan's winter, much less the Himalayan Kashmiri winter. Some parts of Kashmir, like Neelum valley, have snow even in summer.
Start building houses now
Architects have developed earthquake-proof housing that can be built within a month with $1,300. That's just $300 more than the winterized tents based on UN specifications. The technology uses local material, including bricks from the rubble, to rebuild.
There are many Kashmiris who have already started rebuilding temporary shelters, taking material from their demolished homes. They will be willing partners to learn the technology and start building for themselves.
We should build one each of the following earthquake-proof, inexpensive buildings:
a model house, a shop and a school in four major towns where people from the surrounding areas can come, learn, take blue prints and go back to their areas. These four markets are Muzaffarabad, Bagh, Rawlakote, and Balakote. We would be able to find enough local architects to volunteer to offer guidance in local languages.

Hundreds of thousands may still not want to leave as this is where they have always been. They live off their agricultural land for their livelihood. Someone may occupy the land in their absence.
Avoid the tent city
I am against tent cities unless they are very temporary places and until any of the above three options are availed. There are millions of Pakistanis still sitting in the Bangladeshi tent cities of Mirpur after 30 years. We have seen what happened to Afghans in the tent cities. We know of the African tent city experience. Please say no to tent cities.
Much More aid is needed
While 92 countries had helped nations hit by last year's tsunami, only 15 to 20 countries responded to the quake.
The UN's Egeland said only $86m had been pledged of the $312m the UN had asked for to fund the relief operation - and far less actually received in hard cash.
The UN says the shortfall in aid for victims of the South Asian quake has made the relief situation worse than after last December's tsunami.
The Muslim world has announced about $350 million as compared to more than a billion dollars it gave for Hurricane Katrina relief to America. It has upset my friend Sheila Musaji so much that she has written an article about the death of the Muslim ummah.
Saudi Arabia, which is benefiting from the current high gas prices, has offered only $130 million. They can do a lot better. America has offered $50 million. We could do a lot better.
Thinking about the long-term
There are many areas where we need to start thinking for the long-term help.
About 30,000 physically challenged survivors: since emergency trauma help was not available, now 30 percent of all of the injured are being amputated. What is the best and cheapest way to assist them technologically, with equipment like wheelchairs, etc. How can we make society more accessible to the disabled?
Orphans: Although according to some reports, 50 percent of the dead are children and women, there may be a need for help in dealing with orphans of the quake.
Emotional Needs: How can civil society help the survivors deal with the situation emotionally, considering the scarcity of professionals in the mental health field in Pakistan? Stress and anxiety can kill a living person if not handled properly.
Earthquake proof housing: Pakistan still does not have the architectural requirements needed for the area. Even Karachi has as much a chance of earthquake as Los Angeles. I did not know this until now. None of the housing there is built with this consideration. Earthquake-proof housing is not necessarily costly housing.
Organizing for future disasters: No one can predict disasters. But we have seen this year that disasters have substantially increased in their quantity and in its impact. Scientists say that hurricanes have doubled around the US. Very few in our lifetime knew of the phenomena of tsunamis until the Asian Tsunami less than a year ago. Now we are being warned about the bird flu pandemic, which could prove worse than the one that killed millions almost a century ago. All of us must think about how to prepare for disasters, earthquakes and emergencies at the family level as well at the national level.
Some say it is a test, others say it is a punishment, yet others say it is neither. Instead of debating that, it would be great to focus on our own sins and shortcomings while we prepare for any eventuality.
Prophet Muhammad said even if you have seen all the signs of the Last Day in front of you, if you have a small plant in your hand, go ahead and plant that. God's peace and blessing be upon him. Let us not allow disastrous circumstances to hold our hands back from doing good.
Photo Attribution: http://commons.wikimedia.org/wiki/File:Muzaffarabad_-_2005_Kashmir_earthquake.jpg