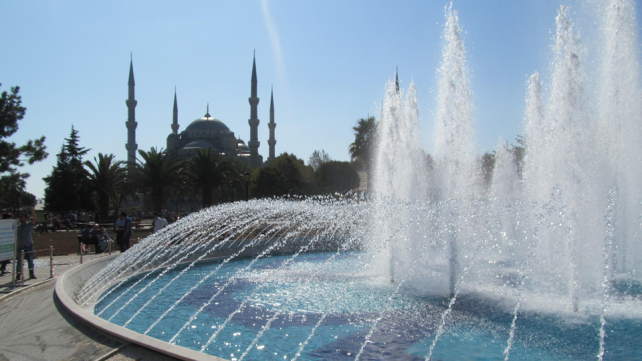 As school ends and summer quickly approaches, many families are beginning to look forward to a vacation. After a year or so of confinement due to COVID-19 restrictions, getting away and having fun is more desired than ever.
However, many international destinations still have travel guidelines and restrictions for American vacationers entering their country. Some countries have reopened their doors to U.S. travelers who are fully vaccinated and who can prove they have a negative COVID-19 test. But, there are still some countries that require vacationers to quarantine even with full vaccination and negative test results.
There is a lot to consider when making travel plans this year. Some families may choose to skip the hassle of reviewing and staying up-to-date with country-specific travel guidelines and instead opt to stay close to home.
If your travel and vacation plans are veering toward enjoying the United States or Canada this year, below is a handy list of Muslim themed-travel destinations. These vacation spots are all over the country and are educational, as well as fun.
Museums
There are at least two museums in the United States that highlight Muslim culture, as well as a Smithsonian museum that lists artifacts of note.
Art: Islamic art is displayed in art museums across America, often as traveling exhibits or exhibitions in colleges. Some of note include:
Points of interest – historical mosques in North America
Some of the known and not-so-well-known mosques built in the United States are worth the trip. After visiting the mosque, enjoy some of the sites of the surrounding area.
Points of interest: Beautifully Built Mosques All Across America.
Throughout the U.S. and Canada, there are some mosques that have been built that are quite impressive, inside and out. We have listed some in different regions below:
Points of interest – Cultural Centers
These centers contain all you need to enjoy a vacation – arts, history, activities to participate in, tours, and interesting information.
Muhammad Ali Center: Louisville, Kentucky
Malcolm X Park: 5100 Pine St, Philadelphia, Pennsylvania. This is a tree-shaded city park featuring a playground, covered benches, and paved walking paths.
Malcolm X Foundation: Omaha. Nebraska
Turkish Cultural Center: Artfully designed centers all over America, often worth the trip just to view the elaborate architecture. They have centers in:
-Houston, TX
-Chicago, IL
-Washington, DC
-Boston, Maryland
-Pittsburgh, PA
-New Jersey
-Long Island, NY
-Philadelphia, PA
-Bedford, NH
-Chapel Hill, NC
Google "Turkish Cultural Center (Name of City) to find them.
Tours
International bug still have a hold on you?
You can certainly make plans to span the globe for your family vacation trip. Before you go, check country entry guidelines since different countries are at different levels of containment of the COVID-19 virus. In addition, the guidance for entering countries around the world appears to be ever-changing and evolving, so be flexible with your plans. Below are a few suggestions.
Umrah – A trip to the holy city of Makkah is always a beautiful experience for the family.
Africa – Touba, Senegal

An alcohol- and cigarette-free city. In Touba you can tour one of the largest mosques in western Africa. A unique experience in that there are also no restaurants or hotels because when visitors arrive, the locals share their food or homes.

Europe – Spain

The region offers a number of historical sites of Moorish Spain, including the Alhambra of Granada,The Great Mosque of Córdoba, Giralda in Seville, and Aljafería in Zaragoza.

South America – Brazil

Visit the Mesquita Brasil (Mosque Brazil) located in São Paulo city, the oldest mosque in Brazil and one of the oldest mosques in South America or the Mosque of Cuiabá, which is open to tourists and located in the state of Mato Grosso.

---

(05/28/2021)