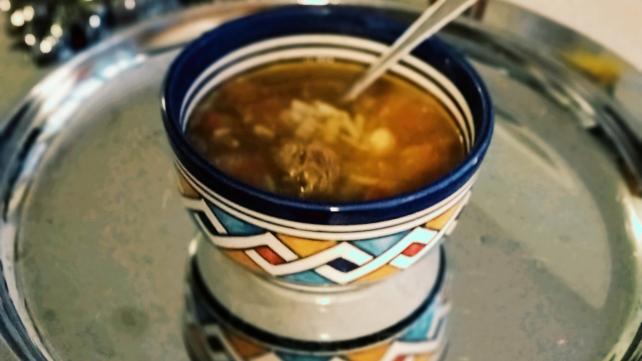 In our family, harira soup is the fragrance of Ramadan. The savory, tomatoey broth with a hint of cinnamon always tempts our taste buds as it simmers on the stove. Although harira can be enjoyed any time of year, many Moroccan families make it during Ramadan. It's a wonderful soup to break the fast and tastes especially delicious accompanied by dates. My husband is Moroccan, and I'm from the United States. I learned this recipe from a Moroccan cookbook years ago and have made my own adjustments (with my husband's expert input). Harira has many variations, and each Moroccan family probably has their own special recipe. We have cooked this particular one year after year, and our family loves it, and so do the guests at our iftars.
Ingredients
1 cup chickpeas (canned is fine, or soak dry ones overnight)
1 pound stewing lamb, cut into cubes (beef also works)
½ pound chicken wings (make sure to remove bones after cooking)
2 large onions, peeled and chopped
1 pound ripe tomatoes, chopped
½ cup brown lentils
1 teaspoon turmeric
½ teaspoon cinnamon
½ teaspoon paprika
5 pints water
Salt and freshly ground black pepper
½ cup rice
¼ cup chopped fresh cilantro
¼ cup chopped fresh parsley
1 tablespoon finely chopped celery stalks
2 teaspoons tomato paste
Instructions
Add chickpeas, lamb, chicken, onions, tomatoes, and lentils to a large pot.
Add turmeric, cinnamon, and paprika and pour in 5 pints of water. Add salt and pepper.
Bring to a boil, cover, and simmer gently for about 1 ½ hours.
Then add rice, cilantro, celery, parsley, and tomato paste and cook for another 20 minutes or until the rice is cooked.
Enjoy this hearty soup during Ramadan for either suhoor or iftar!
Laura El Alam is a first-generation American Muslim and the author of over 100 published articles. She has written a children's book, Made From the Same Dough, due to be released in 2023. You can visit her online at www.seaglasswritingandediting.com.