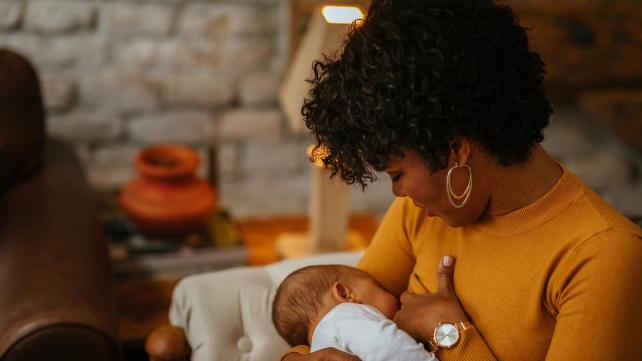 The year was 1977 BB (before breastfeeding), and I thought I was prepared for the experience. The zeitgeist of the 1970s was holistic living and simplicity. Natural childbirth was a relatively new idea and health consciousness was on many new mothers' minds. The scientific research convinced me of the nutritional benefits of breastfeeding and, as a recently converted Muslim, I understood that breastfeeding was encouraged in Islam.
I thought I was ready. I clearly understood how to hold a squiggly baby while nursing it. Friends had shared their stories about the emotional bonding that would take place between my baby and me, so I eagerly anticipated it. And I had a very unflattering, utilitarian nursing bra ready. I also had little coffee-filter-like nursing pads handy in case of occasional small leakages. All I needed was the baby, inshaAllah, God willing.
After nine months of waiting, I was more than ready to begin my motherhood journey. And then he came. My love. My joy, alhamdulillah, all praise and thanks be to God. My baby.
Everything was butterflies, rainbows, and sunshine … until he had to eat.
No one told me that breastfeeding had no downtime, no punch-out time, and no quitting time. My body was on call around the clock. In the comfort of my hospital room, my new routine was manageable. I was assisted with nursing my son every four hours. Without the need to cook and clean and take care of other mundane tasks, the every-four-hour schedule seemed doable.
Six AM. Ten AM. Two PM. Six PM. Ten PM. Two AM. Repeat.
Six AM. Ten AM. Two PM. Six PM. Ten PM. Two AM. Repeat.
Six AM. Ten AM. Two PM. Six PM. Ten PM. Two AM. Repeat.
That was my reality for three idyllic days, and then the baby and I were unceremoniously evicted from our hospital room. He was fine. I was fine.
Or was I?
Once I was home with my baby and my daily routines, those four-hour, orderly intervals quickly disintegrated into unpredictable chaos. My baby, it seemed, could not tell time. He demanded to be fed at odd and inconvenient hours. My breast pump was not cooperating and the baby would not take any other milk.
My breastfeeding enlightenment began even before I left the hospital, however. No one had told me that my pre-pregnancy (PP) blouses would no longer fit me. I had packed my favorite PP top in my hospital bag and looked forward to wearing it home. Using my new-mother logic, I deduced that I should be able to fit back into my cute PP outfits without a baby hitching a ride in my belly. I had no idea that I would have to wear home the same maternity blouse and pants that I rode to the hospital in. The maternity top was not cute. The pants were not cute. I did not feel cute, by any stretch (pun intended) of the imagination.
No one told me that the first days of breastfeeding could be very painful. Some compassionate woman should have explained engorgement and chapped nipples to me. Someone should have described the jolting feeling of a toothless, clenched grip on a sore breast. Someone should have explained that, at some point, your adorable baby would slowly and deliberately turn away from your breast while it was still firmly in his/her lovely mouth. The baby will not realize that your nipple has no swivel feature and that its elasticity is limited. And for a moment, you may be convinced that your baby is well aware of these realities and just has a vexatious sense of humor.
No one told me that breasts are not leak-proof containers. On my first day back to work, I wore a light grey, linen tunic. By lunchtime, right around the time my son would have been crying for a feeding, I started to leak like Niagara Falls. My nursing pads were of no help, there was nowhere to pump, and the once solid-colored garment I was wearing now had two dark grey, undeniably wet, CD-disk-sized circles on the bodice. The women in the office all knew and seemed to sympathize. The men seemed puzzled at my lunchtime sloppiness.
No one told me breastfeeding is a motherhood rights-of-passage test for women who may be shy and shun the limelight. Breastfed toddlers don't care where they are and who is watching when they get hungry. They know how to saunter to the beverage supplier and start undressing her. I was at an important event surrounded by strangers when my son proceeded to attack the buttons on my blouse.
And no one told me that certain food flavors could be transferred into my milk. Why didn't someone say that drinking a cola or two might make the baby a little jumpy and hard to put to sleep?
Looking back, all of those memories now make me smile. What seemed like frustration at the time is now a loving memory. That is a blessing.
We have made progress and many things have changed. There is better information and support for mothers. We have more options for pumping and storing milk. Baby bottles now mimic the natural feel of the breast. Forty years later, my daughter used a state-of-the-art, electronic breast pump, which made the process easier and quicker. Her maternity clothing was cuter. And society has become more accepting of breastfeeding, offering private spaces for it. Hopefully, more changes will occur. Women with less money and resources may not have the support and resources needed to breastfeed. Not everyone is tolerant of the practice.
Despite the challenges of lactation, the joy and satisfaction of knowing I was helping my child have a tremendous emotional and nutritional start made the effort worthwhile.
Candice "Sister Islaah" Abd'al-Rahim reverted to Islam in 1976 and considers herself a student of knowledge. She has deep education credentials which include a M.A. in Teaching, Certificate of Advanced Studies (Post-Masters) in Administration and Supervision, B.S. in English, and experiences as a principal (in fact the first hijab public school principal in Maryland!), curriculum and staff developer, mentor, and classroom teacher of grades pre-K through 12. She is a former adjunct professor at Johns Hopkins University's Graduate School of Education and is a doctoral candidate in Islamic Sciences at the International Online University. Islaah's contributions to the field have earned her honors in the Who's Who of Distinguished JHU Alumni. She is wife, daughter, mother, and grandmother and is an active member of several Muslim communities in the Baltimore area