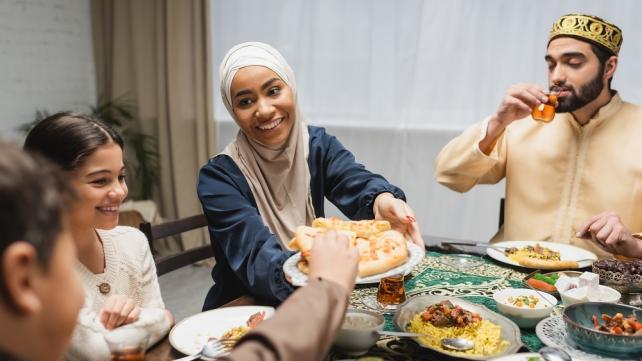 With all of its inherent beauty, the month of Ramadan does not need improvement or embellishment. And yet, when we celebrate the month with enthusiasm and special effort, we create a positive emotional connection that helps our families greet the month with anticipation year after year. Instead of seeing it as four weeks of deprivation, hunger and thirst, our families come to associate Ramadan with togetherness, increased love and knowledge of Islam, joy, community, and hope. Families in the United States often go to extra effort to celebrate Ramadan since the culture around them generally does not recognize the month at all.
I wondered which traditions were the most memorable and meaningful for my fellow American Muslims. Several of them shared their family's most beloved Ramadan customs.
Anisa from Massachusetts shares:
"When my older girls were little, we started making a paper chain just before Ramadan and they would take turns pulling off a link each night to count down until Eid. It has evolved a little since and now I have made the chain out of felt and buttons so it can be reused each year. Starting around age seven or so, each member of the family has an Ibadah Chart where they write down daily goals for Ramadan, such as read a certain number of pages of Quran, pray a certain number of rakat of taraweeh, read from an Islamic book, etc., and each day we mark off what we did. I used to decorate the first night of Ramadan so the kids would wake up the first morning to see all the decorations, but it became a stressor for me, so a couple of years ago I let the kids do the decorating. They enjoy it, look forward to it, and it takes that stress off of me. We use a combination of homemade and store bought items."
"The last tradition that we have started over the last few years is going to the masjid nightly for iftar and taraweeh," continues Anisa. "When we first had kids, my husband and I would alternate nights going to taraweeh while the other would stay home with little kids. Over the years, it got harder and I would go less. Finally, the year before the pandemic, we went to the masjid every night for iftar so I would have more time for worship instead of cooking. We fell in love with the feeling of community and special evenings spent in the masjid. Of course, it was greatly missed during the pandemic but we started it back up once masjids were open again. When I had littles, I would often leave before taraweeh to get them in bed and pray taraweeh on my own at home. Last year, I was able to stay and pray taraweeh almost every night."
Aasma from California says:
"Ramadan evokes fond memories for me, and now I try to recreate them for my family. For us, it's definitely about the special foods we look forward to making and eating together as a family. We have adapted our favorites from all the cultures we have enjoyed and created our own hybrid of mixed flavors. I set my Ramadan table with spring rolls filled with meat and veggies, rose flavored pink milk, mango lassi, dates stuffed with peanut butter and walnuts, or cream cheese and pistachios, and fruit salad mixed with dragon fruit, just to name a few."
Aasma continues, "We decorate with moon and star lights, lanterns, and 'welcome Ramadan' signs. Ramadan is a blessed time to spend with friends and family. We look forward to going to the mosque for taraweeh prayers and iftars and catching up with friends. Most importantly we reconnect with Allah and the Quran. We welcome the opportunity to reset our intentions and recharge our spiritual batteries."
Sommer from Maryland says:
"The kids get sooo excited when we decorate! We hang string lights all over and turn them on at maghrib and again at suhoor. We try to watch a miniseries everyday, like the Omar Suleiman ones. Also a masjid in our area was doing online stories of the prophets, and the kids loved it! We also work on reading the Quran. My husband or I help our son read a page (or more). And of course food! My family loves having special Ramadan foods/drinks that we don't usually have throughout the year: samboosa, qatayef, amar id deen, hibiscus, etc."
Naila Ajmal, who lives in California, says:
"One of our traditions ever since kids were tiny (besides decorating) is 'Ramadan Goals.' We each write down 1 Quran goal, 1 Sunnah goal, and 1 personal development goal. Alhamdulillah [all praise and thanks if to Allah] we check in every 10 days to see our progress and add or keep as needed. We also have one family goal and that is to watch the Omar Suleiman Ramadan series daily after Asr. Afterwards, each person shares their thoughts related to that day's episode."
Even if schools, shops, and businesses in the West generally don't recognize Ramadan, American Muslims have found ways to commemorate it and create positive memories and meaningful traditions. While the holiest month doesn't need banners, lights, special foods, or parties to make it important, Muslims who love Ramadan often try to welcome and observe it with a sense of festivity. After all, it is the month of immense blessings, forgiveness, mercy, and rewards, and those are definitely worth celebrating.
Laura El Alam is a first-generation American Muslim and the author of over 100 published articles. She has written a children's book, Made From the Same Dough, due to be released in 2023. You can visit her online at www.seaglasswritingandediting.com.