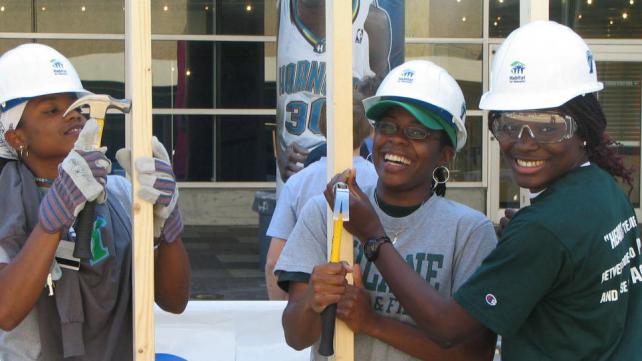 Islamophobia, or the fear and hatred of all things relating to Islam and Muslims, is becoming mainstream and deadly. Whether it's radio talk show hosts, columnists or extremists who promise to kill Muslim women, there is a great danger to Muslims.
Families and kids may take a vacation in the summer but Islamophobes, those who continue to fan the flames of Islamophobia in this country, don't. That's why Muslims need to combine this time of fun and frolic with some heavy duty outreach for understanding. Here are a couple of ideas:
1. Understand what Islamophobia is. Islamophobia is a form of racism and intolerance. It is a hatred, disdain and dislike for Islam and Muslims. Examples of Islamophobia include denying someone a job because they are Muslim, mocking Islamic practices like prayer and Hijab, calling for Muslims to be killed or attacked. Here is one explanation of the term: http://www.salaam.co.uk/maktabi/islamophobia.html
2. Study Islamophobia in the context of other struggles against racism. Racism against Native Americans, African-Americans, Asian-Americans, Irish-Americans, Jewish Americans and many other groups in the United States provides important information about not only how similar these struggles are with modern-day Islamophobia, but also, how to combat this new form of racism in America. Use the summertime to read up on the struggles of these groups online and in books. Also, don't hesitate to check out documentaries on video or DVD to learn more about this ugly aspect of our history.
3. Network, network, network. Reaching out to others is one of the most important ways to combat any form of racism and intolerance. The more people become aware of the social disease of Islamophobia, the easier it will be to combat it. Here are a couple of ideas for your mosque, Islamic center or organization:
Encourage Muslim family and friends to actively participate in your neighborhood's festivities. If there is a mosque in your neighborhood, try to have them buy a stall and set up an information booth with free refreshments.
Participate in walks or races for a good cause, whether it's breast cancer, multiple sclerosis or Alzheimer's. Check out the web for one near you.
Volunteer for a politician with a track record of reaching out to Muslims. If you're a student, not only will this look good on your resume come job search time, but student or not, this is an excellent way to provide encouragement to the candidate of your choice to continue reaching out to the Muslim community.
Organize a mosque open house. Try this at your local mosque. If they aren't conducive to the idea, find one that is.
If your mosque or Islamic center has a large parking lot or open space, organize a carnival for kids. Advertise it heavily in the neighborhood.
On behalf of your mosque, Islamic center of Muslim organization, send baked goodies to your local fire and police department as a thank you for keeping the neighborhood safe and assisting you and all the neighbors.
Visit the nearest church in your neighborhood and if it has an interfaith dialog group, join it. If not, help them set one up, if they are interested.
Join an interfaith cause. Search online using the words "interfaith project" and the name of your city to find one in your area.
4. Fight Islamophobia in the media. Get together with a couple of friends over a barbecue in June or early July and set up the group which will not only respond to articles and commentary that are Islamophobic, but also brainstorm good story ideas about Islam and Muslims which the local media can cover. Summer is a dry time not only in terms of weather, but also for journalists and editors as well. They're often hard pressed to come up with articles that will interest more readers. With your group, come up with at least five good story ideas and then flesh them out and pitch them to your local newspaper by sending a press release or calling the relevant editor/reporter. Some ideas include: a profile of a Muslim who is involved in a local volunteer cause; a humorous article about how Muslim women in Hijab handle the heat; a local interfaith effort.
5. Use the term ?Islamophobia? when writing or talking to others about the phenomenon. Once a practice is named, it is easier to discuss it, bring it out into the open and deal with it appropriately. Let's encourage our family, friends, neighbors and leaders to do this.
6. Encourage non-Muslim family, friends, co-workers, neighbors to visit America's only Muslim museum. This is a nice place to learn about Muslim heritage and visit Jackson, Mississippi as well.
7. Second to last but not least: make Dua. Only Allah can open people's hearts. Make Dua that your neighbors' hearts open towards you and that your heart opens towards them.
8. Last but not least, remain hopeful. It's easy to fall into pessimism reading the kind of hateful, deadly news reports, blog entries and commentary out there that attack Islam and Muslims. But the fight against prejudice is never won in a day, two or even ten. It takes years and years of deprogramming. Think about how African-Americans continue to face racism in America. But also remember that this prejudice is much less acceptable today than it was 20 years ago, Alhamdu lillah. Radio shock jock Don Imus was recently fired for racist comments he made about a group of African-American women. His firing reflects the change in attitudes Americans, even those in power, have undergone in a generation. Insha Allah, the same will happen with Islamophobia. Always remember that our role model, the Prophet Muhammad, peace and blessings be upon him, was a man of hope and optimism (http://www.soundvision.com/info/seerah/prophetofhope.asp). Let's emulate his character in this area too.

Photo Attribution:http://commons.wikimedia.org/w/index.php?title=Category:Volunteers&filefrom=Billy+%26+Johnny+with+their+pay+%287831541730%29.jpg#mediaviewer/File:Habitat_for_Humanity_(3619985406).jpg