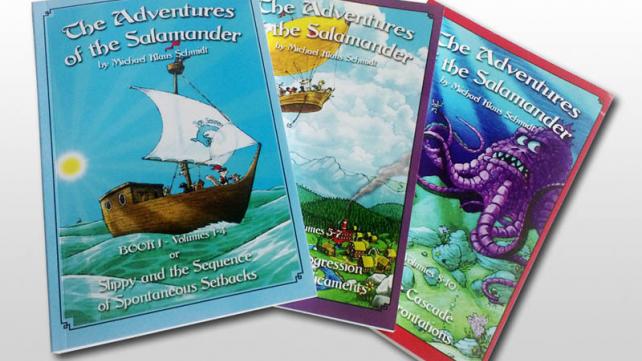 With Eid less than two weeks away, this is the time to order or purchase those Eid gifts! Choosing something suitable and an item the receiver will enjoy is always tricky. Here are some Islamically-flavored gift ideas that appeal to different ages and tastes.
This new product as Eid Gifts presents kids every month with a box filled with projects, activities, and/or stories relating to Islamic values and virtues. The themes of the boxes are based on four subject areas- Art, Nature, Heritage, and STEM (Science, Technology, Engineering, and Math).
Inside every box are at least two activities around the particular theme of the month with supplies to complete each activity. Other supplemental activities will be suggested to carry the theme further.
In addition, there a "monthly virtue" is included in each box supported by verses from the Quran and Hadith. The child will learn about the virtue and ways of incorporating it into his or her daily life.
This one is good for younger kids, ages 7 and under.
In this second part of "Let's Learn Quran with Zaky & Friends" children will learn more Surahs and interesting facts about different countries. In this episode, Zaky visits friends from Malaysia, Bosnia, Egypt, France, England & Morocco, and learns more about Surah Al-fatiha, Al-Nas, Al-Falaq, Al-Nasr, Al-Ikhlas, Al-kafiroon and Al-Masad.
The DVD includes free Dua poster.
This program takes you step-by-step through Arabic words and basic grammar structure. It will teach you how to look up any word in the Arabic dictionary, and you will also learn expressions in various daily matters, including understanding news reporting.
As well, there is a focus on Arabic proverbs and words used everyday that aims to teach the user native Arabic fluency. The book will familiarize the reader with both the formally classical as well the informally spoken Arabic in addition to more interesting useful subjects, all in a simple, yet exciting way. A puzzle and a small dictionary are included at the end of the book.
An excellent Eid gift for young Muslims who enjoy music and poetry. Boona Mohammed's unique, spoken word poetry is as thought-provoking as it is entertaining.
Dubbed the "voice of a generation," Boonaa Mohammed is a critically acclaimed, award-winning writer and performer with accolades including a playwright residency at Theatre Passe Muraille, a short story published in a Penguin Canada anthology called "Piece by Piece" and various slam poetry titles credits including winner of the 2007 CBC Poetry Face-Off "Best New Artist" award.
This is an ideal gift for someone who is planning on making Hajj later this year.
A group of young American Muslims planned to perform Hajj in December 2006/1427H. They began their preparations one year in advance and held monthly meetings at their homes in order to be well prepared. They attended Imam Tahir Anwar's annual Hajj training workshop at the South Bay Islamic Association in San Jose, California. The workshop in this DVD was conducted in July 2006 specifically for this group. Imam Tahir Anwar traveled with the group of American Muslims and Shafath Syed videotaped and photographed the entire experience specifically for this DVD so that we could share this experience with the world and be in your prayers.
This one is for the young fiction/fantasy lover in your circle of family or friends. The chapter books are illustrated as well.
Michael Klaus Schmidt, the author of "The Adventures of the Salamander" accepted Islam in 1996. He said the following about his reasons for writing these fun and exciting children's stories. "As a Muslim author, I wrote these stories to reach out to a general audience, but also to allow Muslims to enjoy them without feeling as if they are compromising their beliefs in any way. The Adventures of the Salamander is an old fashioned adventure story with traditional themes, like honesty, loyalty, standing up for what's right, patience in times of hardship, and the eventual triumph of good over evil. I hope these books may also serve as a bridge between cultures, nations and religions in that they focus on values common to everyone."
The three-volume series is about a young salamander named Slippy. Slippy's village is invaded by a group of mean-spirited lizards who want to force the poor salamanders to bake cupcakes for them. Slippy escapes to find help, and in the process, finds himself on an epic adventure that takes him to the ends of the earth, and beyond.
This children's series has been part of the American Muslim landscape for more than two decades. Today, there are parents who grew up watching Adam's World raising their own American Muslim kids.
From the very first video, "Let's Pray" to our recently released video, "Alif for Allah", this is a must have collection for any home, school or mosque with young children. These videos can be a continuing source of creative learning and fun for your family.
Kids will learn the letters of the Arabic alphabet, Islamic teachings about kindness, goodness to elders and parents, they'll "visit" different Muslim countries worldwide with Adam and his trusty transvisualizer in different episodes and they'll learn great songs and stories about different aspects of Islam.
A nice gift for the perfume lover in your family. Al-Rehab Pearl Arabian Perfumes offers a rich and pleasant, refreshing aroma. The 40 ml box of concentrated perfume oil goes a long way and is high quality.
This is a fun way for the whole family to learn about mosques. It's suitable for ages 8 to 108. Each of the four categories in this game has 100 questions with multiple-choice answers. It also teaches the basics of mosque architecture and layout, along with a wealth of interesting information about many of the world's most important mosques.
Special emphasis is laid on the Kaba and Islam's most sacred cities of Makkah, Madinah, and Jerusalem. By answering the questions on these subjects, the player will also acquire a knowledge of such Islamic practices as Salah, Hajj, etc.
This one is good for those with long commutes to and from work or school.
Prophet Muhammad, peace and blessings be upon him, said, "The comparison of one who remembers Allah and one who does not remember Allah is like that of the living and the dead" (Bukhari and Muslim).
Fortification of the Muslim (Hisn-ul-Muslim in Arabic) has become a reliable companion of Muslims the world over. It serves as a handy reference for the remembrances and supplications every Muslim needs to inculcate awareness and closeness to God on a daily basis. This audio version is a valuable tool for learning these supplications to make them a regular habit, as the Prophet did. By listening time and again to each supplication read in Arabic, followed by the reading of its meaning in English, one may eventually memorize the entire book.