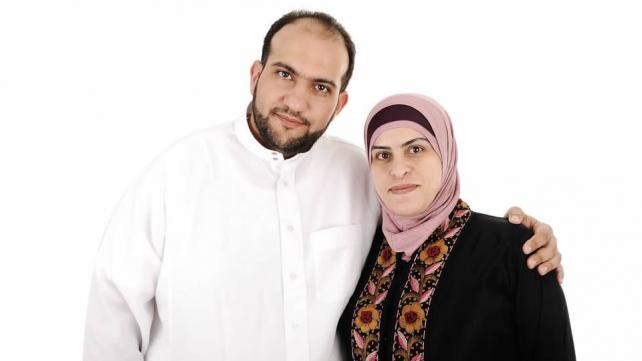 I was already feeling overwhelmed with the amount of work I had to do when I arrived at my office Saturday morning, but the news that awaited me was much worse.
Muzzammil "Mo" Hassan, the CEO and founder of Bridges TV, has been arrested for the murder of his wife, Aasiya Zubair. Ironically, it was precisely this sort of bad news that inspired him to create his television network, which aimed to present a positive image of Islam and Muslims in post-9/11 America
This incident is gruesome, but deeply painful as well. The fact that domestic violence continues in the community makes it clear there is much more work to be done.
I did not know Aasiya Zubair, nor had I ever met her. She was general manager at the network, where her husband was President and CEO. He once came to see me to share his business plan, which even now sits next to my desk. I felt Muzzammil didn't know much about his faith. However, he was highly motivated about changing the perception of Muslims in North America. He had even quit his job at the bank and embarked on this project in a field he knew little about.
He had two children with his current wife and two from an earlier marriage. My heart goes out to these children, who are now motherless and fatherless.
Islam has no room for domestic violence, but it continues to happen in our community. Are institutions of our community doing enough to fight this crime called domestic?
Mo was a known member of the community. All three of his past wives had filed for divorce due to domestic violence. I am pretty sure others knew about it. The question is why others failed to intervene before it reached this level. There is a moral responsibility to intervene. God says "… saving one life is like saving all of humanity." (Quran 5:32)
Domestic violence, while never acceptable, is often related to absence of conflict management skills, stress and pressure. The Hassans were going through a divorce and their business, Bridges TV, was not doing well, according to media reports. Pressure as well as stress, depression, and anxiety are some times linked to domestic violence. A faltering business, economy and money woes add to the pressure. The National Domestic Abuse Hotline, headquartered in Austin, Texas documented a 21 percent increase in calls for September 2008 over the same month in 2007, tying the whopping increase in abuse to job losses and financial stress.
The Muslim leadership in this country, from Imams to Khateebs to members of mosques' Board of Directors must, if they have not already, need to urgently address the crisis of domestic violence in our community. Some have already devoted Khutbas to this topic and privately counsel Muslim families suffering because of it. A number of Imams in America work with Muslim and non-Muslim counselors and social service providers to stem the crisis. I ask that they readdress the issue in the coming weeks. Those Imams, Khateebs and leaders who have not yet discussed domestic violence with their congregants must start doing so now.
Just last week, after I gave a Khutbah at Chicago's Muslim Community Center (MCC), a funeral took place. It was for a young man only 30 years old. He had been depressed, and had died from an overdose of antidepressants. On February 10, 2009, a Muslim Chicagoan, Mustafa Mustafa, was suspected of assault with a deadly weapon on his girlfriend while visiting LA before leading police on a chase and then committing suicide. He was reportedly upset about the loss of his business. Some of you may also remember a gruesome incident over eight years ago which we wrote about, the case of Shahpara Saeed, whose husband had burned her to death on the north side of Chicago.
There have been more than a few cases in the recent past in which Muslims in America have killed people around them. At least two of them were reportedly clinically depressed. A depressed person can hurt himself or others.
State of Mental Health in the American Muslim Community
Although more studies are needed mental health is emerging as a major issue for Muslim Americans. According to a USA Today report, more than 50% of Arab-Americans in a 2006 survey have clinical signs of depression. And when you separate them from Arabs of other religions, 70 percent of Muslim Arab-Americans have clinical signs of depression. Although I have not talked to the Yale University scholar about her methodology for this survey, I believe these signs of clinical depression are not exclusive to Arab Muslims. It corresponds to the hints of depression I see in our community all around me. It is most likely connected with what Muslims have gone through after the attacks on September 11, 2001. Half a million Muslims, for instance, were interviewed by the FBI. And now, with the faltering economy and corresponding job losses, everyone is under some degree of stress.
What we must do against domestic violence
I know that domestic violence is prevalent throughout the country, and that depression is not something Muslims have a monopoly on. However, we have responsibility to act. I request the Muslim community to take the following steps: our newsletters, Imams, Khateebs, study circles, weekend schools, and our adult weekend programs should emphasize the following in their programs:
Spirituality, so that every Muslim improves his or her relationship with God, which is a source of strength, especially in difficult times.
We should make mainstream literature on domestic violence, depression, stress, anger management available in our newsletters and on our mailing lists.
At least two Khutbas and Halaqa/weekend Islamic school lessons should focus on these issues so Muslims are better equipped to handle them in their community.
We need to strengthen the family support system through pre-marriage counseling, marriage mediation, and conflict resolution techniques. This can be gained through strengthening Muslim social service agencies and Imams and leaders receiving training in these areas.
There are well established psychological explanation of frustration/aggression. As the economic situation gets worse, domestic violence will very likely increase. That is why we must prepare ourselves so we can prevent and mediate frustration and depression so it doesn't lead to the kind of violence that took the life of Aasiya Zubair and countless other women in America and abroad.