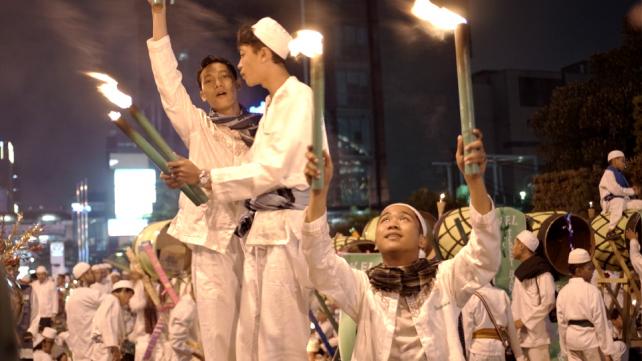 You've done it again.
You probably told yourself last Eid you'd plan and make sure to buy Eid gifts one week in advance at the LATEST, but now Eid is only days away and you've broken your promise to yourself.
But don't waste any more time. Here are some fast last-minute suggestions for gifts.
1. Start off looking for Islamic gifts
If you are blessed to live in a community where you can readily buy Islamic clothes, books, videos, games, etc. head out there first. Make a budget and buy gifts according to the age and interest of the person involved.
2. Aim for the educational and creative
If you don't live in a community where the above-mentioned materials are easily accessible, and you can't order anything because it's too late, aim for educational books, videos and games, especially for kids.
If you have a nephew who's into Star Wars, get him a colorful book at his age and knowledge level about space travel.
If you have a niece who loves jewelry, get her her own do-it-yourself jewelry kit (you should be able to find these for kids, teens and adults).
3. Give the gift of time
Some people may find this rather corny, but it's great for busy parents, kids, brothers, sisters, etc.
Make a fancy coupon on the computer which entitles your loved one or friend the gift of your time either on Eid day or within that week. It can be an hour, two hours, as long as you can make time for. Leave the activity you'll do together up to them. You may be surprised by the reaction.
4. EAT
Treat your family and/or friends to a meal at a great Muslim restaurant. You'll get together with everyone, feast and support a Muslim business while you're at it, Insha Allah (if Allah wills it).
5. Wash the car, babysit, etc.
Offer to wash the family car before Eid as a present. Or to babysit your sister's kids so she and her husband can spend some quality time alone together on Eid weekend. Whatever you decide, you'll give a gift that's inexpensive and that will Insha Allah be really appreciated.
6. Disneyland in your back yard
Forget Mickey Mouse, Minnie, Goofy and Disney. Develop your own "Disneyland" amusement park in your own backyard, if you have the space.
If you've got kids in the family, use the backyard for an afternoon of planned games and fun. You can do this in the basement too, if it's too cold outside. Organize simple fun games that could beat any amusement park ride. Bean bag races, contests, dodgeball, you pick the game and the types of activities to set up.
Get EVERYONE involved, especially parents. Make formal invitations for this by hand or on computer.
7. Indulge a sweet freak
Get a few of each person's favorite chocolate bars or candies, then tie them together with fancy ribbons, a couple of Eid Mubarak balloons and an Eid card with a special message.
8. Bake something
If you're good in the kitchen, bake a really fancy cake, or make a sweet everyone enjoys. Make it the feature dessert of the family Eid day meal.
9. As a very last resort
Give money. It's the least you can do at this point.