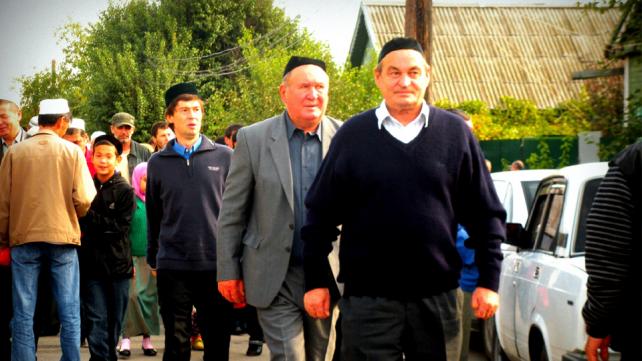 With Eid-al-Adha just around the corner, and the continued lack of understanding among the majority of non-Muslims about Islam and Muslims, there has never been a better time to give your coworkers, neighbors and friends a little peek into your beliefs and traditions.
Where do you start? With Eid. Everybody likes celebrations and festivities, and Eid is a great way to help your non-Muslim friends and coworkers connect with and relate to you. Here are seven ways you can share Eid-al-Adha with others:
1. Don't be afraid to talk about it
Some of your coworkers, classmates and neighbors may have no idea it's Eid or even the month of Hajj. Casually bring it up in conversation; mention a particular festive tradition you and your family will be taking part in on Eid. Tell your bosses or professors about it, too, and that way they'll be more aware of the holiday and will know you may need the day off.
2. Be open to questions
Your friends may have questions but not know how to approach you. Some may be afraid of offending you. Always mention that you welcome questions and they should always feel comfortable approaching you. Tip: Brush up on the details of Hajj and Eid—if someone has questions, you'll want to be able to answer them confidently!
3. Include it in the newsletter
Does your company or community issue a monthly or quarterly newsletter? Got a campus newspaper? It may require some early planning, but make a request to include a blurb about Eid-al-Adha (perhaps even write it yourself!), what it is, its importance to Muslims, and how it is celebrated. Short but sweet reminders like this will help to keep others aware of the holiday and be more familiar with it.
4. Go viral
Got a Facebook or Twitter account? Odds are you have coworkers, classmates or other non-Muslim friends on it. A great way to inform others about Eid and Muslims is by linking to articles relating to it. Was there a photo collection of Eid around the world in the Boston Globe? Did BBC post an article and photos of Hajj? Link to them!
5. Pass out treats
Everybody likes treats! Bring small and affordable treat bags or gifts to pass out. To save money, pass out small bags/baskets of goodies you made at home (cookies, candies, brownies, etc). When giving out the treats, don't forget to say "Eid Mubarak!" Explain what "Eid Mubarak" means, and maybe they'll remember to say it to you next Eid.
6. Discuss the charitable aspect of Eid
Talk about the idea of charity and how and why Muslims are urged to give to the poor during the days of Eid. If you really want to get proactive, you can even start a food drive at your work or school and encourage your peers to donate in the name of the Eid spirit.
7. Include your coworkers in your celebrations!
Ever been invited to a Christmas party by your friends or coworkers (whether you've gone or not)? Return the favor. Invite a few over for Eid festivities and show them what Eid is all about, and what it means to you. They'll feel included in the holiday and have a better understanding of you, and your Islamic traditions.