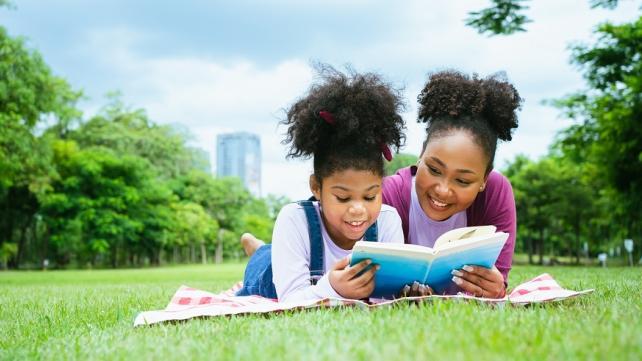 As the school year draws to an end, many children (and parents!) are looking forward to the lazy days of summer. Swimming at the pool or beach, taking road trips, having picnics, camping, or gathering for movie nights might be at the top of your family's to-do list, but reading books together should also be a priority.
Summertime literacy is important to kids' well-being, both emotionally and academically. According to Scholastic, "Summer reading is critical, not only for helping kids maintain learning while school is out, but also for fostering social-emotional development, discovering the joy of stories, and elevating the importance of lifelong learning. 96% of educators agree that providing year-round access to books at home is important to enhancing student achievement."1
What if your children aren't wild about reading? Here are some ideas to help them find joy and satisfaction in the pages of a book.
1. Be a reader yourself.
When children see their parents reach for a favorite book instead of their smartphone or TV remote, they learn that reading is an enjoyable activity. Parents should remember to make time to read for leisure, especially if they expect their children to do so. Sharing a book with your child and discussing it can be a wonderful way to communicate and connect. Reading out loud to children is another extremely effective way to instill a love of literature and to create positive associations with books. "Reading aloud is one of the few spaces that checks all the boxes in terms of social, emotional and mental health," according to an article from NPR. Keisha Siriboe, an early childhood literacy consultant with a Ph.D. in early childhood education, says, "It's not about how well you read or even what you read. . . the act of starting to read aloud and making it part of your routine for 15 minutes a day is what matters most."2
2. Have a family book club.
Depending on your enthusiasm and creativity, a family book club can be either casual or elaborate. A basic club could entail simply discussing favorite books over dinner once a week. Each person can take a turn talking about what they're reading and what they like about it. If the conversation needs some direction, consider having questions to answer, like:
Who is your favorite character in the book, and why?
What have you learned from the story?
Would you like to read a sequel, if there was one?
Would you recommend this book to your friends?
Was there a sentence or paragraph that really stood out to you?
Did your book have illustrations and if so, did you enjoy them?
A more elaborate book club could incorporate themed decorations, crafts, snacks, and outside participants, like friends who have read the same material.
3. Let your children pursue their interests.
Sometimes when parents wish to enhance their children's education, they insist that their kids read certain genres. While it is fine to recommend books and encourage your kids to read them, it is likely that your children will begin to resent reading if they are forced to do it, especially if they find the books uninteresting. Kids are much more likely to enjoy summer reading if they get to choose books that pertain to their interests. Graphic novels are quite popular amongst children right now, and some adults don't think they count as "real reading." In fact, graphic novels can improve your child's reading and comprehension skills just like other books. This article provides more insight into the benefits of graphic novels.
4. Make a cozy reading nook.
Most children love the idea of having their own little hideaway. Summer reading can be much more fun if kids have a cozy, quiet spot to themselves. Consider helping them build a nook somewhere in the house just for them. Stock it with a collection of books, stuffed animals, a flashlight, and any other items that make your child feel comfy. In order for it to remain a reading nook, consider implementing a "no gaming, no watching videos" policy. In other words, the hideaway is a special privilege used solely for reading. Sheets and pillows are enough to make an old-fashioned, DIY fort, but there are also premade indoor play tents that would make a charming little hideaway for your summer reader.
5. Put the library on your itinerary.
Public libraries are wonderful places to visit in the summer. Most have a summer reading program with prizes, raffles, and activities like crafts, scavenger hunts, and games. If possible, designate one day a week to visit the library as a family and restock your book collection. Encourage kids to speak to librarians, who usually have a wealth of knowledge and excellent recommendations.
6. Get crafty!
Bring books alive by creating crafts that align with the text. Does your child's favorite character love blueberry muffins? Bake a batch and let your child help. Does the book take place in a beautiful setting? Try recreating it with water paints or colored pencils. Really, the sky's the limit for book-inspired crafts. Consider using clay, crayons, paints, fabric, Legos, or items from nature like leaves and sticks to create art that ties in with your child's latest book.
7. Bring books everywhere.
Some summer activities will require waiting. What better way to pass the time than to immerse yourself in a book? Plane rides, road trips, visits to the doctor or dentist, and long lines are all opportunities to read. Have a tote bag of books or magazines by the front door so that it's easy to grab reading material to go.
As Muslims we know that constant learning and self-improvement are crucial aspects of our faith. Anas ibn Malik reported that the Messenger of Allah, peace and blessings be upon him, said:
"Seeking knowledge is an obligation upon every Muslim."
If we approach our summer reading with a mindset of striving to please Allah by enhancing our mind and soul, there will be blessings and success in it, inshaAllah, God willing.
End Notes
1 Research Shows the Benefits of Summer Reading! | EDU
2 How reading aloud can help you bond with your kids and make them better readers
Laura El Alam is a first-generation American Muslim and the author of over 100 published articles. She has written a children's book, Made From the Same Dough, due to be released in July, 2023. You can visit her online at www.seaglasswritingandediting.com.