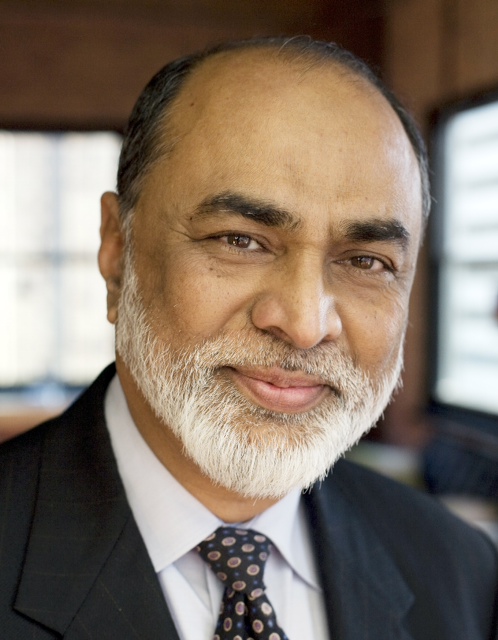 Imam Abdul Malik Mujahid is founding Chairman of Sound Vision Foundation, the leading producer of educational content on Islam and Muslims. He is also executive producer of the daily Radio Islam talk show on WCEV 1450 AM in Chicago and the Adam's World series for children..
Imam Mujahid has been selected seven times since 2011 as one of the 500 most influential Muslims in the world. The list is developed in cooperation with the Georgetown University in the United States.
He has excelled in building alliances and coalitions among Muslims as well as non-Muslims.
Imam Mujahid served as Chair of the Council for a Parliament of the World's Religions, the premiere interfaith organization in the world. He is former Chairperson of the Council of Islamic Organizations of Greater Chicago. The Council is a federation of mosques serving 400,000 Muslims in the greater Chicago. He has also served at the steering committee of the Midwest Coalition for Human Rights. As a leader of United Power for Action and Justice, a coalition of 60 churches, synagogues, mosques, and labor organizations in Chicago, he has lead efforts for the Universal health coverage in the state of Illinois. As a leader in the March 10th Movement, he worked for the comprehensive immigration reforms. As a member of the Independent Task Force of the Chicago Council on Global Affairs, Imam Mujahid helped developed proposals on the civic and political integration of Muslim Americans in America. He also serves at the Faith Advisory Council of the Democratic National Committee which consists of about 60 Christian leaders, imams and rabbis. Imam Mujahid's other civic contributions include initiating a successful joint campaign of American Muslims with the National Organization of Women (NOW) to declare rape a war crime while serving as the National coordinator for Bosnia Task Force, USA in the 1990s.
In late 2007 the Mayor of Chicago Richard M. Daley recognized Imam Mujahid's service for the interfaith harmony and bridge-building by given him an award by the Human Rights Commission of the City of Chicago. In 2006 Imam Mujahid was also a recipient of Milestone award from the Asian American Institute along with Linda Hue of ABC news.
Imam Mujahid has also led prayers on behalf of the Muslim community in events such as Mayor Richard Daley's inauguration, Martin Luther King Jr. Interfaith anniversary Breakfast, and many civic events. He has also lead successful efforts in the passage of the Illinois Senate resolution (SR 178) and Illinois House resolution (HR438) asserting the rights of Muslims to do charity without fear.
He also chairs the Burma Task Force USA, a coalition of 38 organizations, which organized an international conference in early 2015 at the Nobel Institute, Oslo, Norway, where 7 Nobel Peace Laureates declared that what Rohingya are facing in Burma is a "text book case of genocide".
He has been interviewed by national and international media extensively including interviews with BBC, PBS, New York Times,Spiegel, MSNBC, NPR, WBEZ, FOX, Voice of America, Associated Press, AFP, Telegraph, Chicago Tribune, Chicago Reporter, The Sun-Times, AT&T Broadband and Dallas Morning News. Topics of interviews included Islam, peace, justice and civil rights issues.
Imam Mujahid has authored more than 400 articles and essays on religion, civil rights and public policy. His book, Conversion to Islam: Untouchables Strategy for Protest in India, was the winner of an Outstanding Academic Book of the Year Award by American Library Association in 1990.
He also serves as a volunteer imam in Chicago area. As an Imam he has pioneered Shia Sunni dialogue in the USA, preached against domestic violence in the Muslim community and championed the cause of enhanced women's space in mosques.