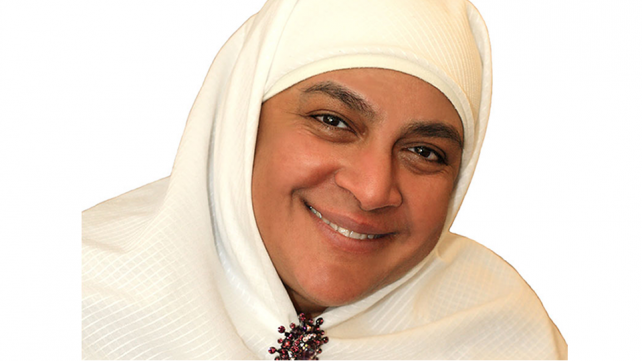 Meet Toronto based Rukhsana Khan, author of Dahling, If You Luv Me, Will You Please, Please Smile. It's a novel that captures the American/Canadian Muslim experience while showing how each of us deals with problems that range from wanting to fit in to having to contend with friends with big breasts. And she manages it without moralizing or simplification. It's the protagonist, Zainab's, struggle that young adult readers will identify with. Her decisions are made within the framework of her values and that truly makes for a thought-provoking read, says a reader.

Rukhsana Khan herself is a cause for celebration. Not only is she talented mainstream writer, but because her stories are about Muslims and their causes, she provides young Muslims with characters they can identify with, and at the same time, offers non-Muslims a better understanding of their Ramadan observing, Jumaah praying, halal eating, hijab/ jilbab wearing neighbors. Her stories range from heartbreaking—Roses in my Carpet—to the wacky—Silly Chicken and Ruler of the Courtyard.

Rukhsana Khan is also the author of Bedtime Ba-a-a-lk, Muslim Child, and King of the Skies. It's no wonder considering she has been intent on pursuing a career as a writer since the age of thirteen. And today that is what she does full-time. "I write books about Muslims that are mainstream in nature. They're for everybody, not just Muslim. I've built up quite a following within the Canadian publishing industry," she says.

"Basically being an author to me means thinking in non-linear terms. Most Muslims are very good at linear thinking, and learning, but my books are about non-linear thinking. There are definitely messages and morals in all my stories, but they tend to be interwoven into the plot."

The response to Rukhsana's books has been overwhelmingly positive. "I've had some pretty amazing experiences in the years I've been published. I've had a LOT of emails including one from a thirteen year old boy in Alabama who wanted to become Muslim after he read "Muslim Child" (thirteen times). When I asked him why, he said it just seemed like such a beautiful way to live. I sent him a book on how to pray and a prayer mat and a few other things. He was so cute!"

Rukhsana has a treasure trove of stories like that one. "When my third book came out, my novel, I was with my husband at his business booth at this festival called "Word on the Street", when a black teen came by. She picked up my novel, "Dahling", and said, 'You know, I loved this book!' I thanked her. Her mom was with her and she said, 'No, you don't understand. She really loved that book. It's the first book nobody ever had to force her to finish.' The teen was nodding. I felt flabbergasted. I was so surprised. Then she asked me if I was working on other stuff. She'd gone to look for any other novels I'd written but couldn't find any. I told her I was working on another novel. I'm still working on it, but honestly, I was scared whether she'd find it disappointing." Err.. Rukhsana..Chill girl. I'm sure it'll rock!

Same book, different incident: "I was invited to a preppy private girl's school in a very well-to-do neighborhood. I was expecting the girls to be bored little snobs. But on the contrary, they were some of the nicest, most sincerely interested students I'd ever seen. The girls were in high school, and they were asking indepth questions about me, my writing and especially about the novel. One girl in particular… had obviously read the book and her questions were very well thought out. When I got home, she emailed me and told me that she'd actually pretty much given up on novels until she read mine. She found it to be 'true'." Wow!

"I've been to lots of different schools presenting. I went to one school in a posh suburb of Toronto where there was a real air of tension in the grade eight group I was presenting to. Then this black boy came in, wearing a bandana and baggy jeans tied low in that rapper style….".

I was just about to begin when that black kid got up and left the room. I asked the preppy young girl who was … to introduce me, 'Where is he going?' She said, 'I don't know. They probably asked him to leave. He's bad!'

I told her I hoped he'd come back. She just looked at me doubtfully. He did come back.

I started my presentation on my picture book The Roses in My Carpets, and when I began describing how I wanted to be white as a kid and the various things me and my sisters tried to lighten our skin, that black child … in the back yelled out, 'YEAH! YEAH!' All the kids whipped around and looked at him and he was still gesturing and shouting, 'Yeah! Yeah!' And I thought, Subhanallah! He'd been through the same thing!"

Many of Rukhsana's books have nominated and/or won national and international awards. She even has one of the top agents in the North American writing field representing her work. That means that Rukhsana writes a story and her agent shows it to numerous publishers and eventually sells it to the one who offer Rukhsana the highest payment for her story.

Since she's been published Ms. Khan has had some strange experiences too. "I've actually had Pakistanis email me asking me to match them up with a 'beautiful' girl so they can immigrate to Canada. I've also received numerous emails from people who can't write or spell, asking me to collaborate and write a bestseller, and split the profits. I told them: 'Why don't you write it yourself? That way you can keep all the money.' "

What is it like being a hijabi author? "I felt a little self-conscious at first, wearing hijab, but I've actually found it to be an advantage. I attended numerous writing conferences and workshops, meeting editors and networking. As a result of the hijab, the editors always remembered me and were intrigued, wanting me to submit my work."

"Editors tend to be on the liberal end of the spectrum. Very open-minded and tolerant people. I've experienced nothing but respect from all the various editors and publishers I've worked with. It was different with the Muslim publishers I initially approached. They wouldn't give me the time of day."

"I'm often invited to schools with significant Muslim populations because they see me as validating their experience. Especially in Canada there's a real drive to be inclusive and tolerant of other cultures, so I'm often brought in for that purpose. I'd often have the kids laughing and engaged for my whole presentation. Then the Muslim kids would come up to me afterward and tentatively ask, 'Are you Muslim?'

I used to get so surprised. I'd laugh and say, 'Of course!' The Muslim kids would grin, stand a little taller and say, 'I'm Muslim too!' But thinking on it later, I realized that they'd never really met a funny Muslim."
Often, the teachers were affected by Rukhsana's presentation even more than the children. "Because even though we've got such a multicultural drive in the educational field here, many teachers don't expect much from multicultural authors. I mean, they don't expect them to be entertaining and thought provoking. And I've often sensed a bit of hostility or sometimes apathy from some teachers who've invited me. It used to make me feel resentful, but I've learned not to write them off so quickly."

"Often the same teachers will come up to me after the performance and say, 'Wow. That was really good!' I'm often tempted to say, 'Well yeah!' But I don't. I just say, 'Thanks.' It's often those very teachers who were so hostile and apathetic, who end up becoming some of my biggest advocates.

"I am a children's writer because I love children's books," she says. And as a mother to three girls and a boy she has plenty of memories to cull from for stories for her books. She does have a novel geared towards adults in the works but plans to remain a predominantly children's writer. Is that a hurray I hear from Muslim children around the world?
To learn more visit www.rukhsanakhan.com.
-------------------
Naazish YarKhan is a prolific writer, NPR commentator and editor in suburban Chicago. Her column "Musings from America" appears in the Oman Observer, in the Middle East. An expert in inter-racial and interfaith initiatives, she most recently, was on 'Speaking of Faith', and was a panelist on PBS' Chicago Tonight, at the International Human Rights Law Institute and at the Interfaith Youth Core conference.
She received the inaugural "Inspiring Woman Award" from the Muslim Women's Alliance early this year and in Nov. 2009 was the recipient of the "Excellence in Community Service Award" for Refugee Assistance Programs of which she is Founder and Director. She is at work on her first fiction novel, she is also the founder of Writers Studio and is proud to say that 60% of her students do get published and 95% of them re-enroll!
Naazish is also the founder of Refugee Assistance Programs. Check out her website at www.literatihall.com.