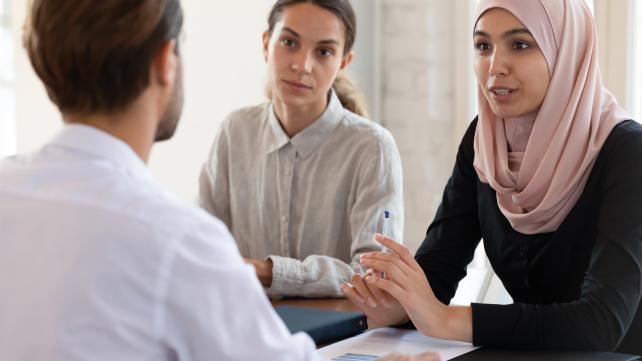 Muslims are a rapidly-growing demographic in the United States and indeed throughout the world. For some, it seems logical that Muslims' voices should be heard in policymaking and that leaders from our community should represent us, communicating our needs and passing regulations that benefit and protect us. Others, however, contend that Muslims don't belong in politics.
It is helpful to understand the terms "policymaking" and "politics" before deciding whether to participate. Politics can be described as the science or art of governing, and public policy is the broad area of government laws, regulations, court decisions, and local ordinances. One does not need to be a politician to participate in public policy. While it is true that elected officials like mayors, members of Congress, and other government officials have unique decision-making power, everyday citizens can help make or change policy when they understand the issues, raise awareness, voice their concerns, and vote. If Muslims take action with the intention of helping their neighbors by making their communities safer, cleaner, and less corrupt, then they are actually fulfilling a sacred duty. In the Quran, Allah says:
"Worship God, and ascribe no partners to Him, and be good to the parents, and the relatives, and the orphans, and the poor, and the neighbor next door, and the distant neighbor, and the close associate, and the traveler, and your servants. God does not love the arrogant showoff."

(Surah An-Nisa, 4:36)
Some notable scholars believe that it is the Islamic duty of Muslims in the West to take political action. In an article for Muslim Matters in 2019, Sheikh Dr. Omar Suleiman wrote about his own activism: "Fighting exploitation and oppression are part and parcel of our religious identity. Not only should Muslims be present in these areas, they should be leading the way. And that's not because it's good political strategy or public relations, but because it's scriptural imperative." In the same article he wrote, "We have a right to an agenda like any other community. Politicians should have to work for our vote, and we shouldn't shy away from where we differ with candidates even when we vote for them."
I spoke with two Muslim women who also believe that civic duty is part of their Islamic responsibility. These women told me how their role empowers them to make a positive and meaningful impact on the Muslim community. Both are elected representatives, one in the United States and the other in the U.K.
Farrah Khan, Mayor
In November 2020, Farrah N. Khan made history when she was elected Mayor of Irvine, California. She was the first woman of color and the first Muslim woman to lead a large city in the United States.
I asked Mayor Khan whether she thinks it is important for American Muslims to engage in politics and policymaking.
"Absolutely yes," she said. "It's important because policy decisions are being made at the local, county, state, and federal level that impact the lives of Muslims, and if our voices are not at the table, then opportunities for us are not made available."
When asked how she has benefited the Muslm community in particular, Mayor Khan said, "One of the biggest impacts is that many times I get introduced as a Muslim woman. For example, when I speak to our youth, and they see that someone who looks like them or has a name like theirs is in a position of power, it helps them understand that they have opportunities in government and politics."
Sazida Desai, Chair of Governors and Executive Member
Sazida Desai is the Chair of Governors at a U.K. Primary School, works for a member of the U.K. Parliament, has been a member of a political party for over 20 years, and currently holds Executive Member positions at local party level.
Desai says, "I think it's very important to get involved in politics if you want to see change – if not for yourself, then for others, whether that be for people in your locality, your fellow countrymen, or people thousands of miles away suffering for all sorts of reasons."
"Politics and policy changes can alter the course of people's lives, and it's up to you whether you want to be the bystander being swept up by changes that other people make on your behalf, or actively stand up and veer that course towards a beneficial change, especially for your community," she adds.
As entrenched as she is in policy making, Desai understands that some Muslims oppose involvement in politics as a matter of principle. "Politics was a dirty word when I was growing up," she says, "so I can see the reluctance that people like my Muslim parents had about getting involved in things that they deemed unnecessary or deceitful. I won't deny that it gets nasty at times, but as a Muslim if you stick with The Seven Principles of Public Life – that align very well with Islamic ideals – then you can't go far wrong. These principles are selflessness, integrity, objectivity, accountability, openness, honesty and leadership. I use these as a basis in all my leadership roles."
Desai points out that in order to have influence, one does not need to become a national political figure. Local leaders play an important role, too. "School governors place the pupils' needs at the heart of their policies to ensure that they get the best education possible," she says. "Quite a large cohort of our pupils and some staff are Muslim and so we can give special consideration to things that will directly affect their education and employment, respectively."
Desai says that school governors like herself can make an enormous impact on the lives of Muslim students, ensuring that school calendars and after school clubs take into account Eid holidays and Ramadan as well as madrasa start times. School overseers can help provide adequate halal or vegetarian food options and set a school uniform policy that includes hijabs.
In Desai's school, the governors ensured that local imams and parents were consulted before implementing "Relationship and Sex Education Policies" which became mandatory in the U.K. school curriculum last year.
For both Khan and Desai, political activism and leadership have provided opportunities to speak on behalf of the Muslim community and to lobby for their needs. If more Muslims become politically active, we will begin to see changes that benefit our community. We do not all need to run for office, though. We can participate in causes that we feel passionate about by working for campaigns, helping at the polls, attending school board and PTO meetings, or participating in nonviolent rallies or protests. If we do it for the sake of Allah and with the intention to improve our community and help our neighbors, inshaAllah our activism will be blessed.
Laura El Alam is a first-generation American Muslim and the founder of Sea Glass Writing & Editing www.seaglasswritingandediting.com. Laura's work has been featured in numerous magazines, and she is currently writing a book for publishing company Ruqaya's Bookshelf that is scheduled to be released in 2023 inshaAllah. A wife and mother of five, Laura lives with her family in Massachusetts.