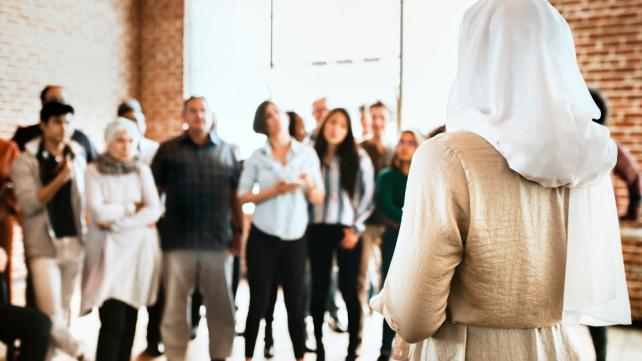 As the LGBTQ community becomes increasingly visible and active in all public spheres, including education and entertainment, the Muslim community in the U.S. must reflect on how to ensure our rights as a conservative religious minority are respected. Muslim leaders and their congregations alike are questioning just how far we are willing to compromise our principles when dealing with matters like sex education, gender fluidity, and shifting social norms. It is, thus, imperative that there are balanced conversations about how to safeguard our civil liberties while respecting one another's differences. Organizations like the Islamic Circle of North America (ICNA) are coordinating events to address these matters and provide opportunities for community engagement and growth.
Jim Sues is the current Director of ICNA Council for Social Justice in New Jersey (ICNA CSJ NJ). He was born and raised in Pasadena, California, where he attended Sunday school at an Episcopal church. He graduated from the University of California at Berkeley with a bachelor's degree in economics in 1977. Shortly after graduation, he moved to the New York City area where he worked for IBM in product management and marketing for 20 years. Sues was introduced to Islam by a co-worker at IBM In 1995 and converted the same year. In 2008, he became the Executive Director of the New Jersey Chapter of the Council on American Islamic Relations (CAIR), where he served for seven years.
Sues has been very involved in brainstorming and spearheading relevant programs to address current issues of concern for American Muslims. One of the areas of interest is the LGBTQ movement and its impact on conservative faith groups. He said, "There is great concern regarding how fast this trend is moving toward an extreme cultural norm and confusion regarding as to why the Democratic Party is so focused on advancing this agenda so aggressively. The question, 'Why?' keeps coming up."
Taking a Stand in New Jersey
Recent LGBTQ legislation impacting education standards has been the impetus for reevaluating the Muslim community's stance on LGBT inclusive policy. In 2020, the NJ State Board of Education implemented new sex education standards for public schools in the Fall of 2022. As part of LGBTQ-Inclusive NJ State Curricular Standards, these updates include comprehensive lessons on gender expressions, gender identity, sexual orientation, and various sexual activities across all grade levels.
Organizations like ICNA CSJ and individual Muslim parents have taken action to recognize their right to protect their children from explicit human sexuality materials and instruction that may contradict their religious beliefs. CSJ NJ launched a campaign to warn parents via email blast, social media, and in New Jersey Islamic centers last summer. They posted the curriculum items of greatest concern on this website: https://www.subscribepage.com/new-nj-guidelines. By law, a parent has the right to opt-out of instruction that they feel is contrary to their religious beliefs, so CSJ has developed a "Parental Non-Consent Form."1 This form, available in the New NJ Guidelines, enables parents to indicate their objection to certain aspects of the sex education curriculum for their child/children according to state laws.
Since its publication, the opt-out form has had over 14K page views. Besides the web posting, CSJ also distributed a hard copy of the opt-out form at several mosques. Parents can fill out two copies; one for the school to keep on file and one for their own personal records. The purpose of the Parental Non-Consent Form is to inform the school about the specific topics parents find objectionable or inappropriate for their children's education. It highlights the principle of religious freedom, providing parents the option to opt-out of content that conflicts with their religious values.
The existence of this form aims to ensure that parents' concerns are respected within the context of the sex education curriculum. Additionally, CSJ is organizing community events to address these matters and raise awareness. Two of their most recent events addressed Muslim parental concerns about the LGBTQ movement and sex education in public schools.
Addressing the Issue in a Larger Forum
The first event, a panel discussion entitled "Protecting the Rights of Muslim Children in Public Schools," took place at the annual ICNA-MAS Convention in Baltimore, Maryland, on May 27, 2023. Approximately 120 people attended this session, which aimed to discuss issues related to the LGBTQ movement's impact on Muslim students in public schools. The venue provided a conducive environment for open dialogue and discussion and included a Q&A session.
The panel discussion at the convention featured three prominent speakers who addressed LGBTQ issues within the context of Islam:
Zainab Chaudry is the Spokeswoman and Maryland Director for the Council on American-Islamic Relations (CAIR), America's largest Muslim civil rights and advocacy organization. She has an extensive background in civil rights matters and has been appointed to the Maryland State Advisory Committee to the U.S. Commission on Civil Rights. Chaudry is actively involved in various community initiatives, including racial equity task forces and interfaith human rights groups.
Abrar Omeish serves as a School Board Member At-Large in Fairfax County, overseeing a significant budget and representing a large number of constituents. She is known for her trailblazing achievement as the first Libyan ever elected in U.S. history and the first Muslim elected to her role. Omeish has been involved in various educational and human rights initiatives, advocating for underprivileged youth, and participating in campaigns against discriminatory policies like the #NoMuslimBanEver campaign.
Amy Doukoure is a graduate of Wayne State University and holds a Juris Doctorate from the University of Detroit Mercy School of Law. Before pursuing a legal career, she worked as an educator in Detroit, teaching at Islamic schools. Doukoure's passion for community service and civil rights led her to engage in various public service projects and internships with organizations like the ACLU of Detroit.
During the panel discussion, participants raised questions on how Muslim children could avoid engaging in or supporting LGBTQ+ activities involuntarily in public schools. The panelists provided insights and guidance on navigating these situations while respecting their religious beliefs.
Webinar Expands Access to Information
The second event was a webinar titled "Islam's Position on Gender Identity," conducted online through YouTube and Facebook Live. This virtual event reached a broader audience, with over 4,000 people tuning in to watch. The webinar examined Islam's perspective on gender identity and its intersection with the LGBTQ movement. The online format allowed viewers from various locations to participate, making it more accessible for those who could not attend in person. In the webinar, three speakers addressed different topics related to youth challenges, parent-child conversations, and social interactions within the context of Islam and LGBT issues:
Imam Asif Hirani holds a Masters's in Islamic Studies and obtained his Ph.D. from Al Madina International University, specializing in Tafsir and Uloom-ul-Quran. He focused on discussing youth challenges within the Muslim community in relation to the increasing visibility of the LGBTQ movement.
Dr. Suzy Ismail is the founding Director of Cornerstone, a non-profit, faith-based communication intervention organization that focuses on various aspects of family, youth, and relationship dynamics. With expertise in communication, family studies, and intervention strategies, she addressed parent-child conversations in the context of LGBT issues and Islam.
Imam Kaiser Aslam is a Muslim Chaplain at Rutgers University and holds a master's degree in Islamic Studies and Muslim-Christian relations from Hartford Seminary. He shared insights into social interactions and their relevance within the context of Islam, particularly concerning the LGBTQ movement.
The webinar's Q&A session allowed attendees to inquire about a wide range of topics, including youth challenges, parent-child conversations, and social interactions, all with a focus on understanding Islam's perspective on gender identity and the LGBTQ movement. Participants found these discussions particularly helpful in navigating the complexities of these issues while staying true to their religious beliefs and principles. Jim Sues moderated both events.
Future Events
When asked about future events to continue the conversation about LGBTQ-related issues, same-sex educational initiatives, and Pride Month, Sues suggests there are plans underway. He said, "We must continue to reiterate the truth about the Islamic perspective on transgenderism and homosexuality," given the current climate in which:
Muslim youth in public schools (and some private schools) are being taught that homosexuality and gender fluidity are normal and natural.
Many vocal Muslims are propagating the false narrative that Islam is fully compatible with homosexuality and transgenderism.
Muslim politicians are embracing the ideology promoted by their political party which includes normalizing homosexuality.
There are many websites and organizations promoting "Queer Muslims."
These conversations are crucial for everyone including Imams, Muslim educators, parents, community organizers, and youth to counter the narrative that Islam promotes these lifestyles. Sues emphasizes the need to teach parents about the reality that they live in a society where the vast majority are non-Muslims, and their beliefs and practices may not necessarily be aligned with Islamic tradition.
According to a Gallup poll in 2021, 2.6% of Baby Boomers identify as LGBTQ, and 20.8% of Gen Z identify as LGBTQ. These numbers have increased exponentially from decades ago. To avoid unintentionally violating the sanctity of our beliefs and to guide our children, Sues said, "Extreme vigilance is the only path to salvation."
To understand Islam's position on gender identity and other related topics, visit:
https://www.whyislam.org/islam-the-lgbtq-movement/
End Notes
1 Sex Education in NJ: Parents' Choice – ICNA New Jersey
Wendy Díaz is a Puerto Rican Muslim writer, award-winning poet, translator, and mother of six (ages ranging from infant to teen). She is the co-founder of Hablamos Islam, a non-profit organization that produces educational resources about Islam in Spanish (hablamosislam.org). She has written, illustrated, and published over a dozen children's books and currently lives with her family in Maryland. Follow Wendy Díaz on social media @authorwendydiaz and @hablamosislam.