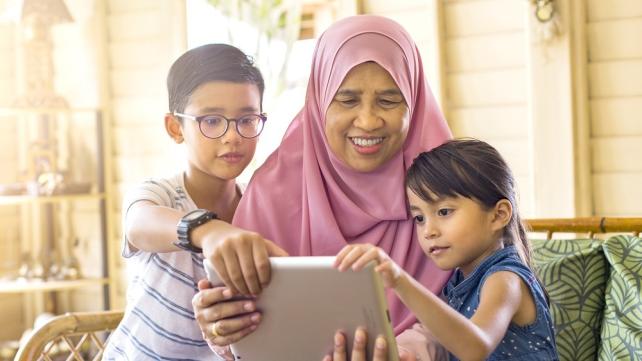 Grandmothers are a blessing. Grammy, Meemaw, Nani/Dadi, Abuela, Bibi, or Babushka, come in all shapes and forms. They babysit for working parents, help new parents, and sometimes become sole providers for their grandchildren. Often, intergenerational gaps become difficult to navigate between parents and grandmothers. However, we know that everything Granny does comes from her heart.
Often, we hear grandmothers gleefully sharing news of their upcoming trip to help facilitate the arrival of their newest grandchild in this world. Those extra pairs of hands, arms, and loving eyes play an important role in both mother's and the grandchild's lives. My children's Nani flew across the coast to help at the birth of my second child. While my husband dealt with my care and the risky birth of our second child, my mother took care of my firstborn who was a fussy eater due to too many food allergies. In another instance, I remember throwing my hands in the air with frustration when potty training my kids. Having my mom fly over to assist was a lifesaver. I observed my sisters-in-law's moms do the same favors for them, whenever they are needed, in a loving and comforting way.
My mother's favors for my kids continue to this day, though she is now 73 years old. I see her shower the same affection on my brothers' children. I couldn't help but laugh when I saw my 4-year-old nephew cuddled under the blanket with my mom while watching TV and snacking. The numbers grew and often I would find up to five of 3- to 4-year-olds in the bed, next to her, cuddled under the blanket watching their favorite TV show. She has taught them Quranic verses, nasheeds (Islamic songs), and multiplication tables. It was hilarious to watch my nephews grab peeled almonds, stuff their mouths, and run, while she was preparing the almonds for a traditional dessert. She would laugh at their antics all the time, even when it created more work for her.
Granny Care
Grannies have always been around. At one time in human evolution, they held a very important position as a mentor or a supervisor in child-rearing practices and decisions in their families. Significant research has been conducted to study the "Grandmother Hypothesis." The grandmother effect has been observed from the onset of humanity. Scientists have arrived at the conclusion that women's long post-reproductive stage is a key factor in the higher survival rate of infants and especially healthier childcare for their daughters' children.
A Finnish study of people born between 1731 and 1890 showed the survival rate to be higher for those who had direct access to their maternal grandmothers.1 Even though times have changed post-industrial revolution, it is still common for new mothers to rely on their mothers' help at the time of the birth of their children.
So, what happens when Grannies help?
Families come closer as many new parents like to live closer to their children's grandmothers for childcare needs.
Daughters have better educational opportunities and professional careers when their mothers are involved in childcare. This effect is more pronounced for low-income, young, African American, and Latino mothers. Stronger financial means also benefit the grandchildren.
Paternal grandmothers also rise to the occasion to support their grandchildren, especially single fathers. 24% of American households are headed by single fathers,2 who share custody of their children with ex-spouses, needing help with routine daily tasks from their mothers. And a Granny's soft and compassionate presence helps the grandchildren transition to a new life routine.
Picking up or dropping off grandchildren at school, visiting parks, moving in during parents' career trips, cooking, and cleaning are just a few support items to mention.
Grandchildren, who spend considerable time with grandmothers, experience less of a generational gap when interacting with varying age groups as adults later in life.
Though the role of grandmothers as childcare providers has reduced in the last century, the need for it is significantly rising due to the affordable childcare crisis in North America.3 In addition, a 2017 European labor market study showed that childcare support by grandmothers helped parents work longer hours and stay employed gainfully thus improving their financial situation.4 It is time to reconsider the role of a grandmother, bridge the generational divide, and let the Grannies do what they love the most.
Granny Love
No other alternative exists for Granny love. It is a special kind of love for grandchildren which is different from the love for one's own child. Your Granny has known you even before your mother was born. She carried you, too, in her womb when carrying your mother. Then, you were just an egg. In a female fetus, all the eggs for bearing children later in life are produced at the time of development of ovaries in the womb of the mother. You were there with your mom as one of the eggs that she would conceive later in her life. This connection between you and your grandmother is strong and the bond is self-evident.
Grannies around the world:
teach
advise
play
care for grandchildren with special needs
Grannies teach the family history via engaging and exciting stories. As a teenager, hearing my grandmother tell me stories about my father made me connect to him even more. It was otherworldly to learn about how my father was as a child and young adult. They teach you delicious family recipes passed down through generations.
And let's not forget the life lessons. We call it coaching and mentoring now and pay good money for our children to provide such services to build character. While Grannies do it for free! We also learn from our grandmothers about the political and social values of their time; and the life they experienced via fashion, songs, schooling practices, and more.
Who do you turn to when experiencing a crisis of self or a conflict with your parents? Grannies always step up, when sought after. Their compassionate listening ear can lend amazing support to the young and old when sometimes the parents are not approachable or present.
And let's not forget the visits to the parks and gifts of toys. Those nursery rhymes, tea parties, colors, numbers, letters, etc. are etched in our memories while Granny watches over us while mom and dad are at work, shopping, or on a trip. These valuable interactions become lifelong memories and lessons.
The role of a Granny is invaluable when it comes to taking care of a special needs child. The moral and physical support a mom needs in these instances is well provided by a maternal grandmother.5 Raising a special needs child is difficult for any parent and having your mother or a mother-in-law providing support and breaks to recharge energy goes a long way for parents who have a lifelong commitment ahead. Though the most benefit is to the child, who then receives plenty of care, support, and time from a loving grandmother.
Though in most families, their presence is crucial for a fulfilling life of a child and his/her parent. Sadly, Granny's role and contributions to the life of a family are often forgotten. Grannies' tremendous love and care cannot be measured in quantities, but only in quality. So let us not wait for National Grandmother Day on September 10 to roll around to appreciate and recognize Granny's significance in our lives. Let us hug her today if she is around. And if you are missing her, then make dua (pray) for her, give sadaqa (charity) in her name, or even perform Hajj or Umrah (pilgrimage) on her behalf.
End Notes
1 Will granny save me? Birth status, survival, and the role of grandmothers in historical Finland - ScienceDirect
2 The Rise of Single Fathers | Pew Research Center
3 Some Economic Complexities of Child Care Provided by Grandmothers
4 How does grandparent childcare affect labor supply?
5 Grandmother Support for Parents of Children's with Disabilities: Gender Differences in Parenting Stress
Tayaabah Qazi has a master's degree in Educational Leadership, an AdminI/II Certification from the State of Maryland Education Department, and a Secondary Teaching Certification in Chemistry as well as a CPP certificate. She has served in the education field as a teacher and an administrator of schools. Recently, she served at Community College of Baltimore County as a Coordinator of Adult Basic Education program. Tayaabah is the Program Manager at the Office of Workforce Development at Maryland Department of Labor. She has been a long-time resident of Maryland for 17 years, with her family, but hails from Southern California. She is also a staunch believer of the 4 Cs: Compassion. Commitment. Conversation. Cultivation.