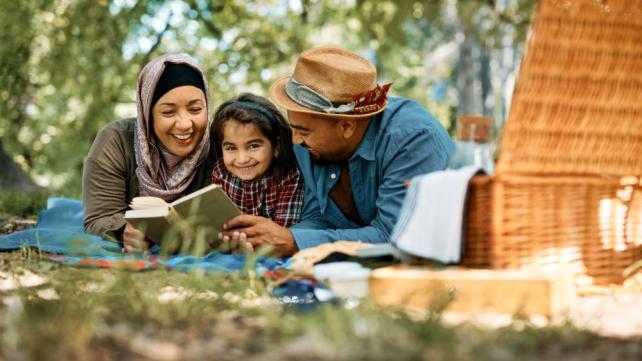 My two oldest children are now in their twenties – old enough (in their minds, at least) to provide valuable feedback on my parenting successes and missteps over the years. Both of my kids, separately, told me that one of their favorite childhood memories is snuggling up next to me in bed while I read books to them. This tradition continued throughout their toddlerhood and into their pre-teen years. Nowadays, they attribute their love of reading and their writing prowess to these read-aloud sessions, and it amazes me that a simple act made such an enormous impact on their lives.
Reading aloud is common when kids are very young, but it turns out that older children – even those who are independent readers – can benefit from listening to stories. Let's explore some of the benefits of reading to children.
Managing Emotions
A parent's presence and soothing words, combined with the positive messages of a storybook, can boost kids' mental health. Keisha Siriboe, a Baltimore-based early childhood literacy consultant with a Ph.D. in early childhood education, says reading aloud can help people with stress management, hope and resilience.1
". . . reading also strengthens children's social, emotional, and character development," reports an article on PBS. "According to a recently published study, reading to very young children is linked to decreased levels of aggression, hyperactivity, and attention difficulties. The study's lead author shared this insight with The New York Times, 'When parents read with their children more . . . they learn to use words to describe feelings that are otherwise difficult and this enables them to better control their behavior when they have challenging feelings like anger or sadness.'"2
Instilling Values
Reading to our kids is an opportunity to discuss a variety of important topics and share our perspective. The stories we read will undoubtedly touch on some profound themes, including friendship, risk-taking, ethics, death, loss, personal growth, and many others. We parents can instigate conversations about these topics and explain the Islamic stance on the issues. If a book touches on an activity that is haraam, we can explain to our children why it is impermissible and explore strategies to deal with exposure or temptation in real life.
Reading stories with Muslim characters is a wonderful way to let our kids see literary figures who look, speak, and worship like them. Islamic books usually highlight the positive characteristics and values we'd like to see our children emulate. Today there are numerous high-quality books that feature Muslim protagonists, vivid illustrations, and captivating stories. Reading and discussing these books creates a wonderful combination of parent-child bonding, Islamic Studies, and storytime.
Cognitive Benefits
Studies have proven that reading aloud makes our children smarter and better prepared for school.
"Reading aloud to kids has clear cognitive benefits. For example, brain scans show that hearing stories strengthens the part of the brain associated with visual imagery, story comprehension, and word meaning. One study found that kindergarten children who were read to at least three times a week had a 'significantly greater phonemic awareness than did children who were read to less often.' And the landmark Becoming a Nation of Readers report from 1985 concluded that 'the single most important activity for building knowledge for their eventual success in reading is reading aloud to children."3
According to Common Sense Media, "Research shows that continued reading aloud after age 5 (and well beyond) improves reading and listening skills and academic performance." The benefits for older children include increased vocabulary, improved comprehension, enhanced listening skills, and help to discuss difficult issues.4
Promoting Connection
Reading to our children allows us to connect with them in a way that is relaxed, focused, and meaningful. Interactions like this make children feel safe, loved, and cherished. Unlike many other everyday activities that we do with our kids – like driving to sporting events, doing homework, eating meals, and completing chores which can sometimes be filled with stress or unmet expectations – storytime is a calm, no-pressure scenario. Ideally, we are not distracted by our phone or other interruptions, but are present with our child, enjoying a captivating story, and also a moment of peace in the midst of a hectic day. Reading aloud sends the message that books are important, and so are family time, connection, and learning.
Here are some tips for reading out loud to your kids, summarized from an article by the New York Public Library:5
All reading counts, including comics, graphic novels, nonfiction, and fiction.
Create loving connections with your family by reading in a cozy spot.
Slow down and let your child process what's on the page and study the illustrations.
Discuss any questions you and your child have about the book. It's ok if you don't know the answers. Exploring the unknown together can be a great learning experience.
Be yourself and don't feel the need to be an entertainer while you read.
Read ahead so you know what happens in the story, whether it's appropriate, and how to modulate your voice to enhance the story.
Don't worry about age or grade level when choosing books.
Make reading aloud part of your routine. Kids who crave structure will appreciate having a regular reading time. Also, let your kids see you reading by yourself for pleasure.
Setting aside 15-20 minutes each day to read to your children is one of the best investments you can make in their academic success, mental health, and emotional development. Whether you're sharing some of your favorite childhood tales or sampling the latest bestsellers, reading aloud can be a beautiful, meaningful, memorable experience.
End Notes
1 How reading aloud can help you bond with your kids and make them better readers
2&3 Why reading aloud to kids helps them thrive
4 10 reasons you should read aloud to big kids, too.
5 10 Tips for Reading Aloud with Children
Laura El Alam1 is a first-generation American Muslim and the founder of Sea Glass Writing & Editing www.seaglasswritingandediting.com. A prolific writer, Laura has published articles in numerous magazines and is currently writing a children's picture book for publishing company Ruqaya's Bookshelf, due to be released in 2023, inshaAllah. A wife and mother of five, Laura lives with her family in Massachusetts.