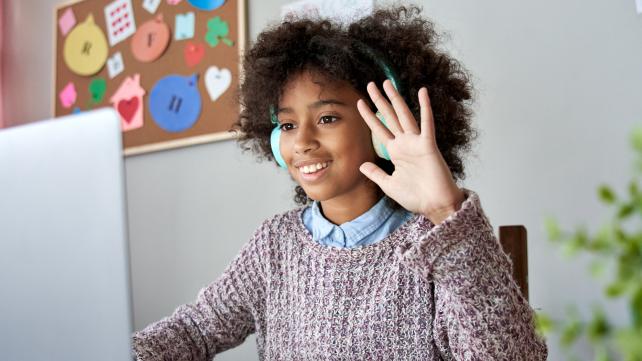 Do you dread the thought of homeschooling? Do you feel like you lack the patience it takes to plan lessons, activities, educational trips, and social gatherings for your children? How would you even know your children are progressing? Worst of all, the thought of keeping the kids on task while juggling your own work and responsibilities at home seem like an uphill battle that you may not be ready to take on. What if there was a "hands-free" option which requires minimal effort from parents, is it inexpensive, and effective? Allow me to introduce you to Acellus Academy and Power Homeschool.
When my eldest was in middle school, due to reasons outside of my control, I had to pull him out of Islamic school. I was met with the dilemma that many Muslim parents find themselves in – should he go to public school or should we homeschool? In the past, I resisted the thought of both due to the fear of the unknown. At the time, I thought public school would be the worst of the two since my children had never set foot in the public school system. I was apprehensive about homeschooling because even as a former educator, I did not feel equipped to teach my children all their formal subjects. A dear Muslim sister from the community suggested I consider an online homeschooling program called Acellus Academy or its more affordable unaccredited version – Power Homeschool. The Power Homeschool is a K-12 program that provides pre-recorded online courses taught by real teachers. The sister's own children had been using the program for years with much success.
The Accredited Acellus Academy
Acellus Academy is the official accredited online school of Acellus, a secular program of the International Academy of Science, which is an educational non-profit organization based in Kansas City. The Acellus Education System is currently used by thousands of schools nationwide to teach students in grades K-12. In fact, during the initial stages of the Covid-19 pandemic, when schools went virtual, many school systems adopted Acellus as their online curriculum. Power Homeschool courses, which are identical to the Acellus Academy courses, are filmed in high definition and are taught, as they claim on their website, by "some of the very best teachers in the nation." The difference between the two is in accreditation and pricing.
Acellus Academy is considered a school in most states while Power Homeschool is an online homeschool curriculum. Acellus Academy is accredited by the Accrediting Commission for Schools, Western Association of Schools and Colleges (ACS WASC), one of the six regional accrediting agencies in the United States. It falls under the category of a private school, but its coursework is completed at home. School staff oversees student schedules, but parents can request to add or drop classes. There are required assignments that must be submitted online and they are referred to as "special lessons." Acellus Academy teachers can communicate with students via live chat or email. Tutoring is available if they need extra help. The cost of the accredited Acellus is $250 a month, but there is a scholarship available that reduces the monthly price to $79 for up to 6 classes. If the student meets all the graduation requirements, parents pay a diploma fee to receive a high school diploma issued by Acellus Academy and an official transcript. This is especially beneficial to Muslim families with high school students enrolled in a full-time hifdh school.
The Affordable Power Homeschool
Power Homeschool is a dual mode – teaching and tutoring – homeschool program which uses the exact same Acellus curriculum. The parent is essentially the teacher or tutor and they can set the classes, schedule, goals, and lessons themselves. The special lessons are optional and ungraded. Once a child is signed up, together with their parents, they can choose up to seven classes for their schedule. Each class begins with an online assessment to ensure the child is placed in the correct level. The parent provides any assistance and outside resources if the child is struggling with any of the classes or lessons. The dual option is a unique feature and is explained on their website in the frequently asked questions section: "By default, students will start at the beginning of each course they are signed up for in 'Teaching Mode.' Students will move quickly through any material they are familiar with, and the system will slow down if they are struggling. Normally it will repeat the videos if the student is needing extra help in that area. 'Tutoring Mode' will allow your student to view all of the steps within the course and may jump to any step."
Power Homeschool scores all online lessons and assessments. Parents can access a portal with all the scores, progress, and student records. Using these tools, they can then create their own transcripts and issue a diploma to their child if they meet their county and/or state requirements. They can also set and change their child's weekly goals and pause for holidays and vacations although they will still be billed for the month unless they cancel their billing cycle ahead of time. The cost is only $25 a month for up to seven classes. Parents simply enter their credit or debit card information online to be charged monthly. There are no registration fees or cancellation fees. With these low rates and the same, quality online education, the Power Homeschool option is great for lower income families.
Power Homeschool can also be used for children who are not homeschooling. Whether your child is in public school or private school, you can still sign them up to Power Homeschool to take one or two classes and supplement the material they are already taking or expose them to a subject they do not have in school. For example, I enrolled my KG student and second grader so they could improve their reading and take Spanish classes, respectively. It is a good tool to keep your children learning throughout the summer, as well. Be sure to give them a choice of what classes to register for so they can play an active role in their own education.
Hands-free Homeschool Curriculum
Both Acellus Academy and Power Homeschool are widely recognized, so their curriculum and special lessons alone may meet all your child's needs. I used Power Homeschool for two of my children, one was for 5th and 6th grade and the other for 7th grade. In our home state of Maryland, our board of education requires two annual reviews of our homeschool portfolio. The reviewers we were assigned accepted the Acellus curriculum and we passed our evaluations with flying colors. However, every state has different homeschooling laws, so it is wise for parents to research the requirements with their local school board. If students need a certain number of days or hours, both programs have automatic attendance and progress trackers, and parents can print out reports from their own personal portal. Special lessons are also printable and can be kept in a student's portfolio for homeschool reviews or for personal records. It is easy to evaluate students' progress by looking at how many steps a student has completed for every course and what percentage they still have left. Students can also retake lessons and assessments to improve their understanding and scores. Certificates of completion are provided upon passing of each course.
Courses are divided into three categories: Elementary (PreK-5), Middle School (6-8), and High School (9-12). They include mathematics, language arts and reading, science, social studies, and electives. Some of the electives parents and students can choose from are STEM, coding, engineering, social and emotional learning, fine arts, Spanish, French, and German. For secondary school levels, they offer remedial and ESL courses, as well as advanced placement (AP) classes. The high school even offers career, health, and vocational courses.
As far as religion is concerned, Acellus Academy and Power Homeschool are secular and neutral. There are lessons about the historical aspects of Judaism, Christianity, Islam, and other world religions. They present an objective perspective of religion from a historical standpoint and express no opinion on any religion. This leaves the opportunity for parents to supplement the curriculum with Islamic studies and Quran education. My children were enrolled in Quran classes at the same time as Power Homeschool and they did fine. I also accompanied it with extra spelling work and journaling. Each family is free to do what works best for them.
Acellus Academy high school graduates and Power Homeschool former students go on to be accepted to top universities, colleges, and technical programs. Both programs are flexible, yet rigorous, resulting in students that are "motivated to achieve success and optimistic about their future," according to the Acellus official website. Our children transitioned to public and private schools, but we know that we can always go back to homeschooling easily with Power Homeschool or Acellus.
Homeschooling does not have to be a chore. These two interchangeable options really give parents the confidence they need to take on homeschooling. Best of all, they provide children with a solid curriculum to follow and a chance to learn independently. This option works especially well for upper elementary, middle, and high school students. I recommend for all families to at least give it a try.
For more information, visit these websites:
https://www.acellusacademy.com/
https://www.powerhomeschool.org/
Wendy Díaz is a Puerto Rican Muslim writer, award-winning poet, translator, and mother of six (ages ranging from infant to teen). She is the co-founder of Hablamos Islam, a non-profit organization that produces educational resources about Islam in Spanish (hablamosislam.org). She has written, illustrated, and published over a dozen children's books and currently lives with her family in Maryland. Follow Wendy Díaz on social media @authorwendydiaz and @hablamosislam.