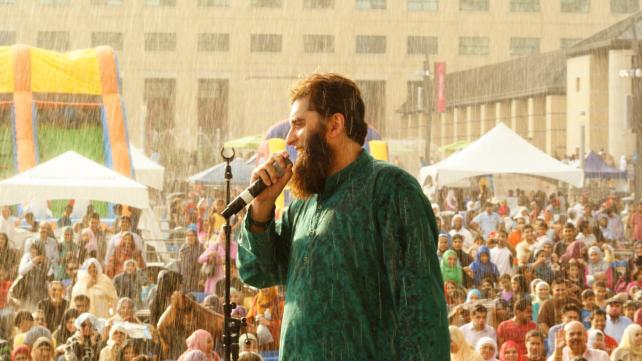 Musician. Songwriter. Nasheed Artist. TV Personality. Passionate Preacher. Entrepreneur. Fashion Designer. Humanitarian. National Icon.
Junaid Jamshed was all of these and much more.
MuslimFest, DawaNet and Sound Vision teams are deeply grieved at the tragic loss of a phenomenal professional Muslim artist. It's hard to say farewell to a beloved artist, whose art, message, and presence helped MuslimFest grow to new heights.
We had the honour of featuring Junaid Jamshed as a headliner at MuslimFest for four years in a row. He dearly loved MuslimFest and would cancel his prior plans to accept our invitation!
"It's the first time that I met hundreds of my new fans, as well as my old music fans at an event," Junaid shared with us after his enthralling performance at MuslimFest in 2011.
It's is also at MuslimFest that he first publicly sang his iconic song, Dil Dil Pakistan, that shot him to international fame, ever since he formally left the music industry in 2004 after his transformation into a religious speaker and Nasheed artist.
Junaid Jamshed's performances at MuslimFest were unique, electric, and memorable. No wonder, thousands of his fans would stick around in heavy down pour to listen to his voice and message.
His message was always about Dil, the heart in Urdu. From Dil Dil Pakistan (Heart, Heart for Pakistan) before his religious transformation, to Mera Dil Badal De (Change my heart) after, Junaid Jamshed captivated the hearts of his audience.
While many people did not agree with Junaid's religious commentary on certain issues shaped by his time, culture, and beliefs, one cannot help but appreciate his massive impact on the spirituality of millions of young Muslims around the globe of Pakistani / Urdu-speaking background in particular.
Moreover, while most people knew him as a sincere passionate preacher and as a Nasheed artist, not many knew about his contribution to the Muslim entertainment industry.
12 Traits that Made Junaid Jamshed an Incredible Muslim Artist
Professionalism: Junaid Jamshed, despite being branded as a religious speaker / Daee since 2004, took the art of singing and live performance very seriously. Formerly, he was a seasoned, world-class pop artist, who put Pakistani music on the world map in 1990's. He maintained his professionalism on stage, as well as backstage.
Stage Presence: Junaid's confidence and commanding presence on stage would captivate everyone. He would seamlessly engage his crowd, while performing his songs. He was always 'ready' to perform and give his 100% as an artist.
Versatility: As a pop star, Junaid Jamshed was a trailblazer. As a Nasheed artist, his ability to adapt to and work with new tunes and melodies and even languages was obvious throughout his career.
Fashion: Being a fashion designer himself, Junaid was picky about his appearance. From his cap, to beard, to dress, to shoes, everything had to look professional and glamourous. He truly believed that being religious should push one to stand out in physical presentation.
Approachability: Despite having stampede-like fanfare around him at MuslimFest, Junaid was extremely approachable and accessible to his fans! He would himself offer to have photos taken with his fans. He would often share his personal email address with his random fans! He would never get exhausted talking to people and listening to them.
Care: He deeply cared for his audience. Several times we witnessed Junaid being pulled aside by unknown young people sharing their life stories and problems with Junaid Jamshed. Some would even be crying as he counselled them.
Collaboration: Junaid was big on collaborative creative work. He was constantly exploring ways to collaborate with Muslim artists around the world. It's this spirit that led him to produce Nasheeds in English with American Muslim band, Native Deen.
Mentorship: While Junaid had made it big in the music and Nasheed world, he was also mentoring younger artists. He would invite them to tour with him or appear on his shows to perform.
Concern for Unity: He was obsessed with using media and arts to break ideological barriers in the Muslim Ummah. He was known for deliberately inviting artists and scholars on his TV shows from varying ideological backgrounds for dialogue and bridge-building.
Generousity: Despite being a professional artist, who would charge an honourarium based on the market rate, Junaid would sometimes perform at significantly discounted rate to support a cause. He would not charge performance fee for himself, but would donate it to his charity foundation.
Authenticity: His message and performance on stage were genuine. He was the same person on-stage as off-stage, which spoke volumes to his moral integrity.
Message: His songs were not just for entertainment. His songs had purposefulness. His lyrics were loaded with powerful messages about God and love of Prophet Muhammad, peace be upon him, and spirituality, accountability, sincerity, peace, love, and life. Being a religious figure, he would take breaks between songs to share with his audience an anecdote, or an inspirational quote, or a Hadith of the Prophet, or a Dua.
Passing away of Junaid Jamshed is a colossal loss to the Islamic entertainment industry.
Given these incredible qualities as a genuine Muslim artist with a powerful message, his loss will be truly felt by millions around the world.
World needs more artists of his calibre, professionalism, and moral integrity.
Junaid Jamshed began his Nasheed era with this emotional poem: Ilahi teri chokhat per bhikari ban ker aya hoon (O Lord, I have come to your door as beggar). Today, he has arrived at God's door.
May Allah pardon his mistakes, raise his grades in the Paradise, and inspire others fill the void he has left behind, Ameen