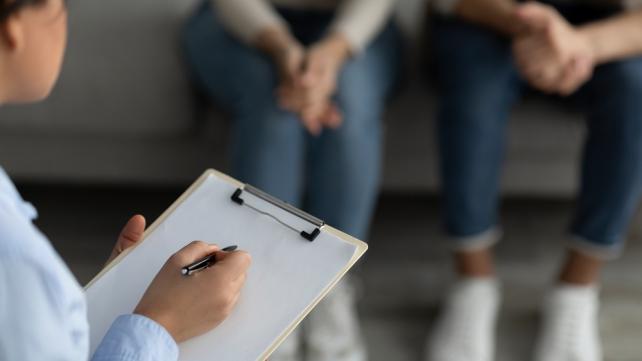 Sometimes caring for our mental health requires seeking professional help from a psychotherapist or counselor. For Muslim individuals and families, it can be particularly difficult to choose the right person to guide them in their healing and growth. They might find a long list of potential therapists, but how do they pick the right one? What criteria should they be using to make their decision? And how do they find a counselor who understands and supports their Islamic background and mindset?
To get an expert opinion on this topic, I interviewed Iman Saymeh, M.Ed., MSW, who has a background in education and mental health and provides therapy to individuals, couples, and families. Saymeh resides in Washington, D.C. and serves as a resident minister at Georgetown University and an adjunct professor at Johns Hopkins University's School of Education.
Q: What are the most important factors a Muslim family should consider when looking for a mental health therapist/counselor?
A: As a first step to pursuing therapy, the individual must be intentional that this step is being taken for the sake of Allah as the building block to the healing journey. Pursuing therapy is not to stop an act or end a problem. It's an opportunity to build a deeper sense of self-awareness, responsibility, compassion that would lead to a higher spiritual state. I know this is not easily done, especially in cases when the individual comes to therapy because something painful has taken place or old wounds have not healed yet. As spiritual beings, we must center all our actions towards the pleasure of Allah.
Just because the therapist is Muslim it does not mean he/she is versed in Islam. It's important to ask about this when the intake or a consultation session is set. The family would specify that this is an important factor in their guidance and would like to know how comfortable the therapist is with it.
Perhaps the family can ask their close friends or their local imam for a referral to a therapist they know of. This will provide comfort to the family to set up the initial appointment.
Therapists go through many steps in order for them to be licensed. It's important to inquire about credentials and years they've been in practice. Some Licensed and Associate therapists end up opening up their services under mental health coaching, similar to what I have done in order to accommodate clients outside their states. So spend time asking about educational background and if using health insurance is a must; only licensed therapists can go through most insurance companies. Mental Health Coaching is not covered.
Your insurance company can provide a list of therapists in the area who are Muslim and speak the native language of the client, if needed. Finding a therapist through www.psychologytoday.com can also be helpful.
My advice though: don't stick to someone who only takes insurance. It's not easy to deal with insurance companies, and most therapists with private practices do not prefer to deal with that hassle. Also, most of the time, the therapists who take insurance end up putting the client on a long waiting list. That would take away from time the client can spend learning new skills and working on current issues on hand. Private pay can be costly, I understand. Remember this is an investment and it might mean you need to budget for it for 2-3 months until new skills are learned.
Q: How would a client know if a therapist is a good fit?
A: Therapy is meant to be a safe and a non-judgmental place for the client to express vulnerability and all sorts of emotions. The client should pay attention to how he/she feels after the consultation/intake session.
After the first visit, the client can ask him/herself if he/she was heard in the session? Did the therapist interrupt them? Did the therapist share about her/his life story, or was there a healthy display of boundaries? Paying attention to one's intuition is vital in finding a good match in a therapist.
Do not rush the process. You want to make sure you are building a therapeutic relationship with someone who will provide wholesome guidance. It's normal to go through two to three therapists until you find what works for you and your family. Take your time. Some individuals or families prefer male over female therapists, and vice versa. A conversation about this needs to be done among the family members before looking for a therapist.
There might be an element of resistance from both or one side in pursuing this step. I know it's hard. It's never easy to sit in a Zoom room or an in-person session opening up to a complete stranger about your family issues. I want you to keep in mind, seeking support is a trust – an amanah – that will provide you with a deeper level of focus (khushoo) and alertness in your prayers, your relationships, and an overall inner peace. Take the first step and lean on your partner for support even if you both are going to therapy at a difficult time in the relationship. Choose to commit, and once the right match is found, you'll feel comfortable enough to open up and share.
Q: What if someone is uncomfortable seeing a therapist?
A: There is a point I would like to make to ease the nerves of most. If you are looking for a Muslim therapist, there is a huge chance that the therapist will be connected to or know people you are related to, live near, or married to. Welcome to the blessing of being part of a beautiful Ummah! Don't focus on that, and know that therapists are very much trained to honor confidentiality. This is a job and a service they are providing. This point is more about your own insecurities and your fear of being exposed. I ask you to trust and lean into your uncomfortableness. You might be passing on a wonderful therapeutic opportunity due to your fears. Relax and trust Allah and the process. There is a huge push in the mental health field to take on clients whom you don't know and you don't see in the community. When it comes to a specialty therapist (Muslim in this case) there is a big chance of multiple community connections, and that's ok.
Q: Is it crucial that the therapist is a Muslim? Why or why not?
A: Western Psychology does not emphasize the importance of connecting to a higher power or a divine path. The guidance is left up to the client, and most of the time it's not empathized nor talked about. In Islamic psychology, the science aims to connect the individual to the body, mind, heart, and the soul. Seeking a trained Muslim therapist will provide that complete way of looking for guidance and it will shorten the time that can be spent in educating the therapist about Islam.
This does not mean non-Muslim therapists cannot help Muslim clients. It simply says, if Muslim therapists are available and they are qualified, why not? Choose what will feel comfortable in establishing a relationship as you build on the skills through your healing process.
Some non-Islamic concepts and ideologies might be suggested and pushed by some non-Muslim therapists, especially when working with youth and children. I personally would highly recommend choosing a Muslim therapist as the first choice when working with families to strengthen family bonds and practices from an Islamic lens.
I often hear about Muslim clients seeking non-Muslim therapists only because they feel more comfortable telling them "everything" without the fear of seeing that therapist in the community. I ask the client who thinks as such to rethink the initial intention behind pursuing therapy. There are a great deal of blessings when you have a therapist who can support you in processing trauma while reminding you of Allah.
Q: Are there any red flags that would indicate that a therapist is NOT a good fit?
A: There are many others but these, in my opinion, are my personal non-negotiables, and I wanted to share them with others.
Lack of boundaries – Talk about his/her personal life. Not punctual. Imposes personal ideas. Judgmental and critical by using limiting beliefs, especially about gender roles and cultural and family practices.
Skips building rapport and trust in the beginning of the therapeutic relationship.
Lacks empathy.
Acts unprofessionally – Dresses inappropriately, has poor hygiene, and a messy workplace.
Lacks confidence.
Gives unsolicited advice.
Shares confidential information about other clients.
Lacks interest in the session.
Avoids admitting mistakes or accepting feedback.
Seems overwhelmed.
Takes personal phone calls during the session.
Q: What should a patient do if they believe a certain therapist is not right for them? How long should they try to make it work?
A: For the process to work for you, you must feel accepted and respected by your therapist. The sessions must yield positive change in your life. Maybe not right away, but after 7-10 sessions, you'll start seeing some changes in your life. Trust your gut instinct. After being in therapy for several sessions, you'll start realigning your gut instinct to guide you positively. You will know if it's not a good fit for you. Especially if you don't seem to agree with your therapist on goals and you find yourself not benefiting from the sessions.
I strongly suggest you don't "ghost" your therapist and to communicate your truth. This by itself will allow you to learn a new skill, which is to speak up when not being satisfied. It might feel as if you are abandoning her/him and hurting their feelings. Don't worry about that. Therapists are trained to deal with this difficult moment. If this step will be taken personally, then this gives you more reasons to end your sessions.
Q: Any other advice for families seeking therapy?
A: Anytime I'm given the opportunity to share about mental health in any aspect of the subject, I honestly feel a deep sense of gratitude for creating awareness. I am not only a person who provides this service; I've attended therapy myself, individually, and with my family. What I provide to my clients is a mixture from my own experiences, what I've learned in my Master's program, what I've gained from my supervisors, and what I have learned from the Islamic Seminary program that I have completed. I thank you again for the invitation to participate.
I cannot tell you how many clients came into their first session with great resistance and ended up staying to share their goals and their wins after committing to the process. I believe everyone has the potential to improve their overall mental wellness by attending therapy wholeheartedly. You'll find it messy and difficult at times, but when you start smiling more, glowing more, sleeping better, and feel at ease from within, you'll forget the hard work you've done to get there. You'll be so consumed with how to maintain it, as healing feels lighter on the body, mind and the heart.
Energy does not lie! You'll be a walking role model to others without saying a word. You'll cause ripple effects of generational healing that would eventually benefit everyone who will cross paths with you. I say eventually because you will naturally experience a pushback from those who will choose to hold you in your history. They are no longer your tribe; move on and find new people to be your circle of support.
I pray you choose to deepen your relationships, widen your lens, shift your perspectives and clear your hearts and minds by coming forward to look within. May Allah bless everyone's paths and grant you all success and contentment in everything you do.
Iman Saymeh provides virtual sessions for individuals, couples, families, and premarital services. Clients can reach her via email at therapywithiman@gmail.com If she can't help the client, she'll be able to refer them to other mental health providers in their area, inshaAllah, God willing. She does not accept insurance at this time and is private pay only.
Follow Saymeh on Facebook (https://www.facebook.com/imansaymeh/) and Instagram (https://www.instagram.com/imansaymeh/) for beneficial posts about mental health awareness.
Laura El Alam is a first-generation American Muslim and the author of over 100 published articles. She has written a children's book, Made From the Same Dough, due to be released in 2023. You can visit her online at www.seaglasswritingandediting.com.