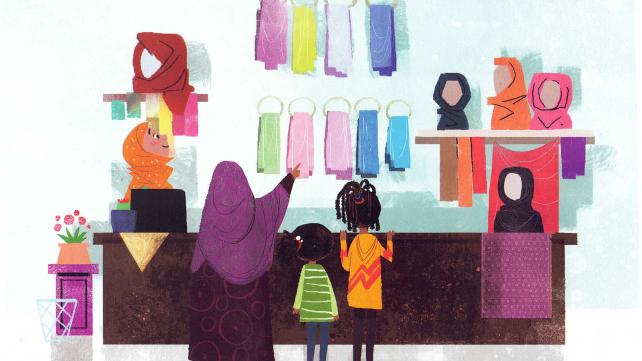 "The first day of wearing hijab is important. It means being strong."
This is the first statement on the inside front cover of the book The Proudest Blue: A Story of Hiba and Family. It is a precursor of what is to come in a beautifully-penned and vibrantly illustrated read by Ibtihaj Muhammad. The story that unfolds is relatable to many a reader - the excitement and nervousness about the start of a brand new school year. Only this year, it is also the first day of hijab for sixth-grader Asiya.
The story opens with Mama and little sister Faizah joining Asiya in a store to pick out a new hijab for the occasion. After sorting through a wide swatch of colors, Asiya decides on the brightest blue, "the color of the ocean."
With light-up shoes, a new backpack, and with Asiya looking like a princess in her first hijab, the girls walk to school together and then part ways to their separate grade areas. Questions about the scarf begin immediately and take Faizah by surprise. But it is the laughing that is the most annoying and hurtful. "'Some people won't understand your hijab,' Mama had said. 'But if you understand who you are, one day they will too.'" Faizah rushes to find her big sis and offers reassurance. Family support can also make one strong.
Asiya's Mama has prepared her girls for the challenge. "Don't carry around the hurtful words that others say. Drop them. They are not yours to keep." The nasihah or good advice pulls the girls through, and by the end of the day, things seem back to normal. The girls meet up smiling to take the walk back home.
Author Ibtihaj Muhammad knows a bit about the challenges of wearing hijab when not everyone is supportive. She started wearing hijab after hitting puberty and faced bullying from public school classmates because of the outward representation of her faith. Those challenges were present in her adolescence and into adulthood. As an U.S. Olympic fencer, Muhammad reports that "it took me a long time to come to the place where I could brush off the looks and ignore the haters." And that prompted her to write the book to ensure that children could see themselves in a story about family, love, and faith. These sentiments were echoed by co-author S.K. Ali, an award-winning author of books for children and teens that deal with a wide variety of challenges facing Muslim families.
The illustrations by Hatem Aly deserve separate mention. Bright colors and patterns abound with streaming sunlight adding a sense of warmth. Diverse characters are portrayed in various hues, ethnic backgrounds, and sizes and with incredibly expressive emotion. Faizah's imagination is vividly captured with Asiya's scarf filling a full two pages of brilliant ocean waves as the little sister lovingly and proudly looks, teetering in her paper boat.
Support your children by reading books like The Proudest Blue that boost self-esteem and confidence in their Muslim identity without sugar-coating the challenges that hijabi-wearing girls and women face. And support works like this by adding the book to your home, school, and local public library.