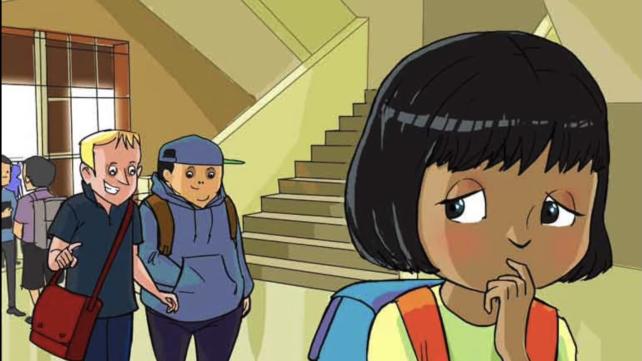 It is no secret that Islamophobia is rampant throughout the world in this day and age. Muslims and especially children suffer from bullying and alienation. According to recent studies, Muslim students in public schools face bullying at twice the rate of their non-Muslim peers. These days, being a practicing Muslim is becoming very challenging. It is crucial to building a young Islamic identity from an early age.
In Nusaiba and the 5th Grade Bullies by Asmaa Hussein, third-grader Nusaiba enjoys going to school! She is skipping beside her mother excited for today's Show and Tell and cannot wait to share a snail she found in her garden! She kisses her mother goodbye and hurries to her classroom when she hears muffled laughter from two fifth-grade boys behind her. "Did you see what Nusaiba's mom is wearing? She's such a weirdo!" one of them chuckles to the other. This comment affects the rest of little Nusaiba's day, she cannot stop thinking about it, and assumes they are referring to her mother's hijab. When her teacher asks if something is wrong Nusaiba says no. Her best friend, Emily reassures her that this is typical bully behavior and that Nusaiba should forget about it.
But the damage has been done because the next day Nusaiba is still worried the bullies will continue commenting on her mom and is self conscious the entire day. After school her mother picks her and Emily up at dismissal and takes them shopping. It is at the store where Nusaiba realizes that she loves her mother's hijab and enjoys wrapping herself within them. With each hijab she tries on, Nusaiba is swept away to far off lands with amazing adventures. Through the fantastical journey of adventure and self-discovery, Nusaiba gains the confidence necessary to embrace her identity and stand up for herself.
The book has an interesting twist at the end but it is a definite must read for all young Muslim children. The main character Nusaiba is named after the companion of the Prophet Muhammad, peace and blessings be upon him, who fought alongside men and defended the Prophet against physical harm! This main character Nusaiba defends her mother and the hijab!
Nusaiba and the 5th Grade Bullies is an exciting and engaging book about self-acceptance and the importance of standing up to bullying. This book is a creative way to open the door to important conversations about the challenges of Islamophobia and bullying and to model the importance of self-acceptance, confidence, standing up for one's self, harnessing our imagination, and to focus on what matters most in life.
Miriam Mohamed is a mother to seven children and a granny to two cats! She loves trying new things and learning cool facts. She has taught in an Islamic school setting, has experience assisting children with special needs, and enjoys volunteering and being a part of the community. Miriam lives in Chicago with her beautiful flowering cherry tree and big family.