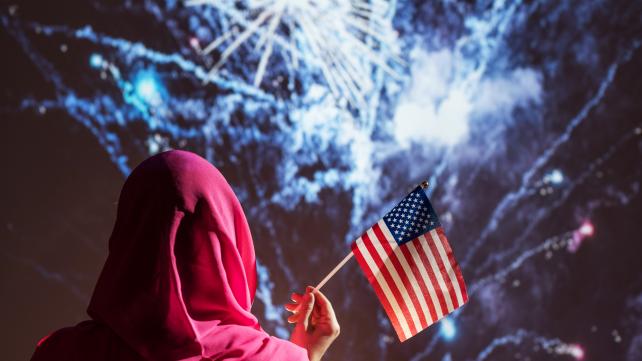 Islam first came to America via Muslim slaves, women and men, who were brought here against their will from the early 1600s onward. It is estimated that about 30 percent of these slaves were Muslims from West and Central African countries like Gambia and Cameroon.
During this first wave, Islam was suppressed at the hands of white, European settlers who were slave owners and imposed Christianity through forced conversions. However, these first Muslims bravely practiced their faith unbeknownst to their slave owners. Reports of them quietly praying, reading Quran, fasting, and engaging in other Islamic practices are documented by their descendants and through artifacts.
Women were part of this struggle to retain their faith under the worst of circumstances. Although there is information about some male figures from this era, like Omar bin Said, very little, if anything, is known about specific women personalities.
From the 1960s onward, there was a revival of Islam among African-Americans. For a number of people in the community, it was an effort to reclaim their lost heritage as the descendants of the Muslim slaves.
This development occurred in the same decade that America passed the Immigration Act of 1965, which lifted many of the country's race-based immigration restrictions. It allowed Asians, Latin Americans, and Africans to come to the United States. Among them were an influx of Muslim immigrants who have remained to this day. Their children are now third- and fourth-generation American Muslims. A similar development was seen in Canada, where, in 1962, the federal government ended racial discrimination as a feature of the immigration system.
Over the last 60 years, this has led to tremendous growth of Islam in North America, and today's Masjids, Islamic schools, and other institutions have been built primarily by this generation of Muslim activists and their descendants.
As was the case centuries before, Muslim women have been at the forefront of establishing the Muslim community and retaining its practice, traditions, institutions, and heritage. Here are five Muslim women you should know who built today's North American Muslim community (in alphabetical order).
1. Sharifa AlKhateeb
Sharifa AlKhateeb was the co-founder and President of the North American Council for Muslim Women (established in 1992). From the start of her activism, she worked tirelessly to ensure the inclusion of Muslim women in the community's institutions and programs, as well as in developing its educational and social services. Beginning in the 1970s by focusing on the Muslim Students' Association (MSA) (which had been established only a decade earlier at that point), she worked consistently to expand women's voices and opportunities.
Education about Islam and Muslims inside and outside of the community were of critical importance to her. She was one of the editors of an updated version of Marmaduke Pickthall's English translation of the Quran. From 1989 to 2004, she was President of the Muslim Educational Council, a non-profit organization which educated public school staff and administrators about Middle Eastern culture, Muslims, and Islam. She was also co-author of the Arab World Notebook. This was used in public school history classrooms across the United States.
AlKhateeb was one of the first Muslim activists to address the crisis of domestic violence in the Muslim community. In 1993, she conducted the first documented survey designed to assess the incidence of domestic violence among Muslims in the US. She was the founder and Director of the Peaceful Families Project, a Muslim organization that raises awareness about domestic violence in the Muslim community, and trains Imams and leaders in how to effectively handle this crisis.
AlKhateeb also represented Islam and Muslim women in venues around the world, including the United Nations' Fourth World Conference on Muslim women in Beijing in 1995, where she served as the chairwoman for the Muslim Caucus.
She died in October 2004 of pancreatic cancer in Virginia. She was 58.
2. Aminah Assilmi
Aminah Assilmi (nee Janice Huff) was an American Muslim activist, Emmy-award winning broadcaster, speaker, and director of the International Union of Muslim Women. She was named one of the 500 most influential Muslims in the world in 2009, the first year of this ranking, by the Royal Islamic Strategic Studies Centre based in Amman, Jordan. Assilmi was an advocate for women's rights based on the primary sources of Islamic law.
Born in Oklahoma and raised a Southern Baptist , Assilmi was part of the American feminist movement before converting to Islam in 1977. She held degrees in education, broadcasting and communications.
She lectured on college campuses, at Muslim youth events in the United States, and around the world. She spoke at the 2004 conference of the Council for a Parliament of the World's Religions in Barcelona, Spain.
Assilmi helped establish the American branch of the International Union of Muslim Women in 1980. Other branches, one of which was in Pakistan, and a few other Muslim countries, closed down either due to government bans or pressure. At the time of her death, the American chapter was the only remaining representative body of the IUMW.
As a result of donning the Hijab after her conversion, she immediately lost her job as a radio broadcaster. She attempted to wear the Niqab (face-covering) as well but stopped after she found the experience too difficult. At one point, a guard at a bank pointed a gun at her when she tried to cash a check with her face covered. In her lectures, she often talked of this harassment and misunderstanding about women's Islamic dress.
In 1993, she was instrumental in involving the National Organization of Women (NOW) in a successful effort initiated by Bosnia Task Force USA to designate rape a war crime. The UN Commission on Human Rights passed a resolution on December 20, 1993 affirming this. It also called for an international tribunal to prosecute these crimes.
As a broadcaster, media activism was something she remained interested in even after becoming Muslim. She was involved with various Muslim media endeavors including Sound Vision, Radio Islam and ISNAVision in the early 1990s.
Assilmi played a major role in the United States Postal Service issuing a stamp commemorating the Eid holiday in September 2001. She helped Muhib Beekun, the elementary school student from Nevada who came up with the idea, launch a nationwide campaign through letters, emails, phone calls, a petition and postcards addressed to the PostMaster General .
The Eid stamp is the first in American history to recognize an Islamic holiday. Designed by American Muslim calligrapher Muhammad Zakariya, it features a Turkish style of calligraphy in gold letters on a royal-blue background. On top, Eid Mubarak in Arabic is written in gold. The words "EID GREETINGS" run above and below the calligraphy.
At the time of her death in 2010, she was working on a project to establish a Muslim women's center that would focus on educating Muslim women of their Islamic rights, as well as host retreats and camps for youth.
Assilmi was killed in a car accident in Tennessee in March 2010. She had been returning from a speaking engagement at the time of her death. She was 65.
3. Ella Little-Collins
Ella Little-Collins was the older half sister of El Hajj Malik El Shabazz, better known as Malcolm X. For anyone who has quoted Malcolm X's letter from Hajj, followed him from Nation of Islam to Sunni Islam, and been moved and changed by his life, speeches, activism, it is critical to know that without Ella Little-Collins, there would very likely be no Malcolm X as we know him today. He followed in her footsteps.
Little-Collins was born in Butler, Georgia in 1914 (some reports say 1912) to Earl Little, Malcolm X's father, and his first wife Daisy Mason. She moved from there to New York when she was older, working as secretary for Adam Clayton Powell, the first African-American to be elected from New York to the United States Congress in 1945. She later settled in the Roxbury area of Boston.
Little-Collins first joined the Nation of Islam in the mid-1950s, where she became an active member of the community. She helped establish the Nation's mosque in Boston, which had a daycare center attached to it.
In 1959, she became a Sunni Muslim. She also founded the Sarah A. Little School of Preparatory Arts in the city. Today, the Ella Collins Institute at the Islamic Society of Boston Cultural Center is named in her honor.
At some point, she adopted the Muslim name Alziz A. Hamid.
She first met Malcolm X when he was in seventh grade, and he described her in his autobiography as "the first really proud black woman I had ever seen" and wrote "I had never been so impressed with anybody." She agreed to be his guardian until he turned 21, moving to Roxbury to live with her.
"No physical move in my life," Malcolm wrote later, "has been more pivotal or profound in its repercussions. All praise is due to Allah that I went to Boston when I did."
She paid for him to make his first Hajj after he left the Nation of Islam in 1964. Little-Collins drove from Boston to New York when he was killed in February 1965 to identify the body. She also paid his funeral and business expenses after his assassination. She led his Organization of Afro-American Unity, established after he had left the Nation, including a project he had started before his death of giving 35 scholarships from Al-Azhar University in Cairo, Egypt, and from the University of Ghana to students wishing to study overseas.
She died in October 1996 in Boston.
4. Khadija Haffajee
Khadija Haffajee was a Canadian Muslim activist and speaker. She was among the generation of activists that emerged from the early days of the Muslim Students' Association, which was established in 1963 in Champaign, Illinois.
Born in Pietermaritzburg, South Africa, she arrived in Canada in the 1960s after spending some time working in the U.K. A teacher by profession, she taught high school and elementary school primarily in the country's capital, Ottawa, from 1969 until her retirement.
Haffajee was one of the founding members of the Ottawa Muslim Association, and served as its treasurer. She also taught at the community's Islamic weekend school, and served as president of the former Ottawa Muslim Women's Auxiliary (later the Ottawa Muslim Women's Organization). This institution was instrumental in establishing the city's first mosque.
Haffajee organized Halaqas, camps, and meetings that offered support to Muslim women, as well as youth. She was a regular speaker at local, national, and international events.
In 1995, she was part of a delegation of Muslim women at the United Nations' Fourth World Conference on Muslim women in Beijing. In an interview I conducted with her for the McGill Daily newspaper, she said that some of the event's participants expressed surprise and even disdain toward her and other Muslim women in Hijab at the conference.
Haffajee was an interfaith activist, regularly speaking at churches and other venues about various aspects of Islam. A long-time member of the Christian Muslim Dialog Group of Ottawa, she also participated in the Multicultural Advisory Committee at the Children's Hopsital of Eastern Ontario, the Children's Aid Society, the Multifaith Housing Initiative, and Religions for Peace-Canada movement.
Haffajee was the first woman ever elected to North America's largest and oldest Islamic organization, the Islamic Society of North America (ISNA). In 1997, she became a member of it's Majlis Shura.
Haffajee died after a short illness in September 2020 in Ottawa, Canada.
5. Tayyibah Taylor
Tayyibah Taylor was founder, publisher, and editor-in-chief of the Muslim women's magazine Azizah, which was the first (and so far, the only) English-language magazine in the United States by Muslim women for Muslim women. Launched in 2000 in Atlanta, it won a New America Media Award and three FOLIO Eddie awards.
She was 12 years old when she picked up a copy of Ebony Magazine, which made her realize the significance of Black people presenting their culture and contribution through their own images and voices.
Born in Trinidad to a Barbadian Christian family, she converted to Islam at the age of 19 in 1971. That same year, she was kicked out of a masjid in the Caribbean by men who felt the Masjid was not a place for women. This made her cognizant of the gender inequalities in mosques. Such observations led Tayyibah to organize the women's group Seattle's Islamic Sisterhood (SIS) in the 1980s.
Taylor's family immigrated to Toronto, Canada, where she spent her formative years. She moved to Saudi Arabia for some time, then permanently relocated to Atlanta.
Taylor's activism was focused on media and interfaith work. Among many other posts, she served on the board of directors of Atlanta Interfaith Broadcasters, the board of trustees for the Georgia Council for International Visitors, Faith Alliance of Metro Atlanta, Women's Islamic Initiative in Spirituality and Equality , and volunteered with the Interfaith Community Initiative
She traveled to almost 40 countries, presenting lectures on Islam and Muslim women at national and international conferences. Her interfaith work took her to Turkey, Spain, Morocco, Jerusalem, Greece and Jordan, traveling with Jews, Christians, Muslims and others. In 2010, she was one of eight Muslims who met with the Dalai Lama as part of an Islam-Buddhism Common Ground event.
She was named one of the "500 Most Influential Muslims in the World" in 2009, the first year the ranking was issued by the Royal Islamic Strategic Studies Centre based in Amman, Jordan.
She died of cancer in 2014 in Atlanta. She was 62.