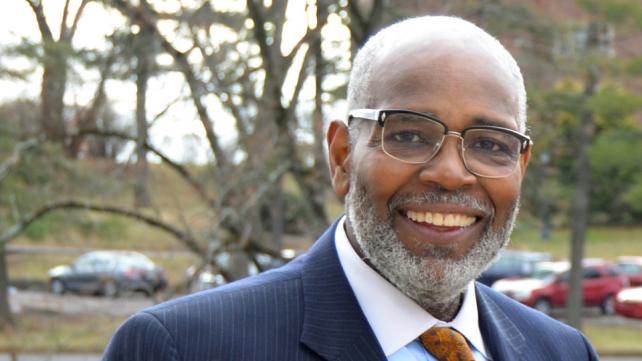 Reverend Robert Thompson, president of the Council for a Parliament of the World's Religions, has been fasting in Ramadan. Again. He started the practice last year, after the September 11, 2001 terrorist attacks.
"I initially did it as expression of solidarity at a time when the Muslim community in America felt vulnerable," he explained in an interview with Sound Vision on the 25th day of Ramadan. "I also knew I was doing this for my own spiritual purposes. As Ramadan approached this year again, I decided I was going to do it. When I talked to Muslims, there was a connection, an appreciation, a sense of solidarity. But I also found myself learning a lot and experiencing a real depth of gratitude after fasting for that long period of time. "
"If we're always full, there's no need to grow and we don't explore our inner spiritual lives that we do when we're yearning and empty," he added.
Apart from himself, about 15 to 20 other people in his congregation at Lake Street Church of Evanston in Evanston, Illinois, where Thompson has been pastor since 1980, have also fasted. He's also given a sermon about fasting in Ramadan and during Advent, as well as the need to be empty to his congregation of his church, where representatives of nine different religions participate in an annual service held every year.
In recent months, some high profile Christian leaders have spewed hatred instead of spreading understanding about Islam and Muslims. Notable among these are Franklin Graham, Pat Robertson, Jerry Falwell, Jimmy Swaggart, and Jerry Vines. All have attacked Islam and described the Prophet Muhammad, peace and blessings be upon him, in hideous ways. Franklin Graham, for instance, called Islam "evil" and "wicked".
But there are Christian leaders in America who have a very different view and don't gain the widespread media attention Graham, Swaggart, and others do. Thompson is one of them. He doesn't mince words when it comes to responding to such anti-Islamic attacks.
"They (Graham and others) have made other statements that displayed that ignorance. It feels to me that they have some malice towards Islam. I'm also aware of those folks having a clear interest in the way they understand Biblical Prophecy and the future of Israel. I think they are making a political statement," he said of the attacks.
He strongly encouraged Muslims to respond, but not alone.
"The Muslims need to realize that we all have to do this together and that's the way it's got to be in every area of our lives," he said. "And we all need to respond anytime there's any hatred being spewed like this. We need to not tolerate it for a minute. We've got to develop this tapestry of support, and we can work together."
Thompson's involvement in interreligious work, particularly through the CPWR, is one big step in weaving this tapestry. The Chicago-based Council was established in 1993 to promote dialogue and encourage interdependence between people of different religious and spiritual backgrounds to promote peace and justice worldwide. The group has established interfaith dialogues, held a Parliament in Cape Town, South Africa in 1999 bringing together interfaith workers from various religious backgrounds around the world, and established programs around the world to encourage bridge building and communication.

In Chicago, in the city's Rogers Park district, a group of about 17 religious communities have already working together for the last five years. Another group is working in the city's suburb of Skokie.
"The vision is to take this experience we've had with these local grassroots efforts and bring people from around the world to learn from them and develop an interfaith partnership with these cities around the world in order to provide technical assistance, encouragement, support, and developing a global network, so that we have, around the world, diverse religious groups come together to build a more just, sustainable world," he explained.
While local and international interfaith groups are many, Thompson does not see them as being in competition with each other.
"We all have our niche," he said. He explained how, for instance, the United Religions Initiative is seeking to build cooperation circles around the world to work together based on the model of the United Nations. On the other hand, the World Conference of Religion of Peace works primarily on projects and issues around the world but don't really focus on interreligious dialog the way the CPWR does.
"During the next parliament in Barcelona in summer 2004, some of those groups will hold meetings in the midst of the parliament and we are trying to collaborate as much as possible in terms of organization. Our staffs get together annually to talk about what we're doing," Thompson says.

The Parliament in Barcelona, Spain a year-and-a-half from now is the next big project for the Council. It is seeking cooperation from people of all religious and spiritual traditions for the event.
But Thompson doesn't see interfaith work as divorced from the issues of the day. He is particularly critical of the current US-led war on terrorism and sees interfaith workers as an important part of the solution to the problem of violence and intolerance.
"This war on terrorism is inadequate and ill-conceived because at no point are we as a culture asking 'how can we begin to deal with the root causes of the problem of terrorism,'" he said. "Unfortunately, so much of our national leadership is exuding arrogance that only exacerbates the problem. We have a superiority complex. Certainly not everybody, but at least in terms of the (foreign) policy being put out there. There is this failure to understand and hear what others are saying. We are not going to begin to see the end of terrorism until we begin to learn to see those who would be terrorists so as to transform them. The only way that can be done is by humility. And I don't see any of that running around anywhere."
"We must learn to begin to listen to each other at a far deeper level than is possible by merely taking military actions," he added. "Clearly the CPWR has been, and continues to be, committed to developing those relationships beyond all boundaries. There is a human community awaiting being built. If religious and spiritual communities come together with a serious commitment to build, that community will happen."
Thompson also understands the need to reach out to Muslims not just in America, but the world over, where America is largely seen as an arrogant superpower.
"I think that it might be helpful for Muslims outside the US to know that there are a lot of people in the US, Muslim and non-Muslim, who are not comfortable with the air of superiority being communicated by the leaders of America, and we understand the need for greater humility."
He also emphasizes his and other Americans' desire to work together with Muslims around the world, to develop the better world CPWR envisions.
"There are many, many people in other religious and spiritual traditions, who want very much to collaborate with Muslims around the world, to help clear up the misconceptions about what a Muslim is, and to develop relationships however we can with our brothers and sisters around the world so together we can create a new world."
If you are interested in working with the CPWR, please e-mail the organization's associate director, Travis Rejman at travis@cpwr.org. You can also cc Reverend Thompson at bob@cpwr.org.