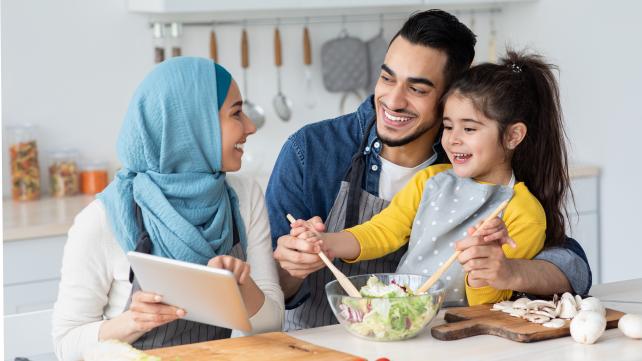 Summer has finally arrived and the heat is on - that is the heat for parents to find ways to ensure their children are busy and productive! Sound Vision has put together an array of amazing summer camp sessions to keep kids of all ages engaged in an Islamic learning environment and having FUN! Parents love the content and students keep coming back for more!
Check out the details for your own family.
Adam's World Club 2022 Summer Camp
At the top of our list is the biggest offering - our Adam's World Club 2022 Summer Camp session. Amazing host teachers and role models use creative methods - songs, stories, art and cooking projects, and more - to make learning about Islam relevant and FUN.
The 6-week program is designed for children ages 4-7 and offers engaging segments to increase both knowledge and love of Allah. These include:
Special Lessons for Eid-ul-Adha - Our first week of class will focus on lessons related to Eid-ul-Adha. We will cover several stories that relate Prophet Ibrahim, peace be upon him, and his family to the Hajj pilgrimage. And wrap up the week with an Adam's World Eid party in our LIVE Friday sessions.
Knowing Allah through His Creation - We take an in-depth look each week at six of the animals named in the Quran - camel, spider, dog, wolf, donkey, cow - and the special characteristics that Allah has given them. Students will learn the names of these animals in Arabic and be encouraged to practice their Arabic writing skills.
Nurturing Creativity - We love to encourage our students to be creative and they love have something to show for their efforts. Each week there will be an art project connected to the lesson that makes use of simple household items and supplies.
Celebrating Diverse Cultures - Exploration is a great way to also teach young Muslims to value the diversity among us. Each week we will journey to a distant land - Senegal, Argentina, Brunei, Maldives, Oman, Uzbekistan - to learn about the geography, the animals and plants of that region, and the people and their culture. A weekly cooking demonstration of a local favorite dish also encourages students to build skills in the kitchen and try something new and delicious.
Learning Science from the Quran - The lessons about scientific discoveries found in the Quran are profound, especially considering they were recorded more than 1400 years ago! In this segment, we will focus on elements connected to our universe - planets and stars, our planet Earth, oceans and rivers, continents and climates, mountains, and plants. Our goal is to help our students build knowledge, understanding and respect for the Quran as a source of guidance.
LIVE Show & Tell sessions every Friday bring students together to build community and encourage students to make connections with their teachers and their peers. Students can attend at a time that is most convenient - either 12Noon or 6pm (Eastern Daylight Time).
Convenience and Flexbility
Now everyone can benefit from top-notch Islamic children's programming.
The AWC 2022 Summer Camp is an online program which allows students from all over the world to benefit from engaging lessons in the comfort of their own homes. The pre-recorded video instruction can be viewed on a schedule that works for every family, at a time that of their choosing. There is a cost to the programming, however, the affordable tuition price applies to the entire household, making it a wholesome learning experience for the entire family. Partial and full scholarships are also available based on financial need.
Visit Adam's World Academy for more details and to register online.
Additional Mini Courses
In addition to the AWC 2022 Summer Camp, content from previous offerings has been repurposed into mini-courses for children ages 5-12. These cover a wide variety of topics including:
Knowing Allah through His Creation - The same type of instruction as described above that focuses on five different animals from the Quran - mosquito, bees, elephant, snake, whale. There is an art project for each lesson, too.
Celebrating Diverse Cultures - The same type of journey to distant lands that focuses on five different countries - Morocco, Indonesia, Bangladesh, Palestine, Tanzania. There is a cooking demonstration for each country, too.
Muslim Inventors that Changed the World - In this course, we focus on the amazing contributions of Muslim scientists, doctors, and educators whose five inventions - hospitals and medicine, flying machine, toothbrush and hygiene, university, and optics - changed the world and are still utilized today. Muslim children are often amazed to learn how we have positively contributed to our world. There is an art project for each invention, too.
Sweet Treats: Baking with Hanifa - Hanifa is not a trained chef, just a teen that LOVES baking and who wants other children to love it, too. Join her to bake five delicious treats, learn cooking skills and some interesting facts about ingredients, and have something tasty to share with the family, too.
Muslim children need Islamic programming that is age-appropriate, relevant to their daily lives, delivered by charismatic teachers who engageThese mini-courses can be great to take along on a family vacation, as entertainment for a play group, as a special treat in the late afternoon or after dinner. The flexibility means that they can be used at your convenience and also used over and over again.
Visit Adam's World Academy for more details and to register online.