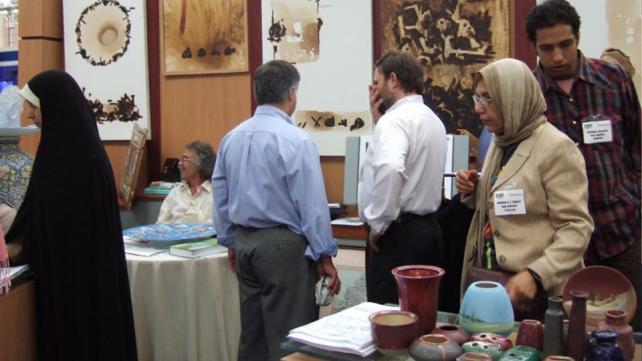 Conventions are weekends full of fun, learning, and coming together for the sake of Allah. But let's not kid ourselves—most of us are looking forward to that bazaar! But shopping at a Muslim convention is not like shopping at your local discount mall. As such, here are a few shopping tips you might want to keep in mind to guide you through the bazaar:
1. Haggle
This is the fun of shopping at a bazaar. Great deals can be found at almost every booth, you just have to know where to look and how to haggle. Don't be afraid to counteroffer when a vendor gives you a price. However, keep in mind: not all products are up for negotiation. Clothes like abayas and scarves and other items are common to bargain on. But many items—particularly Islamic CDs, DVDs, and educational tools—come with a set sticker price. Bargaining on these items may just be wasting your breath.
Also, don't forget that there are manners to bargaining. You want to benefit from a deal, but you don't want to cheat the vendor, either. If the vendor won't budge on a price that is absolutely outside of your budget, just walk away. And please try to remain calm and easygoing throughout—you're shopping, not negotiating a treaty.
2. Take your time, shop around
Keep a sharp eye at out bazaars, like the one at ISNA. Vendors come from miles around to sell their products, and you can often find several booths side-by-side selling similar products. As a result, the competition gets intense—which is great news for you. It means you get your pick of the merchandise at a competitive and discounted price. Just be sure not to walk into the bazaar and buy everything you want from the first booth you see without looking to see if other vendors have it for less!
3. If you can, hold out for the super sales
On the last day of the convention weekend, vendors typically put their merchandise on super sale, slashing prices on everything from books to clothes and accessories to DVDs, etc., to make some last-minute profits and lighten their load. Beware: If there's a choice item you want, you may not want to risk waiting for the last day of the convention to buy it. It might not be there.
4. Wear comfortable shoes
Convention bazaars are BIG. In no time at all, you'll be weaving in and out of aisles, hopping from booth to booth, checking out everything that catches your eye. Shoppers easily spend hours a day at the bazaar. As such, don't wear those new, never-broken-into shoes you bought specifically for this trip. Comfortable shoes will allow you the chance to take your time and find more great deals at the bazaar.
5. Bring cash
Many booths will accept credit, debit, and checks, but not all. Cash, however, is the preferred currency. If you're uneasy about bringing a wallet full of cash, bring an amount you're comfortable with and use it only at booths where necessary. Use your credit/debit card or checks everywhere else.
6. Don't be afraid to shop
Convention bazaars are notorious for having all the best Islamic products for the best prices under one roof. If you know you're going to buy some of these products this year, you may as well get it from the convention, when it's probably the lowest price you'll find. Not only is it comparably more affordable, but there are also many products you just won't find locally (i.e. abayas from Dubai, rare Islamic books) except at the bazaar. However…
7. Beware of shopper's remorse
Many people get caught up in the atmosphere of the bazaar and start spending like you wouldn't believe. The major problem here: returns are not easy (and many times, not possible). Convention bazaars are major places to shop, but try to only buy things you will actually use, not just novelty items.
---------------------------
Meha Ahmed: With a B.A. in journalism from Columbia College Chicago, Meha Ahmad is a former Social Media Manager of Sound Vision, as well as a writer and the classic reporter. Running around the streets of Chicago chasing interviews, you rarely find her without her trusty laptop and a strong cup of coffee. When she's not writing compelling stories, you'll find her on your favorite social media sites scrounging for new leads, finding out what readers really want and studying new and unique ways to share what she loves most: a good story.