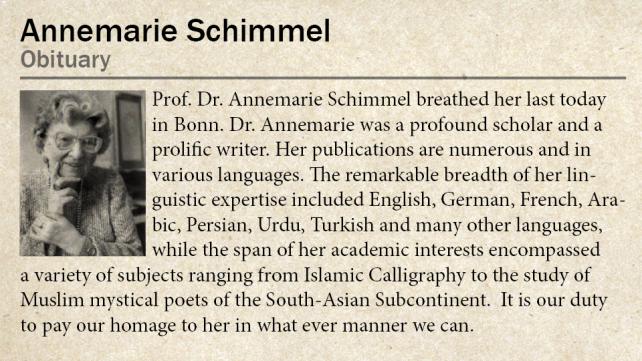 Prof. Dr. Annemarie Schimmel breathed her last today in Bonn. Dr. Annemarie was a profound scholar and a prolific writer. Her publications are numerous and in various languages. The remarkable breadth of her linguistic expertise included English, German, French, Arabic, Persian, Urdu, Turkish and many other languages, while the span of her academic interests encompassed a variety of subjects ranging from Islamic Calligraphy to the study of Muslim mystical poets of the South-Asian Subcontinent. Her main interest, and one can say her heart, lied, however, in the translation into German verse of Arabic, Persian, Turkish and Urdu poetry, a pursuit that had won for her the different international medals for outstanding translations.
Her interest in Iqbal studies dated back to her student days. To quote her, "my long lasting love of Iqbal (which began when I was a student in Berlin during the war) has led me to publish a number of works which are more or less relevant for a study of his contribution to Muslim thought. In many articles I have tried to show Iqbal in the context of Islamic modernism, or deal with his imagery". Ever since the appearance of her first article on Iqbal (1954) she had been writing on Iqbal in various languages and on different aspects of his thought and art. But her book Gabriel1s Wing- A Study into the Religious Ideas of Sir Muhammad Iqbal (1963, rpt. 1989) is still the finest specimen of her erudition and insight in Iqbal studies and Islamic thought in general. This is testified by the fact that from among a large number of books written in the major languages of the world, Gabriel1s Wing was declared as the best work on Iqbal studies, in the international languages, for the period 1947-1981. Apart from these works she was the author of hundreds of articles and dozens of books on Iqbal and Islam. She also funded the Annemarie Schimmel scholarship for Women Studies in Pakistan. The Government of Pakistan decorated her with the highest of civil awards, Tamgha i Imtiyaz.
This doyen of Iqbal Studies and the internationally renowned scholar of Islamic civilization, Professor Doctor Annemarie Schimmel met with a serious accident recently. After a major surgery, she went into a coma and, after several days of illness, left this world for the abode of eternity this morning.
It is our duty to pay our homage to her in what ever manner we can.
(Dr. Javid Iqbal)
Vice President
Iqbal Academy Pakistan
Website: www.allamaiqbal.com