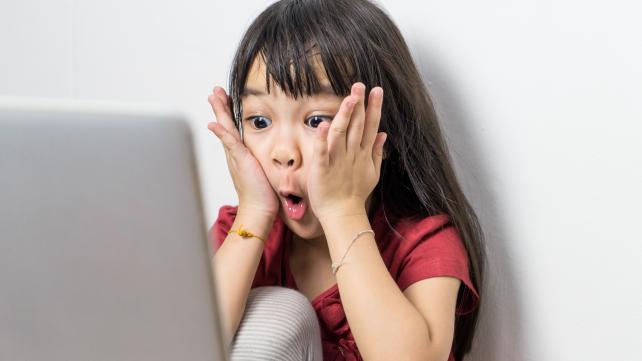 Gone are the days when internet use was reserved for specific needs only. We are witnesses to an ever-growing interdependence between gadgets and the use of the internet in our day-to-day lives, sometimes even for our children. In fact, it has become a means of survival for individuals as well as global economies. A major cause for concern, particularly for parents with younger children, is now online safety.
With the onset of the global pandemic which literally turned the world upside down, the impact befell the education systems, too, with children as young as 4 and 5 (and horrifyingly in some parts of the world even 3) were forced to rely on virtual modes of learning to keep up. So in addition to the screen time that children were already getting for watching their favorite videos, playing games, or connecting with friends and family, they were given access to an internet-enabled device.
Know the Online Risks
When school-aged children are becoming increasingly independent online, they are often left unsupervised which poses an increasing concern about internet safety risks. These risks can be categorized into four areas of risk – content, contact, conduct, and contract – and they are commonly referred to as the four C's of online safety.
1. Content Risks
There is an excessive amount of inappropriate and malicious content available on the digital web. This most common appears through in-game pop-up ads or live streaming video platforms and includes sexual or pornographic content, images that display violence or cruelty, uncomfortable or disturbing scenes or characters, and more.
This leaves younger children, whose brains are still immature and developing, particularly vulnerable. By being exposed to such content, they can be left traumatized, making it difficult for them to cope as normal.
2. Contact Risks
There are several popular gaming apps that use built-in chat features. Some of these include Fortnite and Ludo King, which have a voice chat option, too. Young children often find these features to be amusing (we all know how popular Siri is among kids!), and, hence, they can accidentally lead them into coming in contact with total strangers. And many of these strangers are ill-intended.
The risks associated with this vulnerability can pose life-threatening challenges. Children can come into contact with pedophiles, adults who prey on children for sexual pleasure. They can be enticed to share important personal information, too. Additionally, gaming apps often expose children to vulgarity and age-inappropriate content which includes verbal abuse and foul language.
3. Conduct Risks
Online gaming and screen addiction can spur a multitude of personality-related problems. These inevitably include a yearning for stimulation, emotionality, anxiety, and mental health related problems such as somatization, sensitivity of interpersonal relationships, hostility, and paranoia. Resultantly, children begin to act in ways that might hurt others or expose them to cyberbullying.
Moreover, when young children are left unsupervised, they are prone to accidentally click on ads which might lead them to make in-app purchases.
4. Contract Risks
Almost all apps use software that requires agreeing to certain terms and conditions. Although these terms do not appear to pose any privacy related issues, they do require access to one's personal contacts, media folders, and can tap into your geographical location via the phone/internet connection.
Younger children are unable to comprehend such the challenges this can pose and may agree to unfair contracts and terms and conditions which can accidentally cause vulnerabilities with personal data. With newer avenues for artificial intelligence, this data is highly susceptible to identity theft or fraud. Certain websites are also unsecured and if children accidentally happen to visit those, it can lead to hackers gaining access to personal accounts and information.
Minimizing the Risks
The increasing dependence on gadgets, access to channels, and online video gaming is becoming a huge challenge for parents, especially those who provide access to their children as a means of refuge or as a result of peer pressure. Our children are our biggest responsibility and if we cannot isolate them from using devices and accessing online platforms, the least we can do is try and minimize the risks involved. Here are some strategies which parents can use to help their children stay safe online.
1. Model safe and responsible online behavior.
One of the reasons why our children are hooked on gadgets is because they see us using them, too! Modeling how to use the internet safely can serve as a good start to teaching children how to build digital resilience, the ability to manage internet safety risks and worrying experiences.
Talking through the risks associated and showing them how not to click on ads or notifications which appear, can give them clarity on what they are expected not to do while unsupervised. Creating a family media agreement, is a great way to set out boundaries, too. For some additional information about a device contract, see (insert a link to the article).
2. Keep information private.
Young children may not understand the details of the process on how data is mined, but they can definitely be given instruction on how not to give away vital information to strangers over the internet. Parents must reinforce this by narrating real-life instances where children have suffered as a result of being a victim of such scams and strangers. There are also a number of children's books on this topic. Check out several in this article, 13 Best Online Safety Books of All Time.
3. Talk about inappropriate online content.
Before your child gets exposed to it, it's better to make them aware of the kind of unpleasant content that is widely available on the internet in the form of images, games, videos, etc. When dealing with younger children, this might be difficult to get to, so make sure you are using age-appropriate language, and terms that they are already familiar with. Again, books are a good conversation starter.
4. Do your research.
Most parents are unaware of the latest online gaming trends, videos, and apps which is why they are unable to identify and highlight the risks associated. It is imperative to educate yourself as well as other parents. Many schools encourage parents to highlight such serious dangers in order to maintain children's safety within the school community.
5. Seek safer alternatives.
There are a variety of child-friendly search engines such as Kiddle and Kidtopia, which are safer to use for children. Alternatively, for safer content viewing, there are platforms like YouTube Kids and KIDOZ which are free. Several Muslim-run production houses and organizations such as Sound Vision are doing a great job at creating content that is safe and clean for younger children.
6. Limit access.
Before we go on to let our children use any kind of device, it's important to check for privacy settings. Use parental controls and safe search settings on browsers, apps, search engines, and YouTube. Disabling the location and limiting camera and video functions are some of the things we must ensure.
There are advanced security features that also let you block in-app purchases and disable one-click payment options on your devices.
Children today are growing up in a world that's cybercentric. As technology permeates everything they do, from school to home to play, it's impossible to avoid their connection to the Internet and all things digital. That said, there is no compromising on minimizing risks for them and keeping them safe online. Parents need to be proactive and keep up with the latest trends and details. And remind children that their safety is your primary concern.
Umm Ahmed is an early childhood educator and mother of three boys. Always on the quest to learn, she is passionate about seeking knowledge and passing it on to others. A writer in the making, she draws inspiration through deep conversations, laws of nature, and her own children. She and her family are currently living in Abu Dhabi, UAE.