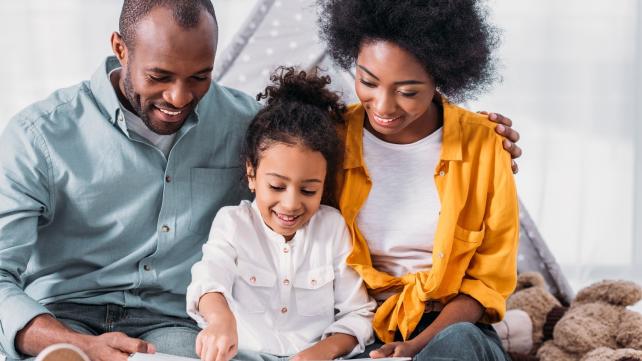 Tapping into a child's thoughts and emotions can be challenging because they perceive things very differently than adults. Similarly, teaching complex and nuanced subjects can also be daunting because parents are often unsure themselves as to how to bring it up or how the child will receive the information shared.
When these needs arise, books can serve as a great tool to make the strange seem familiar. A good book can give its reader the opportunity to slip into another place, life, and experiences through vivid thoughts and emotions. Also, it can help the reader resonate with the characters and bring a sense of comfort and assurance that some struggles are universal.
Nurturing Inclusivity in our Children
With much talk around racial discrimination, white supremacy, religious intolerance, and other forms of social injustice, it is evident that there stands a greater need to foster understanding and put context to these concepts.
As a parent myself, I see that the real challenge comes in organizing meaningful discussions around these areas and other similar topics in order to cultivate empathy and a value for diversity in an impactful way. This is where literature can play a pivotal role and help instill such values and mindsets into our children from an early age and continue to nurture their understanding through adult life.
Our family lives in a country where we are exposed to a horticultural environment, and a place that taught me how to value diversity and inclusiveness. I have made it a priority to look for books that I could read with my children to make it easier for them to adopt this mindset from an early age. There are a growing number to choose from.
Here are some of the books which stood out for me and revolve around a variety of themes focusing on diversity and inclusion.
Understanding People from Around the World
Shades of People
Shads of People is written by Shelley Rotner and Sheila M. Kelly. In this picture book, the authors provide an excellent context for diversity for the younger audience, in a very simplistic manner. Without as much as highlighting where the people in the images come from, the book seamlessly suggests that people come in different shades and that it has no impact in the way that they behave as humans. There are absolutely no cultural references in the book and no hint toward any specific setting. Besides skin tones, the book also displays a variety of hair types and eye colors; sometimes, these features can also tend to make children feel alienated. The use of the picture of an interracial couple with their child was also a thoughtful move to address how children are a beautiful combination of their parents.
The authors have restricted the use of language in the book, as a means of allowing readers to use powerful images to make sense of the theme. Though there are some references used to describe the shades of colors, it might suit better to flip through the pages in a casual manner to avoid highlighting those references to shades. Then children can lean in with own their thoughts and parents can subsequently develop a thoughtful conversation around it.
Come On In: 15 Stories about Immigration and Finding Home
Come On In is an anthology from 15 bestselling authors' publications which beautifully summarizes first-hand experiences of immigrants trying to find a home-away-from-home. Feelings of pain, stress, grief, and loss of one's identity are common features among these stories and these themes strike like chords for the reader.
The stories narrate experiences of immigrants from different countries and a variety of cultures and backgrounds, who are subjected to racial profiling and discrimination in America. In each journey, we see reflections of how immigrant parents make independent decisions for their families, and their children can eventually suffer the most. The main character in each of these stories provides a window and helps young adults see themselves through a mutual lens. They also help the reader identify and believe in their strengths amidst universal struggles.
In addition, these stories also help provide a glimpse into the lives of immigrants for those who are unaware of their struggles and suggest adopting a more empathetic mindset about them. The book is definitely a resource worth investing in, especially for teachers and school libraries.
The World Needs More Purple People
This unique book, by the famous actress Kristen Bell and producer Benjamin Hart (both of whom are also parents), is a wonderful read for addressing issues on diversity and inclusion. The duo have managed to put into perspective meaningful content, using humor and careful word selection which allows the reader to see past differences. The concept of "purple" is explained by suggesting that purple is great because it is created when red and blue come together.
The main character in the story, Penny, says things that are bound to resonate in the hearts of young readers. And, although there is no direct talk about diversity or race, the book inspires one to be curious, use their voice, be kind, hard-working, and above all focus on people's character traits rather than who and where they are from. The book encourages its readers to celebrate things that people have in common and while also valuing their differences. Authors Bell and Hart hope that by reading this book, newer generations can become more tolerant, show greater acceptance, and paint the world purple!
Understanding the Uniqueness in Each of Us
The Invisible Boy
Some people are outwardly more expressive, whereas others take their time to find their comfort. The Invisible Boy by Trudy Ludwig makes for a valuable resource for those children who feel overwhelmed by crowds and more specifically provides reassurance to those children who feel left out and alone in a room full of people.
This gentle story revolves around the theme of kindness and inclusion and features a boy named Brian, who feels invisible in his class because he would rather communicate through art and drawings instead of words. He barely gets noticed, until a new boy is introduced to the class and Brian, being gentle and kind-hearted, uses his strength to help him feel included and welcomed. Luckily, for Brian, just leaving a note saying "Hi" in his own special way opens up his world and someone finally sees him for who he is. Beautiful illustrations by Patrice Barton serve as icing on the cake and make the story come to life with warmth and tenderness. The most important take-away message in the story for young readers is to never stop believing in your strengths and always find a way to allow people to see you for who you are.
The Day You Begin
The Day You Begin is a book on courage and self-worth by Jacqueline Woodson, the National Ambassador for Young People's Literature 2018-2019. In her book, the author talks about how there can be so many reasons to feel different when you are confronted by an unfamiliar situation in life, such as the first day at school. It could be how you look, how you dress up, the way you talk, the way you eat or what you eat, and more. Regardless of what it is, it is not easy to walk those first few steps, especially when you do not know anybody in the surroundings. But, in order to rescue your own self from those thoughts of feeling alienated and different, it is important to break down the walls of discomfort and face the challenges with confidence.
The lyrical text and dazzling illustrations in the book, offer much to soothe the young reader's heart and boost their self-confidence. The author's words also provide comfort and reassurance in the sense that she suggests that one must try and find a reason to connect with others, even if you are feeling alone and scared in a strange place.
A Boy Like You
A Boy Like You, written by Frank Murphy and illustrated by Kayla Harren, is a one-of-its-kind book that helps bring focus on diversity, but mostly from a gender perspective. It aspires young boys to not be afraid to acknowledge their feelings. The theme of the book encourages positive interactions and acts of kindness by suggesting that boys have the potential to be compassionate when they are not constrained by stereotypical gender norms.
Other than that it can also serve as a reminder for members (both male and female) of the society by showing that bravery, intelligence, acceptance of others, and uniqueness are indeed meaningful things in life. The author remarkably addresses these concepts in a direct and simple fashion, making it easy for the readers to comprehend and seek inspiration. It can also make for a useful resource in classrooms where sensitive children are often subjected to bullying.
Understanding People Who Are Differently-abled
We're All Wonders
If you're looking to talk about empathy and kindness toward children with disabilities, then this book might just work wonders for yourself and your younger children. Author R.J. Palacio, who initially wrote another book on kindness titled Wonder, took to writing this book for children after many requests from her fans. This picture book features Auggie (August Pullman), who was born with a facial deformity. He narrates the story from his perspective on how he feels estranged in a world surrounded by kids, who do not always see him as he sees them. He understands that he looks different, but he wants the other children to see him as an ordinary boy for he is capable of doing all the ordinary things that other children do.
The book serves as an excellent tool to educate young minds about the importance of empathy. It can be used as an excellent conversation starter by allowing children to understand what it feels like from another child's perspective and that what we might think is funny or weird, can be hurtful to others. Also, it is no different than bullying.
Additionally, there is a movie1 based on the book Wonder for the children to watch and seek inspiration from.
Our Friend Mikayla
A lovely book written and illustrated by real-life friends and classmates of Mikayla, and edited by Kimberly Rush, is about a young girl who suffers from a disability and is in a wheelchair. Our Friend Mikayla is celebrated for how it shows and inspires understanding, friendship, and full inclusion.
The story is about acceptance, understanding, and valuing unique friendships - regardless of age or physical ability. It is a story of honesty, trust, and of realization that, despite our differences and limitations, we can all still share the same positive experiences. The children have dedicated Our Friend Mikayla to "all people with disabilities and their friends." The book was made possible by a grant from the National Inclusion Project whose mission is to create awareness about the diversity of individuals with disabilities and the possibilities that inclusion can bring. Carrying a deep message within itself, this story is truly heart-warming and a precious read for the young and old, alike.
A Final Word
Books are undoubtedly one of the most natural ways to build awareness. From owning a copy to having it in classrooms or at the library, they are definitely a great investment of both time and money. When children see themselves in books, they see characters who look just like them, who have overcome challenges, who have faced obstacles, and who have made a difference in the world. And, inshaAllah, God-willing, rather than seeing differences as "strange," they can find strength in them.
Endnotes
1 Wonder (the movie) https://www.imdb.com/title/tt2543472/