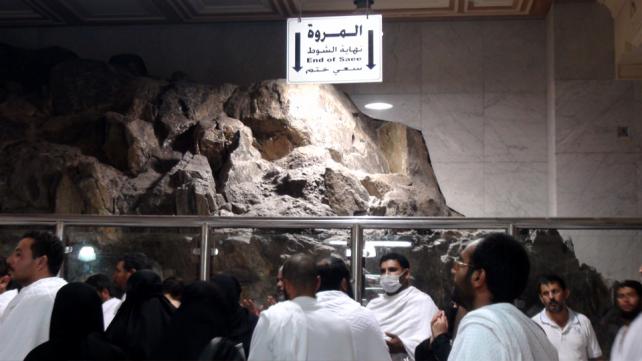 DEFINITIONS:
Dhul-Hijjah: The last month of the Islamic calendar during which Hajj is performed.
Arafat, Mina, Muzdalifah: Desert locations some distance from Makkah where various important Hajj rites are performed.
Dam or Kaffarah: The expiation or atonement required from a pilgrim for any violation of a prohibition or obligation while in a state of Ihram.
Halq: The act of completely shaving his head by the male pilgrim on the 10th of Dhul-Hijjah. This is the last thing he does before getting out of the state of Ihram. For female pilgrims Halq is satisfied if they trim their hair by about an inch.
Taqseer: Shortening or clipping of the whole head of hair by the male pilgrim following the completion of Hajj in lieu of Halq.
Ihram: The distinctive garb of the male pilgrim. It consists of two pieces of white, unsewn and plain cloth. One piece is wrapped around the waist from just above the navel to just above the ankles, and the other is draped around the shoulders. For ladies their everyday ordinary and simple clothes constitute their Ihram.
Idtiba: This is the special way a pilgrim drapes the Ihram during Tawaf al-Qudum. One end of the Ihram is draped over his left shoulder back-to-front. The other end goes across his back, under his right arm, across his front, and is finally draped over his left shoulder. Idtiba is not observed in any other type of Tawaf. For ladies the question of Idtiba does not arise since they wear no Ihram.
Istilam: The act of kissing Hajar-al-Aswad at the beginning and the end of each circuit (shawt) of the Kabah during Tawaf is called Istilam. If it is not possible to kiss Hajar al-Aswad you may raise your hand towards it at appropriate times and then kiss your own hand.
Jamarat: These are three stone pillars in Mina that symbolically represent the locations where Prophet Ibrahim (a.s.) is said to have stoned the devil (shaitan) in rejection of his efforts to dissuade Prophet Ibrahim (a.s.) from the path of Allah. You will be stoning these pillars on the 10th thru the 13th of Dhul-Hijjah in commemoration of Prophet Ibrahim's rejection of the shaitan.
Maqam Ibrahim: The step stone used by Prophet Ibrahim (a.s.) during his construction of the Kabah. It is housed in a glass enclosure near the Kabah.
Miqat: An imaginary boundary around Makkah which a pilgrim can not cross without changing into Ihram. You will change into Ihram at Miqat and prononce your intention (niyyah) to perform Hajj or Umrah.
Ramal: The ritual in which the male pilgrims are required to walk briskly with their chests thrust forward and their shoulders slightly rolling during the first three circuits of Tawaf al-Qudum.
Rami: The act of symbolically stoning the devil (shaitan) in the shape of Jamarat in Mina on the 10th thru the 13th of Dhull-Hijjah.
Safa and Marwah: Two small knolls (hills) near the Kabah inside Haram al-Shareef. The pilgrims perform Sa'i by walking back and forth between them to retrace the footsteps of Hajar (wife of Prophet Ibrahim) during her search for water for her infant son Isma'il (a.s.).
Sa'i: The devotional act of walking seven times between Safa and Marwah to commemorate Hajar's desperate search for water for her son Isma'il (a.s.).
Talbiya: A devotional recital of the following words by the pilgrims after changing into Ihram and, thereafter, throughout Hajj. Ladies recite the Talbiya in a low voice:
Labbaik Allahumma Labbaik. Labbaik, La Sharika Laka Labbaik. Innal-Hamda, Wan-Ni'mata Laka wal-Mulk. La Sharika Lak.
(Here I am at Thy service O Lord, here I am. Here I am at Thy service and Thou hast no partner. Thine alone is All Praise and All Bounty, and Thine alone is the Sovereignty. Thou hast no partner.)
Tawaf: The devotional act of circumambulating (i.e., walking around) the Kabah in a specific manner while reciting prayers. Each complete circuit around the Kabah is called a shawt (plural: ashwat). Seven ashwat constitute a complete Tawaf.
Umrah: A set of devotional acts performed in Makkah in a specific manner. Umrah does not involve any rites at Mina, Arafat or Muzdalifah.
Hajj: One of the five pillars of Islam, Hajj is a set of acts of worship performed in and around Makkah in an order and manner prescribed by Allah and Rasul Allah (s.a.w.). Every Muslim fulfilling certain conditions is required to perforn Hajj at least once in a lifetime.