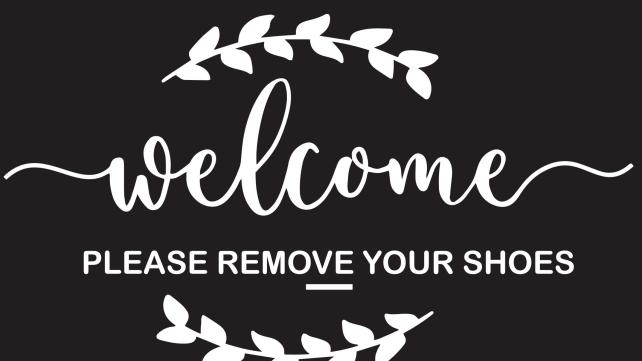 In most Muslim households, and throughout the Muslim-majority world, people usually observe the tradition of removing their shoes at the entryway. Our religion values purity and cleanliness, and keeping dirty footwear off carpets and floors is one significant way to reduce germs and grime. "The tread and cracks in the bottoms of our shoes are perfect places for bacteria and other dangerous contaminants to hide. When we walk indoors wearing shoes, they come in, too, and can drop off on the floors and rugs where pets and babies like to crawl and play," said Henry Anyimadu, MD, an infectious disease specialist.1
In the United States, however, it is considered normal to wear shoes in the home, and many Americans do not automatically assume that they should shed their footwear at the front door. This may be because most people don't realize what's lurking on their soles. A University of Arizona study showed that there are more than 421,000 bacteria on the soles of our shoes, including strains that can cause diarrhea, meningitis, and pneumonia.2 In fact, some shoes are dirtier than toilet seats, since toilets typically contain 1,000 bacteria or less, compared to the 66 million found on one of one test subject's shoes.3
Even though keeping germ-ridden shoes off our carpets might seem like a no-brainer, asking visitors to remove their footwear can feel awkward, at times. Some guests are not comfortable going barefoot or in stocking feet in someone else's house, and others dislike having cold toes. Some people believe their footwear is an essential part of their ensemble and are loath to leave their carefully-chosen footgear at the door. Maintenance workers sometimes cite safety reasons for their refusal to remove their boots. Individuals with foot problems might need to wear orthopedic shoes at all times.
How can we diplomatically enforce our house rules when some people firmly want – or need – to keep their shoes on?
Here are four simple strategies to keep your home a "shoe-free zone" that will make the whole situation less sticky (literally and figuratively!)
1. Let your entry do the talking.
There are a variety of welcome mats and door signs that request that visitors remove their shoes. Some are direct: "Thanks for removing your shoes" and others are cute: "Leave your worries and your shoes at the door." Whatever tone you prefer, the message on your front porch might save you from an awkward conversation. Considerate guests who read those signs will usually remove their shoes without being asked.
2. Set up your entryway strategically.
To facilitate shoe removal, consider providing a few items for your guests' (and your own family's) comfort. A sturdy bench for sitting will help those who need some support to remove their footwear. Cubbies or shoe racks will make your entryway more inviting, organized, and safe (no one likes to trip over a mound of discarded shoes!). A thick rug will help keep chilly feet warm if the entryway tends to be cold.
3. Provide disposable booties to guests who hesitate to shed their shoes.
Disposable booties are affordable and useful, and having a box of them at your entryway will allow you to cater to workers who need to remain in their footwear for safety reasons. Booties can also be used for guests who need to wear orthopedic shoes, or those who prefer to keep their footwear on for whatever reason.
4. Make clean slippers or fuzzy socks available to guests.
No one wants to slip their feet into someone else's grubby, worn-down footwear. Disposable slippers are surprisingly affordable. Providing pristine slippers or clean, fluffy socks makes guests feel welcome and comfortable, almost like they're at a spa.
The benefits of a shoe-free home are many, including fewer germs, dust, dirt, and allergens. While we have every right to ask visitors to respect our house rules, it is more welcoming and hospitable to think of their feelings and possible hesitation. Strategizing will help solve this issue diplomatically and make our guests eager to come right in – and leave their shoes at the door.
End Notes
1 4 Reasons to Take Your Shoes Off Before Coming Indoors | Health News Hub
2 4 Reasons to Take Your Shoes Off Before Coming Indoors | Health News Hub
3 Shoe Bacteria: How Many Germs Are on Your Shoes? | Scalzo Clean
Laura El Alam is a freelance writer and editor and a first-generation American Muslim. She is the author of over 100 published articles and has written a children's book, Made From the Same Dough, due to be released in 2023. A wife and mother of five, Laura lives with her family in Massachusetts. You can visit her online at www.seaglasswritingandediting.com.