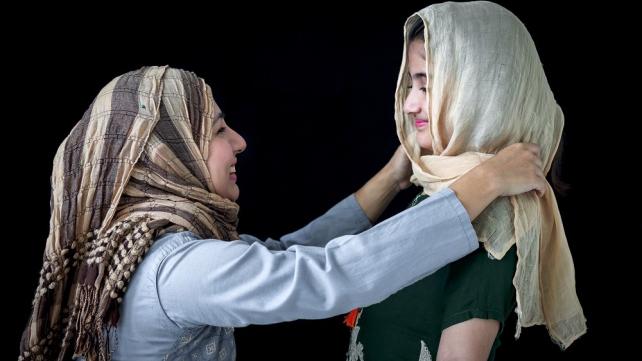 I do not remember how young I was, but I remember wanting to fast like all the adults in the family. This is a story of my first day of fasting as a child. Many other Muslim children have this same story. I recall my shiny new pretty dress, and the aromas of delicious food. I was not hungry but was tired, and easily distracted by my friends who were invited to the party.
This was my Roza Khushai, a happy celebration of my first fast, an act of devotion to God. A community of believers came together to welcome me in their practice of exercising sacrifice of self in gratitude to Allah, the Lord of the Universe.
As it goes in many South East Asian households, the first day of fasting for a young child is a celebrated event. Guests are invited and special foods are prepared. There is excitement, energy, and lots of smiling faces as well as some mischievous friends teasing you to make you hungry. Everyone is checking up on how you are feeling. Delicious traditional dishes are in progress and samosas have your favorite filling. Dates are garnished with nuts and a special almond milk is prepared to be taken at the breaking of the fast. When it is time, your loved ones surround you and look on with encouraging words and prayers as you take your first bite of the date and the first sip of the milk. I still can feel the crunch of the garnish of pistachios in my almond milk, which was cold and sweet. Since then, I have always loved pistachios. I was proud and appreciative of the many blessings of family, food, and love (as much as a child could feel and understand at this age in that moment).
All Muslim families celebrate in their own way when a young child fasts for the first time. Parents in our diverse Muslim community in North America have come up with their own ways to recognize the first day of fasting for their children with gifts, decorations, and favorite foods. We are learning from each other how to make our child's first fast a meaningful and memorable time, often modifying the cultural traditions or making our own to recognize this special day. Others are renewing cultural traditions such as Roza Khushai. For my own children, I held a small gathering of my children's friends since my family resided across the country and could not become part of the special day in person. Instead, we invited my kids' friends for an iftar party and enjoyed the occasion with eight 9-year-old boys and girls.
Curious, I wanted to know what people remembered about their first fasting day. I asked my brothers, cousins, nieces, and nephews about their experiences of fasting in Ramadan.
One of my brothers was quite busy playing in the yard, until it was time for him to break the fast with the gathering of people. That's all he remembers.
One of my cousins still holds on to the green prayer rug that our grandmother gifted him on his first fast at age 8 years. Another cousin joked that he might have accidentally eaten a slice of kiwi from the fruit salad before time, as the chaos of food prep ensued.
My nieces shared the cutest pictures of their celebration, their tired and waiting faces, and a date in their hands at the auspicious moment of breaking the fast (iftar/fatoor).
Meaningful family traditions play an important role in religious identity formation of a child. Activities can help affirm a child's identity by becoming a part of a larger community through shared experiences thus enhancing spiritual development. They can also have a positive effect in latter years on the individual's civic engagements as an adult.1 Celebrating the first day of fasting may also serve the goal of raising strong Muslim children, along with many other beautiful Ramadan traditions. Traditions like these may also provide young children a safe and happy place in societies, where they may be feeling excluded and not accepted based on their religious affiliation.
How to Best Support Fasting for Young Children
Though fasting is obligatory from the onset of puberty for healthy and able-bodied Muslims, young children often are seen insisting on participating in the fasting. My nephew at age 4 came stomping down the steps one Ramadan, angry for not being invited at suhoor (breakfast before dawn), declaring that he was fasting. But by noon, he had forgotten and demanded lunch. I believe the beautiful fitra (born with natural goodness) of the children like my nephew invokes the desire in them to worship their Lord and fulfill the oath they took before the merging of the soul and the body. The questions then are:
How to eliminate physical harm to their little bodies during fasting, when they may be as young as six years of age?
How to enhance that connection our children have with the Divine?
The answers vary and ideas are plenty. The following are the most common suggestions for parents who have helped their young children successfully fast during Ramadan.
Preparing the Body
Ease the children into a routine.
Try intermittent fasting throughout the day, gradually increasing the number of hours over several days.
Practice fasting on the weekends.
Wake them up well before Fajr (morning prayers) to eat suhoor, the pre-dawn meal.
Have a well-balanced suhoor, including protein.
Assure that children are drinking plenty during the non-fasting hours.
Allow snacking and more food between iftar (breaking of the fast) and suhoor.
Be mindful of the signs of dehydration and unusual weakness.2
Know the limits of your child's physical capacity for fasting.
Preparing the Heart and Mind
Do not force young children to fast. The idea of fasting should come from them.
Be cautious in turning down their request. Instead, offer them to hold mini fasts so that they may feel part of the experience.
Avoid getting upset with the child for not following your guidance.
Let them break their fast with their favorite foods.
Focus on the fact that Muslims fast not only from food and drink, but also from negative thoughts and deeds.
Engage them in extra prayers if possible. Take them to the mosque for nightly prayers, if possible. Nowadays, one can always watch the livestream taraweeh prayers (nightly prayers) from the holy lands and even the local masjid.
Remember to engage in daily adkhkar (remembrance) as a family. Watching short YouTube videos by your favorite scholars is quite popular these days and is a fun experience.
Make them part of the charity-giving traditions of your family in Ramadan for those who are suffering and are deprived of the many blessings of rizq (sustenance) that Allah has endowed upon us.
Engage them in plenty of arts/crafts and Ramadan activities.
Share stories of fasting from the life of the Prophet peace be upon him and his followers.
In the love of Allah, our bodies and hearts crave to worship Him. This truth is apparent and manifested when children want to fast in Ramadan on their own. There is a palpable Divine energy in Ramadan felt by all, young and old. Making sure that this act of devotion is allowed to be expressed in the best manner is very important in the affirmation of the Islamic identity of our children. Therefore, it is our duty to recognize the child's first fast to the best of our ability. Children remember their first fast, and how it made them feel. For some, arrange a Roza Khushai, and others hire a Negafa to mark the first day of their child's fasting. For most of us, we make the day special in our own unique ways and create our own traditions.
End Notes
1 Coming of Age as a Muslim American: A Review of Research on Muslim Youth and Well-Being
2 Ramadan Dos and Don'ts for a Child's First Fast
Recommended Reading
Ramadan: My First Fast by Anitha Rathod
Zachariah's Perfect Day by Farrah Qazi
Laylat El Qadr: Moroccan Children Celebrate their First Day of Fasting
How American Muslim Families Celebrate Ramadan | Community Alliance
Muslim children join their parents in fasting for Ramadan | The Washington Post
Tayaabah Qazi has a master's degree in Educational Leadership, an AdminI/II Certification from the State of Maryland Education Department, and a Secondary Teaching Certification in Chemistry as well as a CPP certificate. She has served in the education field as a teacher and an administrator of schools. Recently, she served at Community College of Baltimore County as a Coordinator of Adult Basic Education program. Currently, Tayaabah is the Program Manager at the Office of Workforce Development at Maryland Department of Labor. She has been a long-time resident of Maryland for 17 years, with her family, but hails from Southern California. She is also a staunch believer of the 4 Cs: Compassion. Commitment. Conversation. Cultivation.