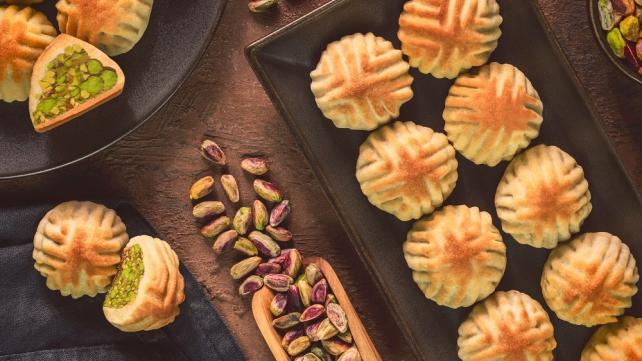 Eid-ul-Fitr morning is a special time, marking the end of the holy month of Ramadan. On this day, Muslims are required to eat before they leave for the Eid prayers. A month of fasting has trained the body and mind to not eat after Fajr (morning) prayers. Eating before Eid prayers, which are conducted after sunrise, is to recognize the end of Ramadan and gracefully (and somewhat sadly) bid farewell to our beloved guest.
Centuries of celebrating Ramadan have given rise to food traditions on Eid day in Muslim cultures all around the world. My friend Farida reminisces about the Eid tradition of Bangladesh, the taste of her mom's delicious Sheer Khurma on Eid mornings. The fine vermicelli floating in warm sweet milk with ghee and nuts is not only nutritious but also full of energy. Exactly what you need before the celebrations of the day ensued. She carries on with the tradition for her children and friends in Maryland and commemorates the memories of her mother.
Mam Marie recalls the tradition of making Laakh Soow in the mornings of Eid in Senegal to be eaten after the Eid prayers. She observes this tradition in her home in America and takes immense pride in serving her favorite traditional drink of Bissap, made with sorrel flowers with an amazing citrus flavor, to her guests. And during the happy hustle and bustle of the day with guests, laughter, kids playing, exchange of gifts, and other festivities, womenfolk make Thiere Stew with lamb for dinner.
Mam Marie's Indonesian friend in America, Elia, talks about traditional Eid food in Indonesia. Dressed in traditional clothes for Eid, families return home from the prayers to honor the tradition of seeking forgiveness from their parents. It is a beautiful and heartfelt tradition for parents and children alike. Then guests are welcomed and serving tables are filled with a variety of must-haves for Eid including Rendang, a dried beef, lamb, or goat curry which takes 7 to 8 hours to make, and Opor Ayam, stewed chicken.
Muslims from Egypt have their unique ways to celebrate the end of Ramadan. My friend Rasha would start baking the sugar cookies, Kahk (Egyptian Eid Cookies), a couple of nights before the holiday and packaging them beautifully to share with her neighbors and friends in York, Pennsylvania. Eid day was always a meat feast of cubed beef or lamb with rice baked with tomato sauce and bread chips, known as Fattah bel Mozah.
My favorite Eid breakfast has always been at an American Muslim friend's house. As tradition goes, after the Eid prayers end, people gather in groups, hug, greet each other, and then invite friends to their homes for meals. For many years, my friend would have an open invitation and extend it to anyone she would meet at the masjid after the prayers. The family then would rush home and start preparing breakfast of scrambled eggs, sausages and turkey bacon (halal of course!), toast, croissants, cheeses, and a table full of amazing pies and cakes for desserts. People would pour in and often you would catch up with long-lost friends and/or make new ones.
The feast of Eid is fun for adults and children alike. A lot of planning and preparation by the hosting family goes into the events of the day. As a young girl, I helped my mom make fresh off-the-stove foods for visiting friends and family, all day. This was the blessing of having a large family and popular parents in the community. The day was filled with flipping Shami Kababs in the frying pan and deep frying the Puri (or Indian roti) for an endless supply at the table while sneaking a few minutes out in the yard to join the laughter and show off my henna designs on the hands. And looking for relatives who had somehow escaped to give me my Eidi, crisp cash.
The world is filled with beautiful traditions celebrating its amazing diversity that unifies all the believers on Eid day, in the way of Islam. Think of your own family and cultural traditions marking special days. Then go ahead and revive some or make some new ones. Foremost, always remember to say a prayer for your host/hostess on Eid day, as they invite you in and extend their table for you. Thank them for their hospitality and generosity and join in the fun!
Eid Mubarak! Happy Eid!
Kullay 'am wa antum bikhair! I wish you goodness every year!
Tayaabah Qazi has a master's degree in Educational Leadership, an AdminI/II Certification from the State of Maryland Education Department, and a Secondary Teaching Certification in Chemistry as well as a CPP certificate. She has served in the education field as a teacher and an administrator of schools. Recently, she served at Community College of Baltimore County as a Coordinator of Adult Basic Education program. Currently, Tayaabah is the Program Manager at the Office of Workforce Development at Maryland Department of Labor. She has been a long-time resident of Maryland for 17 years, with her family, but hails from Southern California. She is also a staunch believer of the 4 Cs: Compassion. Commitment. Conversation. Cultivation.