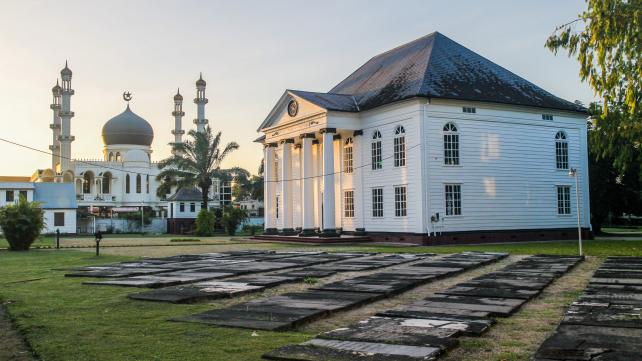 Black History Month is an excellent opportunity to learn about the civil rights struggles of African-Americans. It can also be an opportunity to learn more about the early history of Islam in the United States. There are some great resources available online and in written form. Here is a brief collection to get you started.
Did you know that there is a museum dedicated to Muslim American heritage? The initiative started back in 1996 with a Washington, D.C. non-profit organization called Collections & Stories of American Muslims, Inc. CSAM developed educational programs and a traveling exhibit that focused on America's diversity and forgotten roots, the history of Muslims in early America. The growing collection was eventually housed in America's Islamic Heritage Museum which opened in March 2011. Visit the museum online at https://aihmuseum.org/.
There is a comprehensive body of work in the Smithsonian's National Museum of African American History called "African Muslims in Early America: Religion, Literacy, and Liberty". There is much to learn here. Here is a brief excerpt from the introduction:
"While we do not know exactly how many African Muslims were enslaved and transported to the New World, there are clues in legal doctrines, slaveholders' documents, and existing cultural and religious traditions. African Muslims were caught in the middle of complicated social and legal attitudes from the very moment they landed on our Eastern shores, and collections at the Museum help provide insight into their lives."
You can visit the exhibit online here.
Another comprehensive resource is an Al-Maghrib Institute online course hosted by Shaikh Abdullah Hakim Quick called "Deep Roots: Islam in America Before Columbus". The collection of research on early Muslims describes various waves of influx and their impact on what we know and may not know about the history of this country. Quick is a well-known scholar and historian who promises to enlighten Muslims about the past "so we can recognize our present and chart a course for the future."
There are audio stories available online, too:
National Public Radio's "A History of Black Muslims in America" (Aug. 23, 2005)
Howard University African American studies Professor Sulayman Nyang was an expert on the history of Islam in America. According to Nyang, there is evidence that Muslims were here before Columbus, but the largest influx of Black Muslims came during slavery. The interview with NPR's Allison Keyes is quite informative.
Backstory with the American History Guys' "Islam and the US" series
Backstory formally ended production in June 2020. However, many of the past episodes are archived online. In the "Islam and the U.S." series, there are segments which discuss the "long and surprising history of America's relationship with Islam. The link contains short interviews with a number of historians including:
"Writing on the Wall: The Story of Omar ibn Said" (Oct. 29, 2014)
Scholar Ala Alryyes tells the story of an escaped slave who began writing in a mysterious script on the walls of his jail cell in North Carolina. Omar, originally from Senegal, eventually wrote his own narrative about his experience.
There are a couple of good books you may also want to check out, including:
Servants of Allah: African Muslims Enslaved in the Americas by Sylviane A. Diouf
(Also check out an in-depth review of the book by Sound Vision President Imam Abdul Malik Mujahid here)
Muslims in American History: A Forgotten Legacy by Jerald F. Dirks
African American Islam by Aminah Beverly McCloud (longtime Radio Islam host and presently host of Sound Vision's Critical Talks weekly talk show)
From Slave Ship to Harvard: Yarrow Mamout and the History of an African American Family by James H. Johnston
The history of slavery in America is extensive and the ramifications of that injustice are still haunting the country today. It is important to understand that Islam was also part of that equation. As Muslims we must know and also tell the whole truth as it relates to our own history in this land.

Zahirah Lynn Eppard is Sound Vision's Director of Religious Education