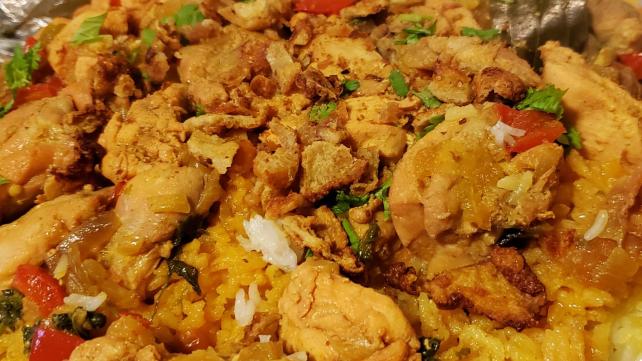 Every country has some variation of a rice and chicken dish. Indians and Pakistanis have biryani, Brazilians have galinhada, Nigerians have jollof, Chinese have chicken fried rice, Saudis have al kabsa, and so on. In Puerto Rico, we have arroz con pollo, which literally translates to rice with chicken. Arroz con pollo is an aromatic yellow rice dish with spices, bell peppers, olives, peas, and chicken. It is a whole, filling, and delicious meal that can be made in one pot. Puerto Rican arroz con pollo is a family favorite that has been passed down for generations and has now become a Ramadan iftar tradition.
There are many ways to prepare arroz con pollo and every cook or chef adds their own flair and secret ingredients. Although traditional arroz con pollo requires a one-pot approach with chicken and rice cooking simultaneously, I have developed an easier recipe utilizing pre-cooked white rice. Perfectly stewed chicken is blended with plain rice and tossed to tasty perfection. What makes this poultry and rice dish so unique from others is the blend of tropical flavors and its vibrant colors reminiscent of the Caribbean.
Three Key Ingredients
Now, I will share some secrets about Boricua, or Puerto Rican, cuisine. The keys to authentic Puerto Rican cooking are three: sofrito, sazón, and adobo.
Sofrito is a combination of garlic, onion, peppers (cubanelle or green), cilantro, and long-leafed coriander. There are also variations with fresh oregano and ají dulce (mild Caribbean cap peppers – not spicy). All ingredients are blended in a food processor to create a cooking base that can be stored in the fridge or freezer (my unique trick is to freeze in an ice cube tray for perfect individual servings).
Sazón is a blend of seasonings including coriander, cumin, achiote (annatto powder), garlic powder, oregano, salt, and pepper. Some blends contain saffron or tomato, and it is used for everything from stews to rice dishes. You can find sazón in single-serving packets in boxes of eight or more or in jars.
Adobo is sold in shakers, and it is a blend of garlic powder, ground peppercorns, oregano, paprika, onion powder, and turmeric. It is typically used to season all types of meat, poultry, and fish. The most popular brands of sazón and adobo are Loisa, Goya, Badia, and Knorr.
To successfully execute this Puerto Rican arroz con pollo recipe, you will need sofrito (or a substitute of finely chopped green pepper, onion, garlic, and cilantro), sazón, adobo, and mucho amor (lots of love). Get ready to embark on a trip to the Caribbean Island paradise with this easy recipe for arroz con pollo that will have you running back for more.
Easy Puerto Rican Arroz con Pollo Recipe
Ingredients
3 tablespoons olive oil
1 whole halal chicken cut, or 1 1/2 pounds halal chicken breasts or thighs cut into fourths
2 tablespoons of sofrito
1 medium green bell pepper, chopped
1 small yellow onion, chopped
2 teaspoons of adobo
1 chicken flavor bouillon cube
1/2 can (4 oz.) tomato sauce
2 packets or 4 teaspoons of sazón
1 teaspoon of dried oregano (optional)
1 teaspoon of paprika (optional)
1 tablespoon minced garlic
10 pimento-stuffed Spanish olives (optional)
½ cup of chopped cilantro (and extra for garnish)
2 cups of halal or kosher chicken broth, vegetable broth, or water
1/2 red bell pepper, cut into slices
1 cup frozen green peas, thawed
4 cups of cooked long-grain white rice
Salt to taste
Instructions
Heat oil over medium-high heat in a pot. Add the sofrito or sofrito substitute and onions. Add the chicken and season as it cooks by adding the adobo, oregano, and paprika. Cook for two minutes or until the chicken is golden brown.
Add the green pepper, tomato sauce, garlic, bouillon cube, sazón, and olives. Stir all the ingredients together.
Once the chicken is browned and the onion is translucent, add chicken or vegetable broth or water and stir. Add chopped cilantro. Cover, turn heat to medium setting, and continue cooking until chicken is cooked all the way through (about 10-15 minutes). Add more water if the liquid evaporates.
Season with salt to taste. You should be left with cooked chicken and about a cup to a cup and a half of thick, flavorful stock. If you have more than this amount of liquid, remove some of the excess and keep aside.
At this point, lower heat to low setting, add red pepper slices, green peas, and cooked rice. Stir together until rice is a yellow-orange color. Cover and cook for an additional five minutes. If rice is too dry, pour in some of the reserved stock. Before serving, fluff the rice and add chopped cilantro and more red bell pepper slices for garnish.
Enjoy with a side salad and sliced avocado. To kick this dish into high gear, try it with a side of Puerto Rican Rice and Beans.
Wendy Díaz is a Puerto Rican Muslim writer, award-winning poet, translator, and mother of six (ages ranging from infant to teen). She is the co-founder of Hablamos Islam, a non-profit organization that produces educational resources about Islam in Spanish (hablamosislam.org). She has written, illustrated, and published over a dozen children's books and currently lives with her family in Maryland. Follow Wendy Díaz on social media @authorwendydiaz and @hablamosislam.