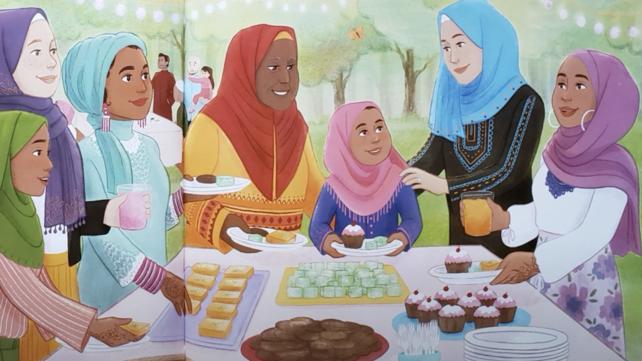 Just about every Muslim girl or woman who has worn a hijab or head scarf, has encountered someone who either curiosly or condescendingly asks "what is underneath"? Author Hena Khan has a beautiful response in her book Under My Hijab.
The rhythmic prose is chock full of references to what our young narrator refers to as "wonderful girls and smart women." With familial and friend connections, they range in age and come from all walks of life, sporting their beautiful headscarves in a wide variety of ways. But the book doesn't stop with their outer appearances in public. It follows these women and girls into their homes to see what also lurks under their hijabs.
The illustrations by Aaliya Jaleel, are painted with bright color and detail. Grandma is a baker and her hijab is neatly folded like the crust on a pie. At home, her hair is neatly pinned into a bun. Mama is a doctor whose pink hijab is tucked into her white coat. But at home in the garden, she lets her long hair flow. Auntie is an artist whose silky hijab is piled quite high. In her home studio, she reveals another work of art, a bob with a blend of pink and purple locks. Jenna is a troop leader and while on a hike as they explore the outdoors, her hijab is topped with a sun hat. In the tent telling stories later that evening, her hair glows in the light. Sister Zayna is all about fashion and her hijab reflects that style. At home her hair is tied back as she pulls together a fresh look for school the next day. Cousin Iman is testing for her black belt and her sporty black one-piece hijab covers her hair even during kicks and jumps; in contrast, at home her curls bounce freely.
The direct and indirect messages within the covers of this book are positive and uplifting. Though our young protaganist is the only unnamed character, she is full of confidence that when it comes time for her to cover her hair in concert with her faith, she has the freedom to copy a beautiful look or try something "totally new." And she can't wait!
Under My Hijab would be a wonderful addition to the family bookshelf or shared with a school or public library. Muslims and non-Muslims need to see strong and smart girls and women making an assertive choice to wear hijab and also live full lives at home, in their own unique and beautiful ways.