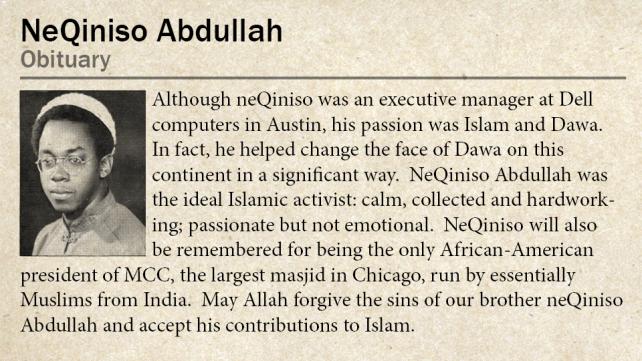 As I rejoiced at the birth of my nephew last week, death was also on my mind. My brother and friend neQiniso Abdullah is dead.
Inna lillahi wa inna ilaihi rajiun. To Allah we belong and unto Him we return.
While I feel happiness at the birth of my nephew, I remember that neQiniso, who was 52 and had a brain tumor, is only a few years older than I. Like him, my time will come soon.
I learned about his death last Friday, when I was at Chicago's Downtown Islamic Center. He passed away on Thursday in Austin, Texas, where 500 Muslims attended his Salatul Janaza. He leaves behind his wife Mumina and five children.
NeQiniso was a friend and supporter of Sound Vision, even in the last few weeks of his life. Last month, we sent out an appeal for funds. Although I hadn't spoken to him for quite some time, sure enough, I received his donation check in the mail.
Although neQiniso was an executive manager at Dell computers in Austin, his passion was Islam and Dawa. In fact, he helped change the face of Dawa on this continent in a significant way.
A new appraoch in Dawa
My earliest memory of neQiniso is in a Dawa committee meeting at Chicago's Muslim Community Center (MCC) in 1987. He and I, along with a few other Muslims, were brainstorming about how to do Dawa in Chicago.
We all decided to distribute flyers about Islam to the general public. We announced and advertised this activity widely in the community. Only three people showed up. While I was disappointed , I felt joy because that was the first time I really tried to share Islam with non-Muslims in this country since I arrived in America in 1981.
NeQiniso's method of Dawa was revolutionary. Unlike the timid, apologetic approach found in most Dawa literature at the time, neQiniso wanted a clear and straightforward presentation of Islam. He wanted a method that would encourage others to question their own beliefs.

Like his poetry (he authored three books of this medium), he wanted a strong, controversial approach.
In specific, he wanted to shake the beliefs of Christians about key issues by making them think critically about their belief in the Divinity of Prophet Jesus (peace be upon him). This is why he wrote the pamphlet "Is Jesus Really God?", using references from the Bible to prove that the great prophet was not Divine.
Although I supported the approach taken in the unique pamphlet, others didn't. MCC refused to print it.
But neQiniso and I decided to print it for distribution anyway. One issue that emerged when we decided to go forward with this idea was where people could call if they wanted more information on Islam. We came up with the number 973-ISLAM. MCC decided to sponsor this part of our Dawa effort, which was the precursor of the toll-free Dawa line which started wringing in Sound Vision since 1994. (1-800-662-ISLAM).
After printing "Is Jesus Really God?", our next step was distributing the flyer. We chose a terminal on 95th street of Chicago's El train. The time: every Friday.
Friday after Friday for six months, this African-American brother who was 6' 3" in height and I, an immigrant from Pakistan, would stand on opposite sides of the terminal and share our Islam with complete strangers via neQiniso's pamphlet. The concept of the Dawa field trip was born. This was a Dawa strategy later adopted by a number of Muslim organizations in America.
In those two hours each Friday 2,000 to 3,000 of these flyers were distributed in this heavy traffic area.
There were three responses to our new Dawa strategy:
Some people welcomed us and approached us for the pamphlet. These people were searching for more. Some even asked for more pamphlets about Islam, which we later added to our repertoire.
Others, of course, avoided us, making sure to make no eye contact, or even come close enough so we could press a pamphlet into their hands.
The only negative incident that really happened was when some Bible students approached us. One of them started reading the Bible at the top of his lungs, inches away from my face, showering me with his saliva.

NeQiniso , a normally calm and collected individual, was outraged. He called a police officer nearby, who offered to take care of the person. I I refused to take up the offer, choosing to just leave him alone. It was clear to me that neQiniso was being very protective of me, in a brotherly fashion, especially since he was an American, and I, an immigrant.
Apart from this incident, two or three different Christian missionary groups started to distribute material at the terminal as well. But along with the competition, came others who wanted to cooperate. A number of Muslims began distributing pamphlets as well.
Even better, conversation and dialog between Muslims and Christians began. The terminal became a London style Hyde Park, a soapbox to discuss the one of the two topics considered off limits in American conversations: religion.
NeQiniso's strategy of "faith shaking " worked. At the end of the six months, other Muslims came asking to get pamphlets for distribution.
Muhammad Ali and the empty suitcases
One major success was when former world boxing champion Muhammad Ali got a hold of the flyer. He arrived at MCC with two emptysuitcases. These weren't filled with clothes. He wanted to fill them with Dawa pamphlets.
While some of the center's officials tried to provide him with flyers, he made it clear, he was looking for only one: Is Jesus Really God? By neQiniso Abdullah.
After this incident, MCC finally printed what they had once deemed a "controversial" flyer.
A major contributor for MCC
NeQiniso will also be remembered for being the only African-American president of MCC, the largest masjid in Chicago, run by essentially Muslims from India. He was elected as its president in 1995. This well-organized brother helped establish the center's bylaws and procedures. Br. Azmatullah Qadri, current president MCC flew to Austin and lead the funeral prayers for Br. NeQiniso.
His five children also attended school there.
NeQiniso Abdullah was the ideal Islamic activist: calm, collected and hardworking; passionate but not emotional.
May Allah forgive the sins of our brother neQiniso Abdullah and accept his contributions to Islam.
May Allah help his five children and give them the best possible place in this world and the next. May they become better than their parents in serving Islam for success in this life and the next.
I pray that Allah gives Barakah in my time and mind so I serve Islam. When I pass away I pray Allah gives me the best place in Jannah.