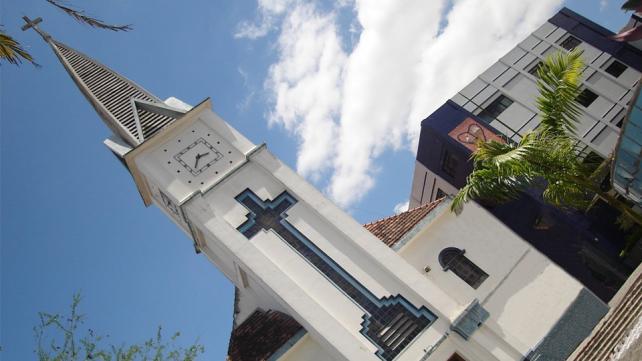 It was only 10 years after the Vietnam war began that churches finally spoke out against it.
During World War II, Quakers were the only Christian group who took a public stand against the internment of Japanese-Americans.
But today, churches and Christian groups are no longer silent. With the impending war on Iraq, they have proven that the business of peace and speaking out for justice is no longer the domain of the left. Peace is the church's business.
Churches and Christian groups have organized and supported initiatives that voice, loud and clear, their opposition to war against Iraq. Below are some ideas that are already in place, as well as others churches and Christian groups can adopt.
1. Keep sharing your perspective on this "unjust war" in the media
Some supporters of war in Iraq have used the argument that this is going to be a "just war" from the Christian perspective. Many respected clergy members of various denominations have strongly disagreed.
Once the war starts though, don't let your dissent die out. Continue informing the media and the public that the war on Iraq does not qualify as a "just war" and give your reasons. You can take out an advertisement in a newspaper, put together a radio or television infomercial, or post an article sharing your views on your church or organization's website.
One example of someone who is doing this is United Methodist Bishop Melvin Talbert. He has appeared in a 30-second commercial for cable television in which he informs viewers that an attack on Iraq "violates God's law." The commercial was sponsored by the National Council of Churches.
The bishop says there is no need for an attack on Iraq, and that the United States has no authority to remove dictator Saddam Hussein from power. "No nation under God has that right," Talbert says. "It violates international law. It violates God's law and the teachings of Jesus Christ."
2. Post a peace calendar in your church
Compile a calendar of peace activities in your city and post it on your church bulletin board as well as on your website. A few days before each event, try to make frequent announcements about it and encourage members to attend.
3. Send relief supplies to the people of Iraq
You can work with existing groups who are already doing this or arrange a group from your church or organization to send relief supplies to Iraq. With the expected destruction of infrastructure in this war, Iraqis will need all the food, medicine, and basic survival supplies they can get.
One group that is doing this is The American Friends Service Committee. They're collecting kits with basic necessities of soap, toothpaste, bandages, etc. to send to Iraq.
4. Encourage your congregation to participate in a weekly call-in campaign to the White House
Don't think that once the US starts bombarding Iraq, the time for dissent is over. In fact, the time for calling for an end to war will be even more necessary.
Have the members of your congregation call the White House weekly to express their opposition. To make it more interesting, present a new fact they can use each time they call. For instance, they can say, "I oppose this war as an American citizen and taxpayer because this week, 21 Iraqi children died since they were unable to obtain medical help at the local hospital, which was bombed 'accidentally' by our troops." You can find more facts to use here .
You can call the White House Opinion Line: 202-456-1111. The line accepts calls from 9 a.m. to 5 p.m. Eastern time, Monday-Friday.
5. Send a delegation to Iraq
There are some church and non-church groups that are already doing this. If possible, send a few members of your own congregation who are interested to be part of such a group. Although there are of course clear risks involved, those who take part can not only be a way of directly sending relief supplies to Iraq, but your own eye on the country and the fallout of the war.
The delegation would not have to stay for the entire duration of the war. They could stay for a short period and return to provide eyewitness accounts. This will be of great interest to the media.
For instance, last January, Dr. Bob Edgar, General Secretary of the National Council of Churches (U.S.A.), returned from Iraq after leading a delegation there which included other clergy and lay leaders from the United Methodist Church, United Church of Christ, Presbyterian Church (U.S.A.), The Episcopal Church and Unitarian Universalist Association along with an Iraq expert from Georgetown University.
6. Issue a weekly press release detailing the casualties
Every week, send out a press release to all major media in your city about the casualties from the war for that week. Don't just make it a list of statistics though. Have one story of an Iraqi person at the top detailing his or her personal loss because of the war. This will help put a human face to the tragedy.
7. Work with other groups sharing the same perspective
Yes, there is strength in numbers. The need for marches and demonstrations is still needed. Instead of just organizing your own congregation to do this, get together with other faith and interfaith groups to show that there remain many, many Americans who oppose the war.
8. Don't let people forget the civilian toll
Most of the mainstream media's news coverage when it comes to Iraq focuses on weapons of mass destruction and the threat the country poses to America. Little is mentioned of the human cost of a potential war.
Once the expected war begins, keep an eye on various reliable news sources for information about civilian casualties. Also, glean a couple of anecdotes of individuals who have lost family and homes due to the American attack.
Once you've got this information, take out an advertisement in a newspaper, put together a radio or television infomercial, or post an article about this on your website. The point is to show the human damage caused by this war.
9. Join the Rice for Peace Campaign
This campaign was inspired by the actions of thousands of ordinary American citizens in the 1950's who sent small bags of grain to President Eisenhower to encourage him to send food to then-enemy China during a famine. The campaign helped dissuade Eisenhower from attacking China during two international confrontations. Today, the campaign is aimed at getting President Bush to do the same for Iraq. For more information, please go to www.riceforpeace.org
10. Plan a community prayer service
Get religious leaders in your city together to plan a community prayer service for Iraq. Click here for ideas on how to organize one.
Also, you can find prayers for this event here.
11. Place a banner in front of your church and use bumper stickers
An attractive, well-placed banner in front of your church expressing your congregation's opposition to the war on Iraq will send a quick and thoughtful message to drivers and passersby. There are different kinds of banners already in use. For instance, the Episcopal Peace Fellowship has proposed the use of a 5x2.5' banner that says, "Peace Is The Church's Business". Another available sign that says "No Iraq War" can be purchased here. .
Bumper stickers are also effective in conveying messages quickly. The National Council of Churches, for instance, is offering the bumper sticker, "AMERICA'S PROBLEMS won't be solved in Iraq". You can order them by calling 212-870-2598.
12. Ring church bells for peace
The Holy Name Cathedral Parish in Chicago has started the "Bells for Peace" campaign. They are urging churches and communities around the world to ring bells at noon. The ringing of the bells is intended to alert people to take a few moments to cultivate an inner awareness of peace and harmony. Click here for more details.
13. Engage in Highway Witnessing
Share a quick, meaningful message protesting the war with rush hour traffic by holding up a sign sharing your views.
One group that is already doing this is the Oak Park Coalition for Truth and Justice in Illinois. Every Thursday morning, between 7:30 a.m. and 8:30 a.m, they hold up signs expressing opposition to war on Iraq on a busy overpass of the Eisenhower expressway in Chicago.
14. Plan a peace vigil
In front or inside your church, plan a weekly vigil for peace. Doing it outside may be better, since it offers more public exposure and the possibility that passersby will join. One church that has already been doing this is the First United Church of Oak Park in Illinois. Every Friday evening, from 7 p.m. to 8 p.m., a peace vigil is held on the church's front steps.
15. Fast for peace
Pope John Paul II called on Catholics to fast on Ash Wednesday in the name of peace. You can do the same with your congregation on a regular basis as well.
16. Sign the Iraq peace pledge
This pledge has been sponsored by a number of organizations including the American Friends Service Committee, Fellowship of Reconciliation, Interfaith Network of Concern for the People in Iraq, Lutheran Peace Fellowship, Pax Christi USA, and Witness for Peace. It offers those who sign a way to publicly register their opposition to war on Iraq, add their name to a national list of citizens opposed to war that will be delivered to Congressional offices, and join a coordinated national campaign to prevent a war with Iraq. It also offers the option of getting involved in peaceful civil disobedience on the issue. For more information, please click here.
17. Organize a "being anti-war is not unpatriotic" seminar at your church
Make sure to invite many different anti-war activists as speakers, and send out flyers in the neighborhood. The point of this event is two-fold. The first is to present why many Americans legitimately oppose the war. The second is to emphasize that opposing the war is not "unAmerican".
"Igreja do Rosário Campina Grande" by Bruno Coitinho Araújo - Own work. Licensed under Creative Commons Attribution-Share Alike 3.0 via Wikimedia Commons - http://commons.wikimedia.org/wiki/File:Igreja_do_Ros%C3%A1rio_Campina_Grande.jpg#mediaviewer/File:Igreja_do_Ros%C3%A1rio_Campina_Grande.jpg