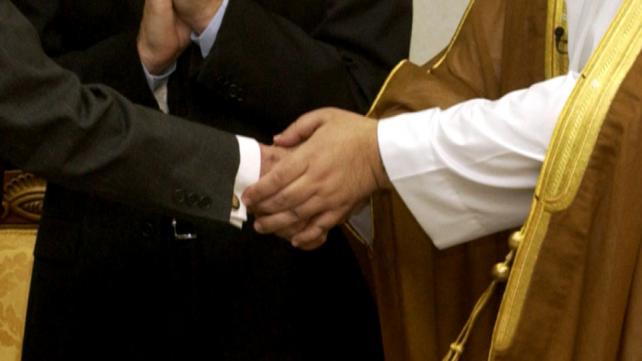 Tears, phone calls, e-mail messages, smiles, cards and flowers are how many non-Muslims across the country have expressed their regret for harassment and threats against Muslims as well as sympathy for the community since September 11.
Given this outpouring of support at such a critical time, it is crucial that Muslims express their thanks and appreciation. Prophet Mohamed (peace and blessings be upon him) said that "He who does not thank people does not thank Allah" (Ahmad, Tirmidhi).

Here are a few simple ways you can say "thank you" to the good-hearted friends, neighbors, co-workers, classmates and teachers who have been supportive:
1. Say it with a card or note
While you could just pick up the phone and say a simple "Thanks", this will not make much of an impression. A thoughtful card or letter to the individual who has been supportive would be more appreciated. It could also be something they remember you by.

You don't have to write anything too long. Perhaps you can quote the above-mentioned Hadith or a relevant verse from the Quran that expresses how you feel, along with a short note thanking them for their support. Give this note in person, if possible, to make sure it reaches your friend.
2.Give a gift of Islamic literature
If you'd like to take it a step further, you could include a small gift with your note. The ideal one at this moment would be some kind of Islamic literature.

Many, many non-Muslim Americans are thirsting for knowledge about Islam, given the amount of media coverage, negative and positive, the faith of over a billion human beings, is receiving.

You could give an English-only copy of the Quran. Or a brief, well-written book in English introducing Islam.
3. Invite them out for coffee or a meal at your home
Food is a great way to bring people together. Eating together allows defenses and barriers to come down and helps people relate better to each other.

Go out for a meal with an acquaintance or co-worker who has expressed sympathy and support or invite them over to your place for a meal. Make the menu more American than ethnic, unless you know the person enjoys trying new kinds of food. Go easy on the spices.
4. Put an ad in the newspaper or write a letter to the editor
This is more of a general thank you gesture, for thanking a larger number of people. If, for instance, your co-workers have been especially cooperative, write a letter to the editor for publication in your local newspaper about how much you appreciated their kindness and sympathy. Send the same letter to your company's newsletter or as a memo to everybody at the office.

On a larger scale, if you and a number of Muslims can pitch in and collect enough funds, buy ad space in the local newspaper and write a note thanking the local community for their kindness to the Muslim community of your town or city during this time.

If that's too much, then you can simply put a thank you notice in the announcements section of the newspaper.
5. Just say it
If you find the above-mentioned gestures too time-consuming (they should not be), then the least you can do is acknowledge the support with a phone call or in the midst of a conversation with your colleague, classmate or friend. The important thing is to acknowledge the goodness, especially in the face of the hatred, anger and racism that have been dominating emotions for a number of Americans who have lashed out against Muslims and Arabs in the last two weeks.