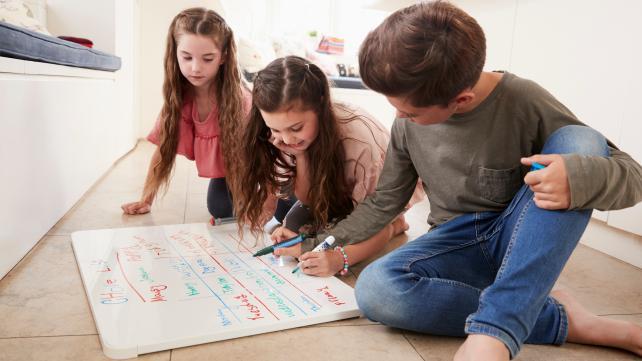 The cliché use of the term "home economics" is unfortunately attributed to tasks meant to be undertaken by women specifically, such as cooking, sewing, and providing child and family care responsibilities. Our beloved Prophet Muhammad, may peace and blessings be upon him, serves as an inspiration in this regard, too. Other than participating and sharing a role in household duties, he preferred to sew his own clothes if they got torn, and was equally involved in the upbringing of his children and looking after the well-being of his family.
In reality, home economics is much more than just these few skills and parents should do their best to ensure that both girls and boys have training in all things that have to do with the home. Bringing about awareness and also having children take responsibility for chores on a regular basis brings a noticeable positive impact in our day-to-day lives. It can also have wide ranging implications for their ability to live independently and take care of their own families into the future, inshaAllah, God-willing.
Teaching about Home Economics
For parents, it is a dream come true to see our children thriving and mastering skills independently, across various disciplines. And, this is where teaching home economics from an early age can prove to be really helpful.
The actual study of home economics can be classified into seven broad categories:
Meal Planning and Cooking
Home Maintenance and Design
Child Development and Care
Education and Community Awareness
Sewing and Textiles
Budget and Finance
Health and Hygiene
There are endless learning opportunities that can be effectively utilized and put into practice in each one of these areas and there are many ways to break this information down and get your children involved in the learning process. It is important to remember to choose and adapt tasks in an age-appropriate manner. You can even consider adding a score chart to tasks can help them stay motivated and add some healthy competition if you have more than one child.
Here are some details to keep you moving forward on the right track.
1. Meal Planning and Cooking
Learning how to cook is a fundamental skill for survival. Additionally, it is also important for us to know and teach our children how to prepare balanced meals based on nutrition principles.
Suggested areas of discovery:
Basic Nutrition
Finding information related to nutritional guidelines and making a record of it (MyPlate.gov is a nice resource)
Print or record any information you will need to plan healthy meals for yourself
Balancing your diet - what do I need each day?
Come up with a reasonable plan for one day's food (which we may or may not actually eat). It should be specific, like "one apple, ½ cup fat-free yogurt, 4 oz broiled white fish without skin," etc.
Track your food intake for one week - what can you learn from it?
Setting goals for the week or month
Meal Planning
Reading a recipe and common abbreviations
Age group needs (create a day's meal plans for the entire family including serving sizes)
Consideration of seasonal foods
Local foods vs. international cuisines
How do economic considerations affect these decisions?
Table setting and organizing meals for the family
Avoiding waste
Cooking Skills
Knife skills
Food safety
Handling and preparation of meats, vegetables, and fruits
2. Home Maintenance and Design
This area aims to develop the essential skills for maintaining order and cleanliness in the house, and additionally also includes designing concepts such as home decor and gardening skills.
Suggested areas of discovery:
Home Decor
Preparation for painting (tape, remove outlet covers, drop cloth, repair holes, dust baseboards, etc.)
Actual painting
Restoring order!
Routine and Deep Cleaning
Bedrooms
Bathrooms
Kitchen
Windows, window screens, blinds, woodwork, comptuer screens, and various surfaces
Natural cleaning products
Toxicity and other worries
Spring cleaning
Laundry (sorting, detergents and fabric care, folding, ironing)
Home Repair
Plumbing
Drilling
Electrical
Lawn and Plant Care
Gardening tools
Gardening (planning, maintenance, harvesting)
House plants
Weather conditions
Composting
3. Child Development and Care
The objective is to create awareness about child development and appropriate ways of responding to children, through their developmental stages.
Suggested areas of discovery:
Bringing Home a Baby
Safe play
Daily care (includes feeding, soothing, clothing, sleeping, diapering, cleaning, laundering)
Child-proofing for safety
Emergencies including first aid and CPR review
4. Education and Community Awareness
This includes exploring other areas of learning, such as moral values, ethics, and developing a civic sense in general.
Suggested areas of discovery:
Car Maintenance
Fueling
Checking tires
Check top/off fluids
Maintenance
Washing
Jump-start a car
Change a tire
Selling and/or buying a car (budgeting, selection criteria, auto insurance, car loans)
Public Transportation
How to hail or arrange a taxi, Uber driver, or other similar services
Calculating fares and avoiding fraud
Ride the light rail (read schedules)
How to catch a bus (read schedules)
Purchase an airline ticket and find their gate
Ferries
Banking
Opening a bank account
Identifying interest fees, free checkbook, ATM use, and other hidden charges
Comparing accounts based on Sharia-compliant policies
Maintaining an account (writing checks, balancing a checkbook, making deposits/transfers)
Home Purchase and Leasing
Budgeting
Selection criteria
Leasing an apartment (terms, deposits, utilities)
Miscellaneous
Changing mailing address
Getting a P.O. box
Registering to vote
Registering for the selective service
Use of a Notary Publics
5. Sewing and Textiles
Knowledge of sewing and textiles is beneficial in that it allows children to make simple alterations, mend rips, and make clothes last longer. It also inculcates an understanding of patterns, textures and different types of materials that can be useful for different purposes.
Suggested areas of discovery:
Mending
Sewing on a button
Sewing a rip
Repairing a hem
Sewing-free fixes
Mending socks
Sewing a Garment
Cutting and preparation (taking measurements, selecting a pattern and fabric, gathering notions)
Practicum projects: apron, child's toy
Sewing and fitting
Hand embroidery, embellishment
Sewing Machine Basics
Threading machine and bobbin
Needle selection
Basic stitches and uses for various stitching
Cleaning and maintenance
6. Budget and Finance
It is crucial for children to understand where money comes from, what means of earning are permissible as per Islamic teachings, and how to use it wisely.
Suggested areas of discovery:
Shopping
Choosing the best value related to quality and price
Paying for purchases (with cash, checks, credit)
Returns (buy an air filter; return for wrong size)
Wants vs. Needs
Food
Clothing
Entertainment
7. Health and Hygiene
This area focuses on self-care and hygiene practices, as well as being able to look after and care properly for one's self and others in sickness.
Suggested areas of discovery:
Maintaining Cleanliness
Clipping nails
Hair care
Shaving and hair removal
Dealing with body odor
Developing Immunity
Balanced diet
Exercise
Physical and emotional well-being
Taking Care in Sickness
Basic medication and dosage instructions (over-the-counter medications, vitamins)
Checking body temperature
Basic first aid
Fractures, sprains and bandages
Knowing about vaccines and medication (and potential side effects)
Doctor's appointments and consultation
With the right mindset and a proactive approach, we can nurture sustainable life skills and help develop sensibility and creativity in our children. Beware of the traps of gender sterotypes. Remember our children are learning about their responsibilities in and around the home from both what you say and do.
Here are some useful links for further reading and inspiration on the topic:
15 Life Skills Essential for Teens and Tweens http://www.reallifeathome.com/15-life-skills-essential-for-my-children/
Teaching Kids Life Skills
https://educationpossible.com/teaching-kids-life-skills/
Write your Own Home Economics Curriculum
https://www.brighthubeducation.com/homeschool-methodologies/64256-write-your-own-home-economics-curriculum/
Note: This article was inspired by Bright Love's Home Economics Curriculum (2 year plan) for Teens
https://docs.google.com/document/d/1IgOP6cVciiojv6dC4NZXbmHeykOAqMWNGPxaCtkRG90
Umm Ahmed is an early childhood educator and mother of three boys. Always on the quest to learn, she is passionate about seeking knowledge and passing it on to others. A writer in the making, she draws inspiration through deep conversations, laws of nature, and her own children. She and her family are currently living in Abu Dhabi, UAE.