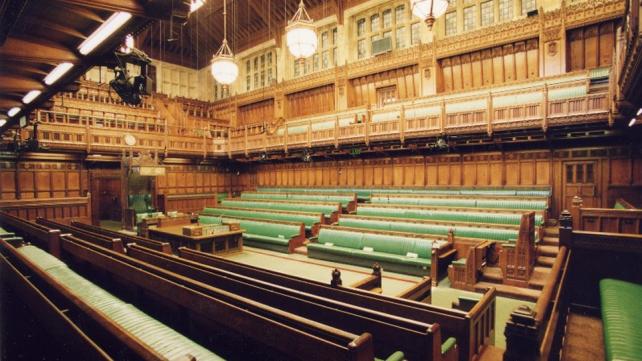 The Secretary of State for Foreign and Commonwealth Affairs (Mr. Jack Straw): I beg to move: That this House takes note of Command Paper Cm 5769 on Iraq; reaffirms its endorsement of United Nations Security Council Resolution 1441, as expressed in its Resolution of 25th November 2002; supports the Government's continuing efforts in the United Nations to disarm Iraq of its weapons of mass destruction; and calls upon Iraq to recognise this as its final opportunity to comply with its disarmament obligations.
Mr Richard Burden (Birmingham, Northfield): I thank my right hon. Friend for giving way, and I welcome the Government's efforts to restart the peace process. However, the allegations and anger about double standards are not only to do with the lack of talks. They arise from the fact that, when a house in Gaza is destroyed, perhaps with the people in it, the destruction has probably been caused by an F-16. That aeroplane has probably been supplied by the US and may have parts supplied by Britain. Moreover, when the olive grove is destroyed, the destruction is probably carried out by a bulldozer bankrolled from the US. If we are to avoid the allegation of double standards, we must get talks going, and ensure that UN resolutions are upheld and respected.
Mr. Chris Smith (Islington, South and Finsbury): Let us not forget what we are talking about. We are talking about going to war. We are talking about thousands-possibly hundreds of thousands-of innocent lives being lost. We are talking about casualties almost inevitably among our own forces. We are talking about instability across the whole middle east. We are talking about making the achievement of a solution to the Israel/Palestine question infinitely more difficult. We are talking about the alienation of moderate Muslim opinion across the world. One does not undertake such things lightly. One must have the clearest possible reasons for doing them, and I do not believe that those reasons are there.
Mr. Kenneth Clarke (Rushcliffe): Let me make clear the origin of my doubts about the very persuasive case that the Prime Minister and the Foreign Secretary sometimes put. I cannot rid myself of doubts that the course to war upon which we are now embarked was decided on many months ago, primarily in Washington, and there has been a fairly remorseless unfolding of events since that time. I am not alone in having heard and met American politicians of great distinction who gave the impression that a change of regime in Iraq was determined upon long ago and that the use of military force in a pre-emptive strike was justified in order to achieve that. I believe that in most cases the motives have been worthy and they genuinely believe that they are ridding themselves of an evil regime. I do not believe the conspiracy theorists. One can go on to hear theories about the installation of democracy in the Arab world, unfinished business from a previous Administration, and a reaction to the understandable state of political opinion in the United States of America in the aftermath of 11 September.
If war happens in the next few weeks-that is a genuine possibility-hon. Members must ask themselves whether it is legitimate to believe that such action had already been determined and had been remorselessly unfolding for many months. Many people believe that. It is why middle England and those of moderate political opinions have so many doubts. To many of my constituents, the answer to the questions, "Did Washington determine such action many months ago?" and "Could the President seek re-election without war and the removal of Iraq's president?" is as obvious as the reply to "Does the emperor have clothes?" The Government must respond to that formidable case.
The next time a large bomb explodes in a western city, or an Arab or Muslim regime topples and is replaced by extremists, the Government must consider the extent to which the policy contributed to it. That is why hon. Members should pause and why, unless evidence is produced for a breach and a material threat, my judgment today is that we should not go to war. I therefore support the amendment that the right hon. Member for Islington, South and Finsbury tabled.
Mr. Peter Kilfoyle (Liverpool, Walton): It is not just a matter of oil or of the President avenging daddy's unfinished business; the ideological hawks in the US Administration have set out their stall for many years. They have set out, transparently and consistently, the different hopes and aims to which they aspire. I mentioned the undesirable outcomes. We must not forget, as our Prime Minister confirmed at the Dispatch Box when his Back Benchers heckled him, that North Korea will be next. We can write the script: Iran, Syria, Libya. People in Iran must be worried, and we do not know where it will end. That is not conjecture; the objectives of the new pax Americana have been set out clearly and unequivocally.
I recommend that people read Senator Riegle's report, published by his Senate Committee, on where the biological weapons originated. It is a matter of congressional record and anyone can get a copy. There were 73 separate consignments, including everything from botulinum toxin to other horrors, such as anthrax. Those were exported to Saddam by the United States. None of us is lily white. I know that that does not help to deal with the problem, but it ill behoves people to stand up as purer than Caesar's wife on the issue.
Mr. George Galloway (Glasgow, Kelvin): We were told here that this was not a resolution for war, and that it was the last push for peace. Well, listening to the consensus between the two Front Benches, it sounded awfully like war to me. I do not know what it did for the enemy, but it didn't half frighten me. It is entirely possible that the teenage scribblers who made that spin earlier this week on the Prime Minister's behalf that today's resolution was about peace, not war, have not read George Orwell's "1984". After all, the same teenage scribblers told us last week on the Prime Minister's behalf that this was going to be a six-day war, drawing on the illusion of the apparent triumph of the Israeli armies over the Arabs in 1967. They entirely missed the point that, on the day that the six-day war ended, the 35-year war began. That is precisely the point that the supporters of this amendment-which merely asks us to conclude that the case for war has not yet been proven-are making. However short and sharp this war is-I place on record that I do not believe that it will be either short or sharp-its consequences, its reverberations and its seismic impact will disfigure life in this country and around the world for as long as the Members here present are still with us.
This is a defining moment. For the first time in many years, Parliament has an opportunity truly to shape world events. I have spent the last months talking virtually daily to American broadcasters and journalists, and I can tell the House that if this Parliament sends the message tonight that the British people are not with this adventure, it will have a decisive impact on opinion in the United States of America. We are always told that it is too early to vote on war until it is too late. This is our last opportunity meaningfully to affect the course of these great events, and hon. Members are fooling themselves if they do not acknowledge that. We all know what the public want. Every Member knows what their constituents would like to read about them in the newspapers tomorrow. Every Member on the Labour Benches knows what the members of their constituency party would like to read about them tomorrow. Let me quote our leader:
"The people are the masters. We are the servants of the people. We will never forget that, and if ever we do, the people will very soon show that what the electorate gives, the electorate can take away."
Those words were spoken by our Prime Minister when that new dawn broke in 1997.
Mr. Frank Dobson (Holborn and St. Pancras): I speak as someone who supported military action by our Labour Government in Kosovo and Afghanistan, and before that supported military action in the Gulf war to expel Iraq from Kuwait. My only criticism is that the Americans and British at that time did not finish the job, because my understanding is that regime change then would have been permissible under international law.
I have to say however that, sadly, I am simply not convinced that all-out military action in Iraq can be justified at this time and on the scale envisaged. I do not doubt for a minute the sincerity and morality of my right hon. Friends the Prime Minister and the Foreign Secretary, or those who support them. I share their concerns about weapons of mass destruction, about the vile and murderous Iraqi regime, about terrorism and about the need to uphold the United Nations. And I recognise, as we all must, that every alternative course of action before the House today is likely to result in protracted misery and a large number of deaths for the people of Iraq. The Government argue that these concerns justify virtually immediate military action, and that they would be resolved by that military action. I find those claims less and less convincing.
If there is a war, it is likely to be quick. It may not be, but it is likely to be. Even if there is a quick win, what will the result be? I am sure that the Iraqi people-those who survive-will welcome the overthrow of the current regime, but we have no answers to the question of how Iraq will be governed, who will govern it and whether the internal struggles that might result will spill over into neighbouring states in a way that might be a threat to international peace and security. I am sure that the ruling elites in the neighbouring states will welcome the overthrow of Saddam, but what of their peoples? They will see double standards: action to uphold UN resolutions on Iraq, but no action to uphold UN resolutions on Israel and Palestine. Many will regard that as anti-Islam. From my personal knowledge of the Prime Minister and the Foreign Secretary, I know that there is not one jot of truth in that view in terms of British Government policy; however, I cannot necessarily say the same for the United States.
People in the middle east recognise that the current Administration in the United States are in power partly because of the support of Christian fundamentalists, some of whom publicly believe that the borders of Israel should be extended to take in all the land of the Palestinians. That leaves millions of Muslims angry, and moderate Muslims in despair, because they feel let down by nation states and the United Nations. As we know, an additional minority will resort to terrorism. Military action against Iraq will be a principal recruiting sergeant for terrorism, and al-Qaeda will be delighted if the United States and Britain go to war.
Mr. Roger Godsiff (Birmingham, Sparkbrook and Small Heath): As I have said previously, 50 per cent. of the electorate in my constituency are Muslims. My support for the American ethos and my belief that, overall, America has been more a force for good than evil in the world does not always win me great support among my Muslim constituents. However, I must tell my many friends in America that I believe that they are about to make a disastrous mistake. With great respect to them, I do not believe that they understand the Islamic world. The current American Administration does not appreciate the consequences in the Muslim world of a pre-emptive strike on Iraq. If America, supported by the United Kingdom, launches a pre-emptive strike against Iraq, Saddam Hussein will overnight become a hero-a martyr-of the Muslim world despite the fact that he is not a hero now because he runs a secularist rather than a fundamentalist regime.
What will be the consequences in adjoining countries? We need to remember that bin Laden comes from the Saudi royal family. He left Saudi Arabia to form the al-Qaeda organisation because he believed that the house of Saud was giving America too much support by allowing it to have bases in a country that is home to the great places of worship for all Muslims. What will happen if a regime change takes place in Iraq and the House of Saud comes under attack from within its own country? Will America commit itself to stationing a large number of troops, for however many years, in Iraq and Saudi Arabia? If so, what will that do to opinion in the Muslim world?
Mr. Mohammad Sarwar (Glasgow, Govan): It is important to re-emphasise that those of us who are opposed to war in this House and across our nation are not friends of Saddam Hussein. We were against him when he invaded Iran, we opposed him when he invaded Kuwait and we spoke out against him when he used chemical weapons against his own people. Unfortunately, the UK and US Governments supported and armed him in the 1980s. I am surprised that no apology was forthcoming from Conservative Front Benchers for supporting Saddam Hussein when he used chemical weapons against his own people. The American Administration is extremely well informed about Iraq's weaponry. As The Scotsman pointed out last Friday, Donald Rumsfeld probably still has the receipts. Like many opponents of military action, I am proud to say that we have been friends of the Iraqi people over two decades of Saddam's rule and we remain their friends today. We are concerned about the tens of thousands of lives at risk through an attack on Iraq. That is the real moral issue that we must all face.
The overwhelming majority of people in Britain support us in sharing that sceptical view. In my constituency, my party membership is unanimously opposed to war, including the former Member of Parliament for Govan and Cabinet Minister Bruce Millan. Among the general public, people from all walks of life are openly talking about opposition to war, including Govan's most famous son, Sir Alex Ferguson. Given that we have seen more than 70,000 people gather in Glasgow alongside 1 million in London to demonstrate their opposition to war, I must ask my right hon. and hon. Friends on the Front Bench if they are listening to the people of Scotland and of Britain. I have not found anyone outside this House-no one among the real people whom we seek to represent-who is in favour of war. People here and around the world are clearly against war. There is no groundswell of support for military action.
Mr. Alistair Carmichael (Orkney and Shetland): On 15 February some 1,000 of my constituents took to the streets to protest against the possibility of this country going to war in Iraq. To hon. Members who perhaps represent more compact areas, with perhaps more of a tradition of militant demonstration, that may not sound like much, but I am told that the 700 people who marched through the streets of Lerwick provided a sight that had never been seen before in the northern isles.
Those demonstrating ranged from the 700 marching in Lerwick, through people demonstrating on the steps of St. Magnus cathedral in Kirkwall, to a dozen or so parents and children demonstrating in the very small island of North Ronaldsay. The people who took to the streets to demonstrate were not wild-eyed extremists. Most of them were first-time protesters. Some were pacifists, but many were not. For the large part, they were teachers, crofters, fishermen, housewives, children-a whole range of people in the isles who wanted to make their view known. That view was that the case had not been made for war.
In his speech today, the Foreign Secretary spoke at some length about 12 years of UN resolutions on Iraq. He also said a little about the double standards applied by the international community to the situation in Israel and Palestine, but he did not say much about UN resolutions there. I remind the House that it is 36 years since the first such resolution-242, which called on Israel to relinquish control of territories occupied in the war of 1967-was passed. Last year, five Security Council resolutions were passed relating to Israel and Palestine: 1397, 1402, 1403, 1405 and 1435. Resolution 1397
"Demands immediate cessation of all acts of violence, including all acts of terror, provocation, incitement and destruction".
Yet as recently as last Sunday, six Palestinians were killed and 20 were injured during an Israeli raid in Gaza.
The Government will have to explain why we are prepared to value some UN resolutions so much more highly than others. I am sad to say that the Foreign Secretary's words this afternoon had a rather hollow ring, and I am afraid that they will be greeted with anger and disbelief throughout the Arab world.
Ms Oona King (Bethnal Green and Bow): People have spoken about anti-Americanism. They wonder why some people are sickened by George W. Bush. I shall explain why I am sickened by him. His double standards sicken me. The fact that he surrounds himself with religious fundamentalists sickens me. The fact that he is in the pocket of the oil industry sickens me. Above all, the fact that he bankrolls Ariel Sharon to continue the slaughter of Palestinians sickens me.
Israel can flout all the UN resolutions in the world, invade its neighbours' territories, develop weapons of mass destruction, and it does not even get a ticking off from George W. Bush. However, the question is not the extent to which George W. Bush is reprehensible; it is whether he is responsible for British Government policy.
Will the Foreign Secretary assure me that Britain will look at securing a UN resolution, forcing Israel back to its 1967 borders and, in the long term, securing a viable Palestinian state? Will he further assure me that if such a resolution faced an unreasonable veto by a Security Council member-for example, America-Britain would still take action outside the UN, if necessary, to secure justice for Palestinians?
Finally, I want to mention the extremely difficult situation facing Muslims in this country and in my constituency. Ever since the events of 11 September, Muslims have been under suspicion purely on account of their faith. Most Muslims and, indeed, most Asians have reported increased antagonism. That is because the war on terror means something different to everyone. It is spreading its tentacles in a confused and insidious manner. It has become a war on asylum seekers, refugees and, by extension, various ethnic minorities. At its most extreme and stupid, it has become a war on men with beards. It is disgraceful that it is being allowed to drift in that way, and I know that several Members agree.
"House of Commons" by UK Parliament - Flickr. Via Wikipedia - http://en.wikipedia.org/wiki/File:House_of_Commons.jpg#mediaviewer/File:House_of_Commons.jpg