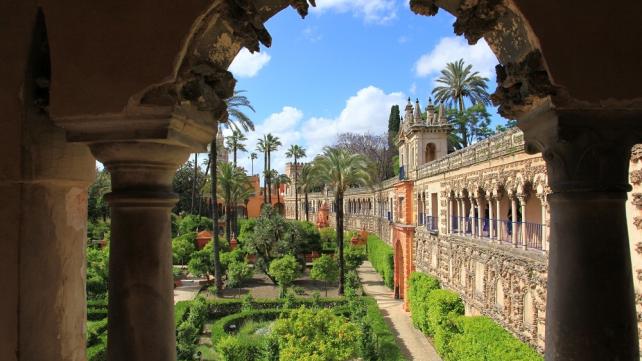 In the mid-1990s, I spent my junior year of college studying abroad in southern Spain. At the time, I was not a Muslim. In fact, I knew almost nothing about Islam. Looking back on those days, I now realize that my first introduction to the deen came to me in a very subtle way: through the beautiful Islamic art and architecture that is still a fundamental part of Spanish history and heritage.
Muslims controlled portions of the Iberian Peninsula (modern-day Spain and Portugal), for almost 800 years, from 711 to 1492. During that time, they shaped the area's culture, art, science, cuisine, lifestyle, and infrastructure in countless ways. Muslims built beautiful palaces, fortresses, libraries, schools, and mosques. They brought a new understanding of mathematics, medicine, and agriculture to the region, and loaned many Arabic words to the Spanish language. The renowned "convivencia," a time of peaceful interfaith coexistence among Christians, Muslims, and Jews, took place during Muslim rule of Spain.
Though Muslims were driven out by the Catholic monarchs in 1492, their legacy survives in the Iberian Peninsula and in fact still enriches its culture and its people. Until today, historical sites built by Muslims (the Alhambra, the Great Mosque of Cordoba, and the Alcazar of Sevilla) are three of the four top-rated tourist attractions in Spain, bringing millions of Euros to the Spanish economy.
When I was a student at the University of Seville, I spent hours sitting in the tranquil gardens of the nearby Alcazar, a royal palace built on the site of a former Islamic fortress. While the current architecture is a mixture of many styles and has European elements, Islamic decoration and ornamentation are the most prevalent. Back in the 90s, students could enter the Alcazar for free, so I would bring a book or a sketchpad and sit amongst the beautiful fountains, mosaics, vegetation, and reflecting pools. I felt so peaceful and happy there. In those days, I could not read the Arabic inscriptions on the walls – Wa la ghalib illa Allah – there is no victor except Allah, but I could tell the Alcazar was a place inspired by God and dedicated to beauty, cleanliness, and contemplation. Perhaps Allah started calling me to Him there, in the Alcazar.
On a trip to Cordoba, I was able to visit La Mezquita, the Great Mosque, where majestic pillars with red and white arches stand in line, breathtaking in their symmetry and beauty. The mihrab, or prayer niche, has an amazingly ornate horseshoe-shaped arch with an Arabic inscription that praises Allah and mentions His servant, Al Hakim II, who commissioned it. Though La Mezquita now houses a Catholic cathedral in its center and is no longer used for Islamic prayer, its Muslim roots are what make it unique and magnificent.
While studying in Spain, I also had the chance to soak up the incomparable beauty of the Alhambra with its delightful Generalife gardens. My mom had come to visit me, and we rode a bus to Granada to do some sightseeing. To this day, my mom, a Catholic, still remembers the unparalleled beauty of the Ahlambra's fountains, gardens, intricate geometric designs, and reflecting pools. As we strolled around the grounds of that magnificent site (a place that neither of us had ever seen), we both had the same uncanny feeling: that we had been there before, that we were at peace, that our souls recognized this place. Today, I like to think that my soul really was recognizing the beauty of Islam years before I would learn about the faith and eventually embrace it.
For Muslims who are interested in Islamic history, architecture, and art, Spain is a fascinating tourist destination. There are traces of ancient Islamic influence in so many places, and modern-day Muslims are also leaving their mark. The Secretary of the Islamic Commission of Spain said that the Muslim population living in Spain has increased 10 times in the last 30 years, exceeding 2.5 million.1 InshaAllah, God willing, these modern-day ambassadors of Islam will show the beauty of our faith and enhance Spanish culture, just as their predecessors did.
End Notes
1 Muslim Population in Spain Increased 10 Times in Last 30 Years
Laura El Alam is a freelance writer and editor and the author of the book Made From the Same Dough, as well as over 100 published articles. A wife and mother of five, Laura lives with her family in Massachusetts. You can visit her online at www.seaglasswritingandediting.com.