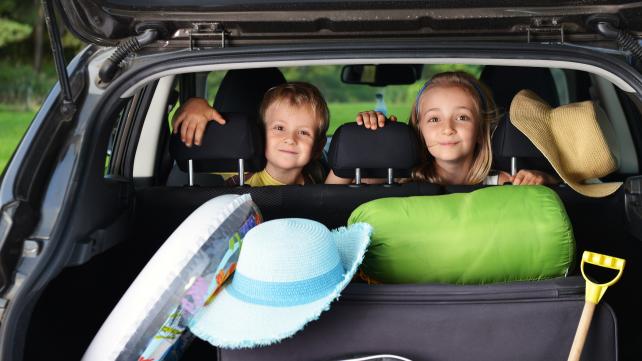 Finally, summer is here! And not just any summer. This is Summer 2021. According to the Center for Disease Control, over 67% of the U.S. population is immunized against the Coronavirus with at least one dose of a vaccine. Families are feeling comfortable enough to venture out and parents, especially, are ready to get their kids outdoors. Some are even planning vacations. There are still red flags though, with international travel limited and many countries maintaining strict travel restrictions. Moreover, Covid-19 variants are causing surges in cases and deaths in other parts of the world.
This leaves only one option, domestic tourism – beaches, camping, sightseeing, or just visiting family. And with an increase in plane fares, delays, and cancellations, more people are likely to be traveling by car.
What does this mean for families with children? Headaches, long drives, feisty kids, and frequent pit stops for food and bathroom breaks! But fret not! With careful planning, parents can make car rides not only less stressful, but uplifting.
Here are 10 tips to make this year's summer travel more memorable and filled with family fun.
1. Plan your itinerary together.
Parents tend to take the lead in making plans but kids can be involved in the planning, too. What might their perfect vacation look like? This can make for a busy trip, but busy means less fuss from the kiddos. Have a calendar, paper, and pencils ready to jot down maps, schedules, and a list of places to see.
2. Wean off the screen.
Screen addiction is a huge problem, and some children may even be reluctant to engage in outdoor activities because of it. The American Academy of Pediatrics recommends limiting screen time for young children. Those ages 3-5 should only have up to an hour of screen time per day, while children ages 6-10 should have no more than 1.5 hours; and for children for 11–13-year-olds no more than 2 hours. Unfortunately, most families do not abide by these guidelines on a regular basis.
Summer vacation is a great time to reset and eliminate bad habits. Try limiting screen time even before hitting the road. Explore other options that can keep your child(ren) busy during the ride and have them participate in that planning. Starting the weaning a few weeks ahead of time may save everyone undue stress.
3. Bring along reading material, activity books, and art supplies.
Give them options so they can choose what books they would like to take with them. Try not to limit the selection; the goal is to get them reading! In addition to favorite genres or authors, consider working in a collection of Islamic-themed picture books, chapter books, and novels with Muslim characters for some variety. Another option is encouraging older children to read nonfiction literature like biographies of famous Muslims - Muhammad Ali or Kareem Abdul Jabbar might be good choices for boys or books by or about Ibtihaj Muhammed for girls - or books about Islam generally like Gems and Jewels, The Sealed Nectar, An Nawawi's 40 Hadith, or Men/Women/Children Around the Messenger. Each child can then share what they learned with everyone else.
4. Narrate your experiences in a journal.
Have children bring a journal dedicated to their summer vacation. It is a great way to get in touch with their own feelings and experiences post-COVID. Reflection is a great habit to get into for children of all ages (and adults, too!). Children who are too young to write well can draw pictures. Make it their own decision whether or not to share their journal with you. If you protect their privacy they may choose to share it anyway!
5. Consider an audiobook.
Choose from a wide range of fiction and nonfiction titles for all ages and be sure the narrator is appealing. Parents will be surprised to see how a good narrator can engage their children through storytelling. This can also prompt lots of additional conversation. Another option is listening to an interesting podcast or even Islamic lectures. Two of our favorites are The Mahdi and the Seerah of The Prophet series by Yasir Qadhi.
6. Listen to the Quran.
When you are not playing an audiobook or lecture for the whole crew, turn on the Quran. It may seem like an obvious suggestion, but make sure to have a playlist of the Quran ready for your voyage. Even if the children are engaged in other activities, having the Quran in the background can provide a relaxing environment and prompt subtle reflection. Having a "recite-along" with the Quran can help children memorize and make time pass faster. Imagine fulfilling your memorization goals while vacationing: double bonus!
7. Sing nasheeds.
Non-Muslims may have travel favorites like 99 Bottles of Pop, but we have the 99 Names of Allah. There are plenty of meaningful, fun, educational, and inspirational Islamic songs or poetry that families can play and sing together on long car rides. It is not only entertaining for children but serves to also keep parents awake and alert while they drive. Reciting poetry while working towards a goal, like getting from point A to point B, is something the companions of the Prophet (peace be upon him and may Allah be pleased with them) used to do. One example is when they recited poetry as they prepared the trench for the Battle of Khandaq.
8. Play icebreaker or conversation games.
Long car rides do not have to be silent and awkward. Get talking! If you need ideas, search for fun talking games or icebreakers to try with your children. These range from personal question prompts to a list of silly scenarios for participants to imagine and navigate through. Math games work, too. These games can lead to meaningful conversation that prompt parents and children to share their personal experiences and their views of the world.
9. Make good memories.
Bring a camera along and document the trip in photos. You can even buy a disposable camera for each child and let them record things from their own perspectives. Conversely, allow them to film short clips from start to finish on a smart phone or device for a vacation vlog. Parents or older children who have social media accounts can later share their work and the highlights with family and friends. There may be little wanna-be influencers in your family. Encouraging them to start a travel blog or vlog could keep them very interested and even enthusiastic about future car rides. Be sure to set parameters from the beginning to keep content Islamically-based and Muslim-friendly (think "Halal vacationing with the Khalid family").
10. Put on an Islamic show.
Yes, we do want to limit screen time, but when all else fails, make the screen work for you. An Islamic show or series is a great compromise, will keep children entertained, and, hopefully, teach them something beneficial. Turkish historical dramas are especially popular these days and depending on the series, each episode can last up to two and a half hours! After a couple of episodes, you may just have reached your destination without having to hear, "Are we there yet?"
Whatever your plans are for this summer, consider getting outdoors, soaking up some sunshine, and breathing fresh air. The benefits of traveling as a means of reflection, education, and even seeking refuge are mentioned in the Quran. Do not let the stress of planning hold you back. After a year and a half of isolation during the Covid-19 pandemic, we owe it to ourselves and our families. With lots of dua and these helpful tips, this vacation can be the best yet.
Wendy Díaz is a Puerto Rican Muslim writer, award-winning poet, translator, and mother of six. She is the co-founder of Hablamos Islam, Inc., a non-profit organization that produces educational resources about Islam and culture in Spanish. She is also the Spanish content coordinator for the Islamic Circle of North America's WhyIslam Project and a columnist for MuslimMatters.com. Díaz has also written, illustrated, and published 10 children's books. She is a frequent speaker at major conferences and a regular guest writer for Sound Vision.