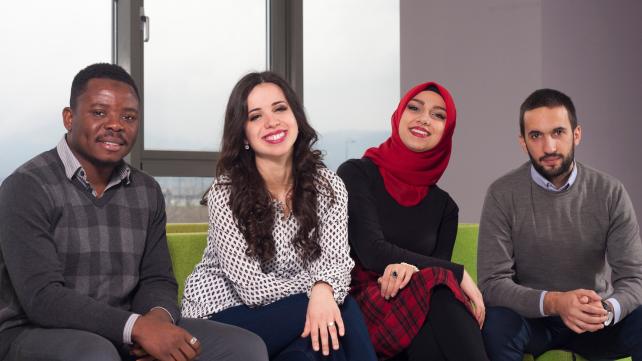 In many parts of the world, it feels like twinkling lights, carols, Santa Claus, Christmas movies, and holiday parties completely consume the months from November to January. Christmastime can be a challenge for Muslims in the West who feel disconnected from most of the festivities and traditions that surround them. Many feel like outsiders in their own land during the holidays and, for Muslims who grew up celebrating Christmas but now practice Islam, the holiday season can generate especially conflicted feelings and difficult decisions.
How do converts cope with the Christmas season? What strategies do they use to deal with nostalgia, family traditions, non-Muslim loved ones, and difficult decisions?
Some Choose to Ignore Christmas
One of the biggest choices a convert must face is whether to gather with non-Muslim loved ones on Christmas. Some converts deeply love their non-Muslim family but try to avoid any kind of association with a Christian holiday. Therefore they avoid holiday gatherings but try to compensate in other ways.
Danielle LoDuca is one example. A coach and advisor for Female Leaders, Danielle embraced Islam in 2002. "My husband and I do not participate at all in the Christmas traditions," she says. "In the beginning it was problematic and my family may have felt hurt and like I was damaging their festivities and the togetherness they foster during this season."
"I wanted to be a better, more loving and present daughter and sister," says LoDuca, "but I knew I didn't want to take part in the events around Christmas. I felt really torn and like I was sending the wrong message to my family. It felt as if I was hurting them by not participating. I think I've accepted that there will continue to be a little bit of sadness: the sadness of not being there for something they care about, and knowing they miss me."
LoDuca has advice for fellow converts who strongly believe their deen requires them to avoid Christmas altogether. "Change your mindset around why you may not be present, and know you're doing the right thing," she says. "Your abstinence can be a good thing, even for your family, if you believe it is. Muslims in history have held their heads high with conviction. When you feel guilty and wrong, that's communicated to others, even if you don't say it. So hold your head high and keep being kind, patient and loving to your loved ones in ways you can feel good about. Send gifts during other times of the year to make your family members feel special and remembered."
Others Continue to Honor Family Traditions
On the flip side, some converts believe that gathering with family on Christmas is crucial to their relationship and admissible if their intentions are pure. They try to walk the fine line between being present for the sake of their family and not participating in overtly religious rituals.
It is worth noting that not all scholars condemn gathering with loved ones on Christmas, particularly in converts' unique circumstances. While it is prohibited for Muslims to worship anything other than Allah or to participate in religious rites that contradict Islam, it is can be permissible for converts to gather with non-Muslim family members with the purpose of maintaining and enhancing ties of kinship. This lecture by Dr. Sh. Yasir Qadhi explains why spending holidays with non-Muslim family can be not only allowed, but an opportunity to share the beauty of Islam.
Klaudia Khan, who was born and raised in Poland and embraced Islam in 2009, found that honoring her parents during Christmas was an act of kindness and mercy. "In the first years since I accepted Islam I tried to be away from Poland for Christmas, but as my father got very sick, I did spent a couple of Christmases with my family around that time," Khan says. "I considered it a kind gesture for my mother, to support her in the difficult time, a chance to spend time with my father when he didn't have much time left, and with my family. I thought that if my intention is pure, it is perfectly fine for me to sit at a Christmas table with my family and get them gifts, not because it was Christmas, but because I was meeting them after some time apart."
"I would say that spending time with family, especially with elderly parents, is fine, as long as we keep our intention pure and as long as the celebration does not include drinking, dancing, etc.," adds Khan. "It really depends on the family and their own traditions. Also, the attitude of the family makes a difference – my family did make an effort to adjust the diet to suit my requirements (Christmas Eve is traditionally meat-free, but I got to eat fish on other days as well)."
Coping with Feelings
No matter which path they choose at Christmastime, converts might still experience ambivalence or sadness. As former non-Muslims, they have deep cultural roots and fond memories, and the traditions and nostalgia from their youth do not disappear the second they make shahada. Even if they sincerely love Islam, some converts might still feel conflicted or melancholy at Christmastime.
LoDuca, who is a life coach, suggests, "If you feel the sadness of loneliness and feeling like you are missing out, treat yourself to a gift, spend time with family and friends doing something you enjoy, and look for ways to remind yourself why you are a believer. It's only as difficult as you make it, so focus on things that uplift you and make you feel strong, grounded, and happy. It's a great time to read Quran and reflect. Also, imagine the potential that we can one day celebrate Eid together with our family and pray for that."
Laura El Alam is a freelance writer and editor and a first-generation American Muslim. She is the author of over 100 published articles and has written a children's book, Made From the Same Dough, due to be released in 2023, inshaAllah. A wife and mother of five, Laura lives with her family in Massachusetts. You can visit her online at www.seaglasswritingandediting.com.