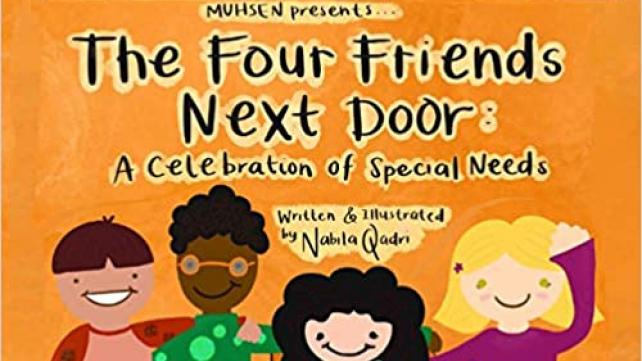 Book Review: The Four Friends Next Door
Get ready to go on an adventure with The Four Friends Next Door! This children's picture book produced by MUHSEN (Muslims Understanding & Helping Special Education Needs) introduces us to Kareem, Sofia, Farhan, and Sakina, four children with special needs. This happy quartet are neighbors who often play outside their homes together and return before it gets dark. Until one day they get lost after venturing out too far into a nearby forest. Panic sets in but is short lived when each friend uses their unique talent to help them out of a scary situation.
Kareem, who is autistic, uses his great memory; Sofia, diagnosed with ADHD, activates her creativity; Farhan's speech delay is no match for his strong listening skills; and Nayla, who is bound to a wheelchair due to cerebral palsy, applies her intelligence and positivity to help her friends pull through. They each overcome their individual worries and work together to retrace their footsteps. After some minor hurdles, they find their way to safety.
The rhyming style and vivid illustrations of Nabila Qadri are sure to engage young readers. The colorful, fun cover grabs young readers' attention and the inner dedication to families with special needs is heartwarming. After meeting our four friends and experiencing their story, we are reminded that, "Allah made every single person unique, without everyone's strengths, the world would truly be bleak!" The back of the book contains tips for how to talk to children about disabilities, information about MUHSEN, as well as guided questions for discussion.
My favorite aspect of this book is that it not only meets the objective of creating awareness around disabilities, but also features four Muslim protagonists with special needs, at least one of whom is Black, raising the bar on representation. I read the book to my children, ages 6, 9, and 12. They were able to follow the story, enjoyed it, and answered the discussion questions.
MUHSEN is a nonprofit umbrella organization serving children and adults with any intellectual, mental, or physical disability. Some of their goals are increasing awareness, compassion, and acceptance for people with disabilities, including children. Their debut children's book, The Four Friends Next Door: A Celebration of Special Needs, does just that, by connecting readers with the main characters, whose unique personalities surpass all odds in their quest to find their way home. We commend MUHSEN for the wonderful job they are doing and Nabila Qadri for giving us something to truly celebrate.