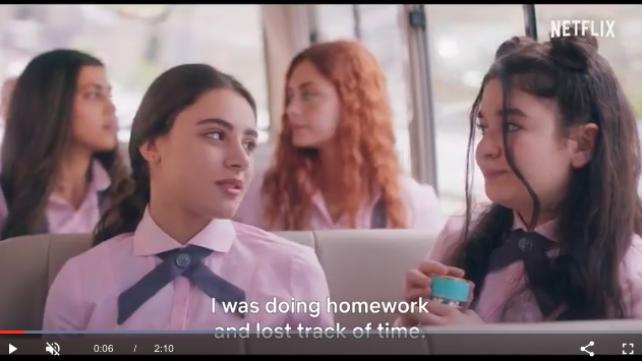 Is your teen's idea of a good time binge-watching Netflix all day? Why not turn that habit into a teachable moment? I recommend grabbing warm blankets and popcorn and cozying up to your skittish teenager to watch AlRawabi School for Girls. The Netflix Original series, AlRawabi School for Girls, is a six-episode limited series created by Tima Shomali and Shirin Kamal. It is the second Arabic show of its kind on the streaming platform and one of the most watched series on Netflix since its release in August 2021. It is rated TV-14, which is not intended for audiences under 14 years of age due to violence and profanity (curse words). But, before you scroll past, read why this drama may be just what parents need to start difficult yet necessary dialogues with their children.
Set in Jordan, AlRawabi follows the story of Maryam, a bullied teenager at an elite all-girls school who is tormented by her classmates Layaan, Rania, and the mean hijabi, Roqayya. These pampered antagonists taunt Maryam daily for anything from her plain looks to her successful soccer tryouts. Layaan is the daughter of an affluent politician and she has two overprotective elder brothers. Their wealth and influence allow Layaan to bend the rules at school with little-to-no consequences. Her best friends, Rania and Roqayya, are no different in terms of status; the trio are deemed the most popular girls in the private school. They establish their dominance over all the other students and especially the nerdy, seemingly insignificant Maryam and her friend Dina. The new girl at school, Noaf, is caught in the crossfire when she discovers Maryam bloodied and unconscious outside the school. When the bullying leads to violence and the school's administration and parents turn a blind eye, Maryam and her friends must decide whether to let the abuse continue or retaliate.
The show touches on certain taboo topics in the Muslim community like dating, domestic violence, classism, mental health problems, and alcohol abuse (one parent is an alcoholic). Parents should know that what is depicted of language and some violence in this series may very well be their children's reality at school, private and public institutions included. Some of the topics throughout, although concerning to parents, are uncomfortable conversations that are important to have with our youth. Keeping the lines of communication open with children and being empathetic toward their plight can help prevent the situations like those that occur in AlRawabi School for Girls.
The show is set in the Middle East and has received some criticism for its representation of Jordanian society, however, it could just as easily be set in the U.S. In a Netflix press release, writer and director, Tima Shomali, said the series is dear to her heart because it "depicts the stories and struggles of young Arab women in a light that we hadn't yet seen before in the region, particularly with this age group. It's a show that stems from the eyes of women about women." While some conservative audiences might find it misrepresentative of life in Jordan, its liberal approach lends itself well to a global audience. Additionally, even though it is focused more on its female characters, the lessons scattered throughout about honesty, integrity, compassion, and forgiveness are essential for boys and girls, as well as parents and educators.
It is often difficult for parents of tweens and teens to find appropriate shows and movies to watch with their children. While AlRawabi School for Girls does contain some cringeworthy elements for Muslim parents - like Muslim kids skipping school, fighting, gossiping, dating, removing hijab, and partying - these are all good conversation starters.
AlRawabi School for Girls is an emotional drama and a window into the possible problems our children encounter when they are out of our view. It is just as educational and thought-provoking as it is compelling. Parents should be aware of the possible scenarios that exist in youth circles even in the most prestigious, religious, or reputable places. The reality is our children are exposed to more than we know. Instead of avoiding discussing unpleasant subjects in the name of modesty or denial, we should address the problems plaguing our youth. I recommend lots of pauses to reflect and ask your children their thoughts. Hopefully, through this honest dialogue, they are encouraged to confide in us when they face similar difficulties. You can find AlRawabi School for Girls on Netflix.
Wendy Díaz is a Puerto Rican Muslim writer, award-winning poet, translator, and mother of six (including a teen and tweens). She is the co-founder of Hablamos Islam, Inc., a non-profit organization that produces educational resources about Islam and culture in Spanish. She is also the Spanish content coordinator for the Islamic Circle of North America's WhyIslam Project and has also written, illustrated, and published a dozen children's books. Díaz lives with her husband and family in Maryland.