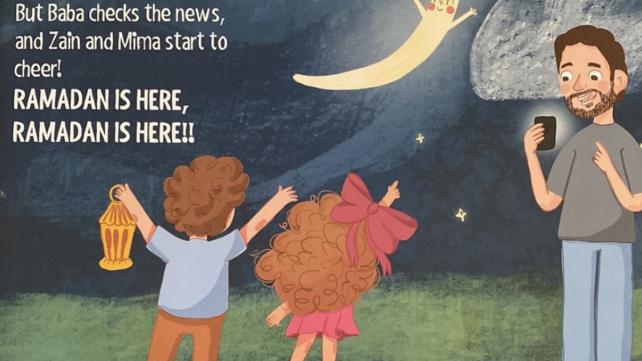 Ramadan is just around the corner and many households have been focused on various preparations. Alhamdulillah, all praise and thanks are to Allah, in our home and in my classrooms, the holiest month of the Islamic year has been a hot topic. The children are more than ecstatic - we have shared family traditions, colorful decorations, and favorite foods. But most importantly, we focused on working on becoming closer to Allah and being the best Muslim you can be by increasing the spiritual acts of worship as well as the physical ones.
For my younger class, I purchased The Best Ramadan: Zain and Mima's Adventures by Eman Kourtam. This book has a lovely rhythm, is a super easy read, and follows Mama, Baba, Zain, and Mima through their Ramadan excitement. The family gathers outside to wait for the sighting of the crescent moon and cheer with "Ramadan is here! Ramadan is here!"
When Zain and Mima declare their intention to fast just like Mama and Baba, their mother tells them that they can try to fast but also explains that Ramadan is not just about fasting from food and drink. Ramadan is so much more. The children learn about Ramadan manners and the importance of being the best Muslim you can be. This is a great book for little ones who can not fast the entire day because it highlights many other ways to be engaged. There is even a nice planner at the back of the book to keep track of good deeds!
The most beautiful and detailed illustrations by Sophia Soliman accompany each page. From a star-filled night sky to the nicely decorated living room, the illustrations give you so much to talk about with younger children.
The Best Ramadan is a book every Islamic library, whether at home or school, should have. The author does a wonderful job of capturing the true spirit of Ramadan and explaining it to little ones!
Miriam Mohamed is a mother to seven children and a granny to two cats! She loves trying new things and learning cool facts. She has taught in an Islamic school setting, has experience assisting children with special needs, and enjoys volunteering and being a part of the community. Miriam lives in Chicago with her beautiful flowering cherry tree and big family.